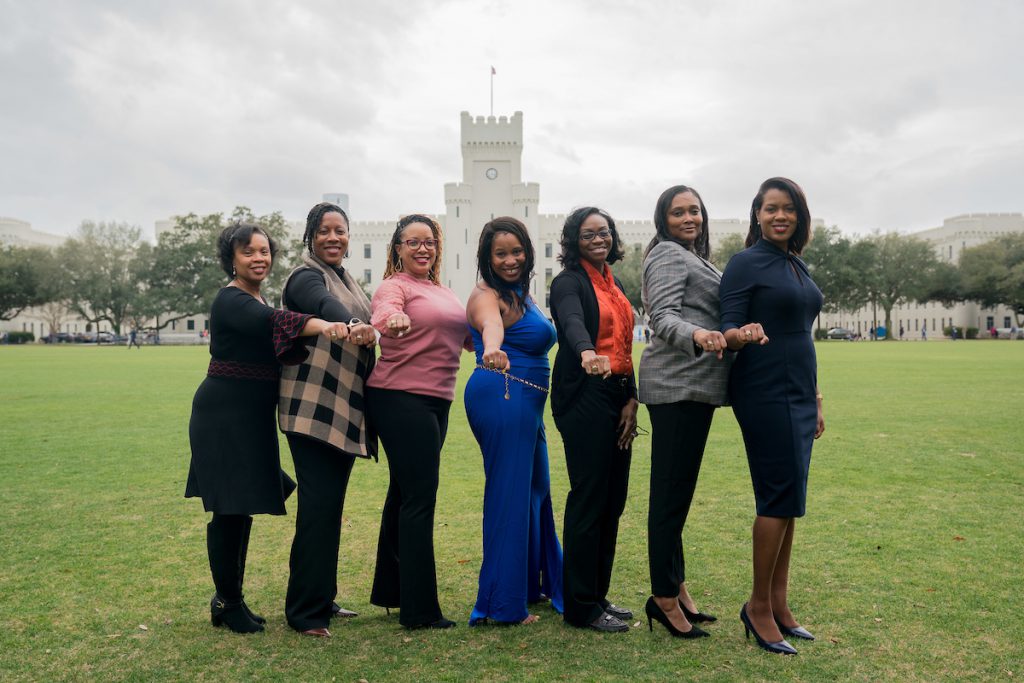 Photo above: Adrienne "AJ" (Watson) Crosby, Toshika "Peaches" Hudson-Cannon, Dr. Renee E. Hypolite, Natosha Mitchell Johnson, Jamey McCloud, Geneive "Hardney" Marshall and Lesjanusar "Sha" Peterson, pose for photos on Summerall Field in Charleston, South Carolina on Friday, February 4, 2022. Credit: Cameron Pollack / The Citadel
Geneive Hardney Marshall did not plan to attend The Citadel after she graduated from high school in 1998.
"My mother forced me to come to the Citadel," she said. "This was not my choice. And no, I was not a bad child. She signed me up and sent me on my way."
Marshall did not know that her mother's decision would lead to her making history when she became one of seven women who became the first African-American females to graduate from The Citadel in 2002. The women returned to The Citadel last Friday to celebrate the 20th anniversary of their graduation.
"Going through The Citadel was tough, and even coming back I feel all the flashbacks are what I've went through and been through," said Marshall. "But I'm glad to see that it changed and is changing for the better for the young ladies that are coming behind me. But this is surreal right now. Just looking at everything and the improvements that's been made. I'm glad to say I've been here."
Marshall said that she was glad that her mother sent her to The Citadel.
"I did not know that I will be making her proud right now," said Marshall. "So if she was here, I will put her before me."