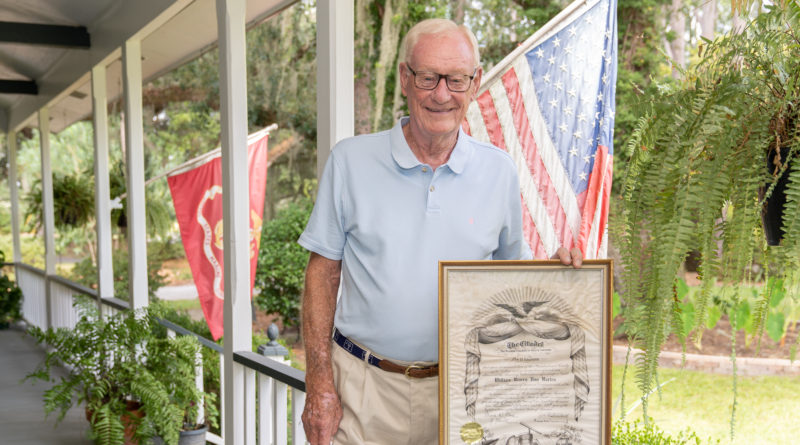 As seen in Beaufort Lifestyle
By Nakeisha Dawson-Thompson, photos by Susan DeLoach
William Rivers Von Harten, Lt. Col. USMC (Ret.), is a decorated military veteran, a former chairman of the Beaufort County Council, a civic leader with many governmental and organizational affiliations and a lifelong resident of Beaufort County. Known affectionately as "Skeet", Mr. Von Harten was born to the late Clarence Henry Von Harten Sr. and Jessie rivers Von Harten on Charles Street in Beaufort on July 1, 1932. His brother, C.H. Von Harten Jr., is deceased. His sister, Verna Catherine Neeley, of Denmark, South Carolina is also deceased.
At the age of 17, Mr. Von Harten enlisted in the South Carolina National Guard. Von Harten was reared in the Beaufort County School district and graduated from Beaufort High School. After coming home from his first year at a prestigious Upstate College, Mr. Von Harten entered the Citadel after being encouraged to do so by his Father. He recalls his time at The Citadel as one that was very challenging for him initially. He recalls making a phone call home to tell his parents that he was ready to come home. After speaking with his father and explaining to him that he wanted to come home, he states his father asked him a few questions. One, how many folks before you have graduated from The Citadel? Two, are all those folks better than you? After answering the questions, his last response to his father was "Sir, don't come and get me. Thank you, Sir." He continued his studies there at The Citadel where he earned a Bachelor of Science degree in Business Administration and ended his service in the National Guard. Upon graduating from The Citadel, he was commissioned in the US Marine Corps, where he served two tours in Vietnam and earned a Silver Star for Valor, a Purple Heart and two Bronze Star medals, one for meritorious service (combat-related) and the other for valor (heroic achievement).
Returning from his first tour in Vietnam, Mr. Von Harten was assigned to a three-year assignment to Vanderbilt University where he was the Marine officer instructor at the Naval ROTC unit in Nashville, Tennessee. Upon completing this assignment, he was ordered to attend the US Naval War College in Newport, Rhode Island. Taking advantage of the location, Mr. Von Harten enrolled at the George Washington University extension campus in Newport. He attended the war college during the day and took classes at George Washington University at night and on weekends. At the end of the academic year, he graduated from the war college and George Washington with a master's degree in Foreign Affairs. He was named a distinguished graduate of the war college.
After graduation, he was assigned to the Third Marine Division on Okinawa as the commanding officer of the Third Battalion, Fourth Marine Regiment. Deployed to Vietnam for his second tour, Mr. Von Harten led his battalion as it fought to repel the North Vietnamese invasion of South Vietnam in April of 1972. After 20 years of service, he retired from the US Marine Corp as Lieutenant Colonel.
Returning to civilian life, Mr. Von Harten served as the founding director of the Beaufort County Alcohol and Drug Abuse Commission, then became president and general manager of the New Kingdom Building Supply Company (later named the Grayco Home Center). He was named director of project planning and development for Gray Holdings L.P. Finally, he formed Von Harten Consulting.
It was in the expansive field of public service that Mr. Von Harten made his mark. He served two terms on the Beaufort County Council representing District 9 (Burton) as a Republican. He was vice-chairman of the council for 8 years and was chairman from 1991-1992. He retired from the Beaufort County Council in 2010.
His list of civic affiliations is exhaustive. He was chairman, president or a member of the board of directors of at least 15 civic organizations. He was commodore of the Beaufort County Water Festival in 1983, former chairman of the Burton Fire District Commission and former chairman of the Beaufort Economic Development Board. He was president of the Sea Island Rotary Club, the Beaufort Citadel club and many more.
Mr. Von Harten earned South Carolina's highest civilian honor, the Order of the Palmetto, in 2009. He also received the Governor's award as South Carolina Ambassador for Economic Development, and a Presidential Citation as 1 of 10 Outstanding Vietnam Veteran in South Carolina.
Mr. Von Harten and his wife, Jean, had been married for 63 years. He cared for his wife until she died on October 19, 2018, at the home they shared in the Salem Plantation in Beaufort, SC. She was 86 years old. The Von Harten family includes a son, Will Jr., and daughter, Grace and her children and grandchildren.
For his dedicated service in the US Marine Corps, for his commitment to extensive public service focused on improving the quality of life in Beaufort, and for his lifetime of dedication to the ideals of citizenship and leadership; the University of SC presented Mr. Von Harten with an honorary degree of Doctor of Public Service on May 3, 2019.
Mr. Von Harten has served this community well and prides himself with knowing he has done the best he could with what he was given. He has given his life to service of his country, his county, and his family. He continues to be a pillar in his community, with his works of service speaking loud of his character and commitment to serve. Mr. Von Harten is revered and honored by many who continue to recognize his works. Beaufort County has grown in many ways and Mr. Von Harten has played a great part in this growth.