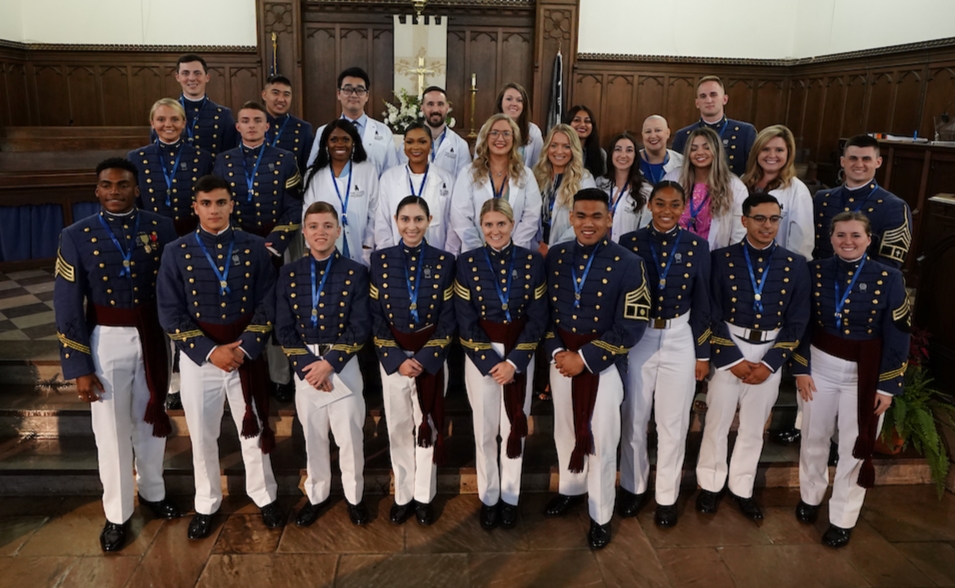 Photo above: The Class of 2022 nursing graduates pose for a photograph after their pinning ceremony at Summerall Chapel on May 5, 2022
The Citadel Swain Department of Nursing graduates 29 future nurses
The Swain Department of Nursing is recognizing its fourth graduating class.
On May 5, the department's Class of 2022 received their nursing pins during a traditional pinning ceremony in the college's Summerall Chapel. Presenting new nurses with a pin or badge dates back centuries. At The Citadel, the pin is presented after a four-year Bachelor of Science in Nursing degree is earned.
I am very proud of where I am today. It took hard work and determination. I have family members who are nurses and I did not want to do anything else. I'd recommend attending The Citadel for the nursing program, and for the Division 1 Track and Field team!

Cadet-athlete Reanna Wrecsics, The Citadel Class of 2022, Bachelor of Science in Nursing, from Chapin, South Carolina
There are 15 cadets and 12 evening (non-cadet) nursing graduates in the group.
The Citadel's evening nursing program was perfect for me as a working person with a family. I am looking forward to my new nursing job with Novant Health in Charlotte, North Carolina.

Thashemia Brown, Bachelor of Science in Nursing, The Citadel Graduate College Class of 2022
The guest speaker for the ceremony served as the Surgeon General, Headquarters, for the U.S. Air Force, Pentagon and also served as the first Surgeon General of the U.S. Space Force before recently retiring.
"You can help lead the change where you work. You are at the bedside 24/7. You'll know what works and what doesn't. As nursing leaders you will be learning throughout your entire career. You will provide the evidence and lead when change is needed,"said Lt. Gen. Dorothy A. Hogg, USAF (Ret.), the pinning ceremony speaker.
The Citadel launched its nursing program in 2017, earning national accreditation by the Commission on Collegiate Nursing Education in 2019 and graduating the inaugural class of nursing cadets and students in May of 2019.
South Carolina Corps of Cadets Class of 2022 nursing graduates
Joel Joseph Tropezado Baslot (Outstanding Students in Nursing Award)
Shelby Ruth Brooks
Ademar Yarial Cubero
Mya Monaye Dollard
Cameron Taylor Fuller (Lisa Whetstone Caring Award)
Trenton James Gambrell
Dahrel Ghazaleh
Malcolm Jackson (Nursing Research and Scholarship; Outstanding Students in Nursing Award)
Addison Shaw Jeffcoat
NIcholas Owens
Kevin Pham
Karrina Tremblay
Aaron Royce Tyler
Reanna Janine Wrecsics
Isabella Domeica Yates
The Citadel Graduate College Class of 2022 Bachelor Science in Nursing graduates
Renae Towcimak (Outstanding Students in Nursing Award)
Seung David Baek (Nursing Leadership Award)
Thashemia Mekel Brown
Michaela Halli Caron
Sarah Ghaffari
Alexis Knapp
Mallory Sandra Lipton
Tameka McCullough
Akeisha Patel
Emily Spielvogel
Amy Thompson
Nicholas Tupper
McKenna Jeanne Vergnolle

Learn more about studying nursing at The Citadel as a cadet or in the non-cadet evening program by visiting this website. Sending questions to nursing@citadel.edu.