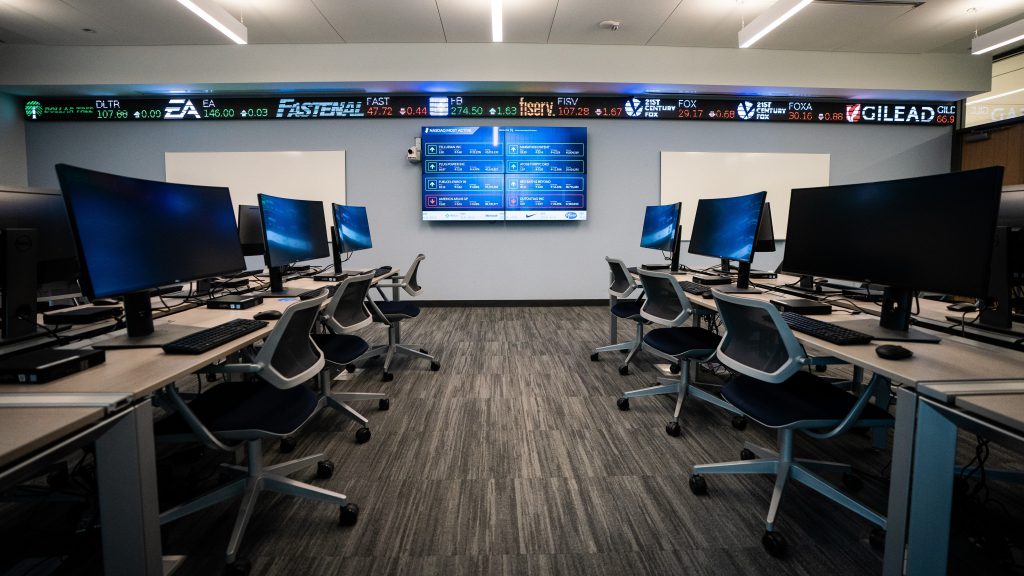 There are thousands of ways a graduate can use a business degree to help improve their local and global communities.
Now, thanks to the Tommy and Victoria Baker School of Business, there are hundreds of leaders in the field doing just that.
This year, approximately 150 cadets, 40 college transfer students and 90 graduate students earned a degree through the BSB.
Business degrees are some of the most popular at The Citadel, offering graduates flexible career paths through the three departments and associated pathways: Accounting and Finance; Management and Entrepreneurship; and Marketing, Supply Chain Management and Economics.
The Class of 2021 also has the unique distinction of being the first to graduate after the opening of Bastin Hall, the new home for the BSB.
Take a look at just some of the outstanding outcomes achieved by members of this year's graduating class:
Cadet Patrick Kress, earning the rewards of his investment
Bachelor of Science in Business Administration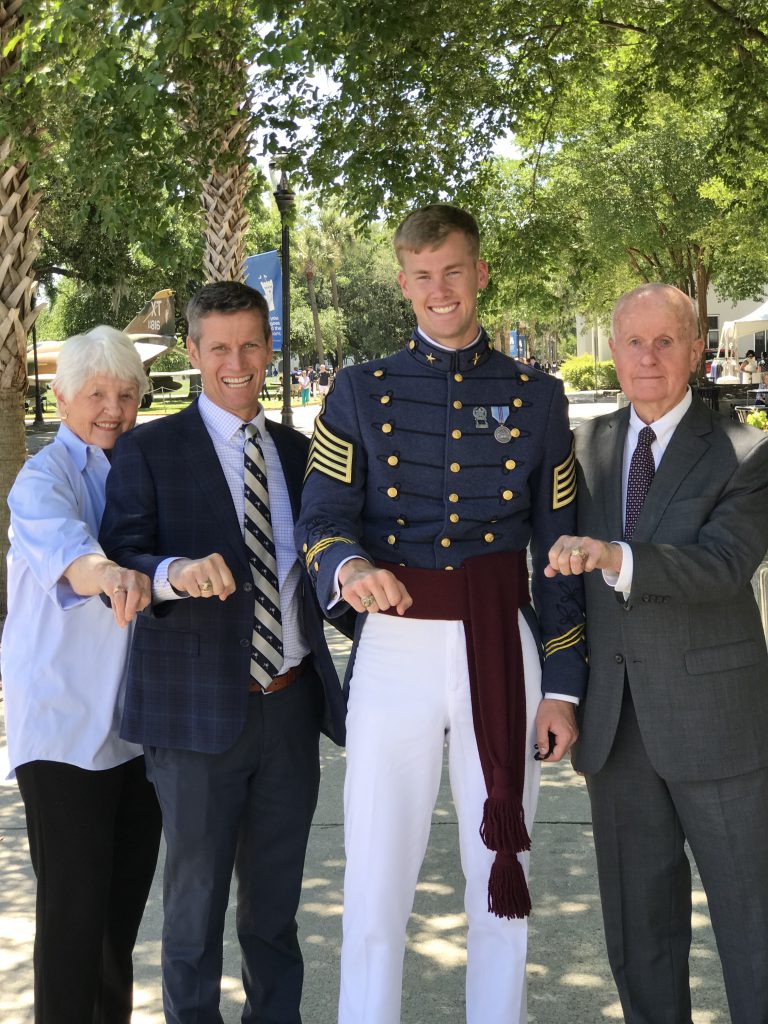 In keeping with his business mindset, Patrick Kress's decision to join the South Carolina Corps of Cadets came down to two things: investment and inheritance.
Kress comes from a long line of alumni. His father, Adrian Kress, '89, grandfather, James Dawson Smith Jr., '59, and great grandfather, James Dawson Smith Sr., '34, are all members of the Long Gray Line.
"Besides my family legacy, I knew that I would grow more at The Citadel and that it would be a good long-term investment," said Kress. "Looking back and visiting my friends at other colleges, I never doubted my decision. I also know now how much more I have achieved due to attending a place that pushes you to be your best."
Kress, who served as the Fifth Battalion Commander his senior year, now serves as a marketing representative at Federated Insurance, one of the country's largest mutual insurance companies. In his new role, he will help clients with property, casualty and life insurance — all while working to grow his territory by adding quality customers.
"Challenging yourself will only help your future self, doing things that are comfortable will only make you stagnant," said Kress.
Cadet Brett Martin, interning and getting ready to master finance
Bachelor of Science in Finance, minor in Economics
Brett Martin was in high school when he first felt pulled to The Citadel. That's where his mentor, an alumnus, helped him see the benefits of an education from the Military College of South Carolina — especially how the challenging environment provided more than just a degree.
"The Citadel doesn't just give you a handful of useful tools — it transforms you, and alumni become the embodiment of what makes the institution what it is," said Martin. "The Citadel does not make superstars, it makes men and women who are willing and able to do one more than everyone else and, overtime, consistency exponentially grows success."
For Martin, the transformation meant realizing that his passion was not to work in law but, instead, finance. Now, having earned four year's worth of skills, both in and out of The Citadel classrooms, Martin has been accepted into Vanderbilt University's Owen Graduate School of Management, a consistently top-ranked business school in the nation.
Throughout the summer, he will intern as a high Yield Summer Analyst with Barings Global Investment Management in Charlotte, NC.
"The Citadel provides a unique college experience that holds value within every future career path," said Martin. "A strong foundation of discipline, time management and leadership are great prerequisites for success and can place you ahead of your peers within the job market."
Ashley Bowers, in the business of keeping women healthy
Master of Business Administration
Ashley Bowers wanted her MBA to help keep women in her community healthy.
Bowers is the practice administrator at The Breast Place, a local, Charleston company that provides for women facing life's challenges. As administrator, she manages the company's financials, as well as human resources, marketing, compliance, credentialing and day-to-day operations; another goal Bowers has is to bring in more providers and create a bigger team.
"I specifically decided to get my MBA to help me run this practice more efficiently so that we are able to provide a better and more cost-effective service to our patients. A medical practice is very much a business — we are not owned by a corporation that sets our budgets, pays for our overhead or handles our HR policies, so gaining this knowledge has really helped me and this company perform better."
A large factor in helping Bowers, a working mom, get her education and help improve The Breast Place was the option to earn her degree online.
"Having the ability to attend classes online while still having a local presence if I ever needed to reach out for help was great," she said. "The flexibility of the online platform gave me the opportunity to still run my business, care for my family and expand my education at the same time."
Since becoming administrator, she says the practice moved to a larger office, added an aesthetic line of service,. upgraded their electronic medical records system, changed protocols for scheduling patient appointments and surgeries, hired two additional midlevel providers and more.
To learn more about the programs offered through the Tommy and Victoria Baker School of Business, click here or email bsb@citadel.edu.