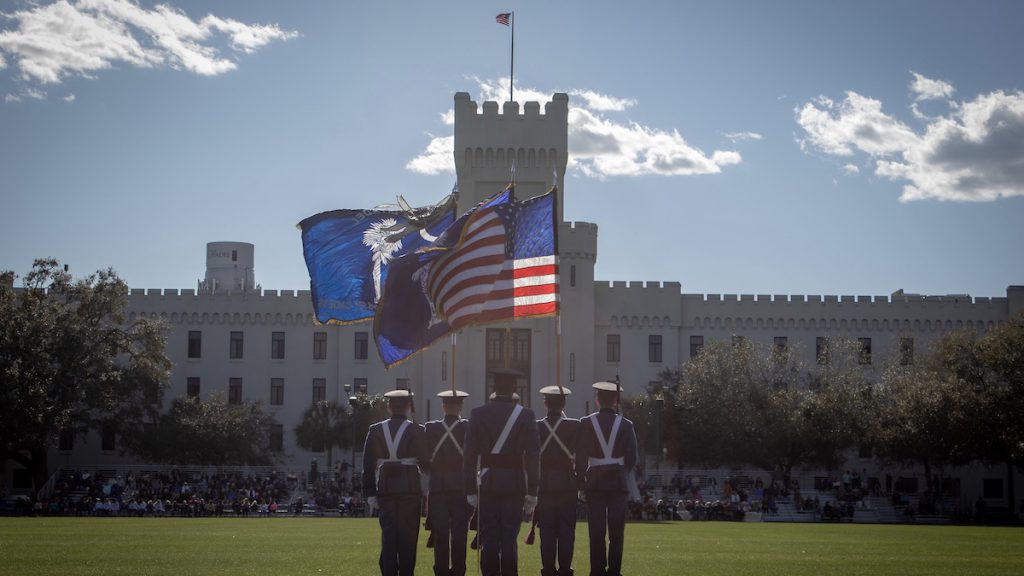 The campus may be closed, and the South Carolina Corps of Cadets may be spread across the country – but that doesn't stop The Citadel's mission.
Each year, around Corps Day/Recognition Day weekend, The Office of the Commandant announces the next group of cadets who will lead the corps for the upcoming year.
Despite the interruptions to campus life, The Citadel is carrying on its traditions.
"There are many ways The Citadel works to educate and develop our cadets into principled leaders, and also to celebrate them when they accept that mantle of responsibility," said Capt. Eugene Paluso, the Commandant of Cadets. "Announcing next year's leadership is just as important as making sure our current freshmen class was recognized as members of the South Carolina Corps of Cadets. These are two examples of our leadership laboratory here, and it's important that events like this happen in whatever way possible, regardless of COVID-19."
The Citadel's mission to educate and develop cadets into principled leaders is the driving force behind the integral military system at the college, which is in operation at all times when school is in session, 24 hours a day, seven days a week
The top leadership positions in the South Carolina Corps of Cadets for 2020-21:
Nicholas Piacentini – Regimental Commander
From Hollidaysburg, Pennsylvania and majoring in Political Science
Caleb Williams – Deputy Regimental Commander
From Summerville, SC and majoring in Mechanical Engineering
Nicholas Piacentini, Regimental Commander

Caleb Williams, Deputy Regimental Commander
William Rowe – Regimental XO
From Sumter, SC and majoring in Business Administration
Harrison Hemminghaus – Honor Board Chair
From Blythewood, SC and majoring in Political Science
Matthew Dittrich – Regimental Academic Officer
From Lawrenceville, GA and majoring in Physics
William Rowe, Regimental XO

Harrison Hemminghaus, Honor Board Chair

Matthew Dittrich, Regimental Academic Officer
Caleb Moseley – 1st Battalion Commander
From Travelers Rest, SC and majoring in Criminal Justice
Ansley Pantsari – 2nd Battalion Commander
From Augusta, GA and majoring in Biology
Noah Hammond – 3rd Battalion Commander
From Raleigh, NC and majoring in Political Science
Caleb Moseley, 1st Battalion Commander

Ansley Pantsari, 2nd Battalion Commander

Noah Hammond, 3rd Battalion Commander
Carson Adams – 4th Battalion Commander
From Chapin, SC and majoring in Accounting
Patrick Kress – 5th Battalion Commander
From Greenville, SC and majoring in Chemistry and Business Administration
Grayson Gasque – Sergeant Major
From Anderson, SC and majoring in Biology
Carson Adams, 4th Battalion Commander

Patrick Kress, 5th Battalion Commander

Grayson Gasque, Sergeant Major
The regimental staff will lead approximately 80 cadet officers in the command of the Corps' five battalions and 21 companies during the next academic year, with positions ranging from battalion sergeant majors to company first sergeants. They are selected by the Office of the Commandant after a series of interviews and reviews of their performance during the years leading up to becoming a first class (senior) cadet.
Below are the names of the full regimental staff, company commanders, battalion sergeants' majors and company first sergeants:
Regimental Staff
Nicholas Piacenti – Regimental Commander
Caleb Williams – Regimental Deputy CDR
William Rowe – Regimental XO
Harrison Hemminghaus – Honor Chairman
Mathew Dittrich – Regimental Academic Officer
jacob hardee – Regimental Adjutant
Ryan Salter – Regimental Provost Marshall/Safety
Krishawn Royal – Regimental Operations Officer
Jackson Lansink – Regimental Supply Officer
Ruby Bolden – Regimental Public Affairs Officer
Houston Osborne – Honor Vice Chairman-Education
Harrison Wedgeworth – Honor Vice Chair for Investigations
Krishawn Royal – Honor Vice Chair for Operations
Tanner Kennaw – Regimental Religious Officer
Kate Manzione – Regt Human Affairs Officer
Michael Curtis – Regimental Athletic Officer
William Burgess – Regimental Activities Officer
Jack Dragon – Regimental Recruiting Officer
Cameron Camacho – Regimental Head Drill Master Officer
Regina Miles – Senior Mascot Handler
Marrik Kelley – Senior Mascot Handler
Grayson Gasque – Regimental Sergeant Major
Eric Skinner – Regimental Academic NCO
Jayden Bossian – Regimental Admin NCO
Alexander Clark – Regimental Operations NCO
Pablo Orozco – Regimental Supply NCO
Joshua Babcock – Regimental Provost NCO
Emma Larsen – Regimental Human Affairs NCO
Samantha Walton – Regimental Public Affairs NCO
Wesley Munn – Regimental Recruiting NCO
Kent Cooper – Regimental Athletic NCO
Aidan Brady – Regimental Activities NCO
Jocob Dukes – Junior Mascot Handler
Alexander Kaufman – Junior Mascot Handler
Dyce Duckworth – Regimental Operations Clerk
Dylan Wood – Regimental Operations Clerk
Patrick Cherry – Regimental Admin Clerk
Arista Couture – Regimental Admin Clerk
Robert Lowe – Regimental Supply Clerk
Ernest James – Regimental Supply Clerk
Sienna Gonzales – Sophomore Mascot Handler
Kohl Hammer – Sophomore Mascot Handler
1st Battalion
Caleb Moseley – 1st Battalion Commander
Lane Johnson – 1st Battalion Sergeant Major
JoAnna Winborn – A Company Commander
Samuel Little – A Company First Sergeant
Clifford Swindel – B Company Commander
Collin Gleco – B Company First Sergeant
Christian Seidler – C Company Commander
David Stringer – C Company First Sergeant
Joshua Gorczynski – D Company Commander
Finn Willman – D Company First Sergeant
2nd Battalion
Ansley Pantsari – 2nd Battalion Commander
Grant Norman – 2nd Battalion Sergeant Major
Daniel Esteban – E Company Commander
Jeremy Walker – E Company First Sergeant
Alfred Gregg – F Company Commander
Jackson Bridges – F Company First Sergeant
Wesley Kelley – G Company Commander
Nicole Spohn – G Company First Sergeant
Pedro Sharpe – H Company Commander
Grant Speer – H Company First Sergeant
Andrew Barnes – BD Company Commander
Joseph Ytem – BD Company First Sergeant
3rd Battalion
Noah Hammond – 3rd Battalion Commander
Angelea Lance – 3rd Battalion Sergeant Major
Ethan Stanley – I Company Commander
Katherine Jarvis – I Company First Sergeant
Hunter Mills – K Company Commander
Kyle Kretzer – K Company First Sergeant
Halen Burgess – L Company Commander
Garett Summers – L Company First Sergeant
Cole Mangum – M Company Commander
Donovan O'Dea – M Company First Sergeant
4th Battalion
Carson Adams – 4th Battalion Commander
Dietrich Heinz – 4th Battalion Sergeant Major
Nicholas Fricchione – N Company Commander
Aidan Puzzio – N Company First Sergeant
William Curtis – O Company Commander
John Feeney – O Company First Sergeant
Yuadi Stout – R Company Commander
John Michne – R Company First Sergeant
Ryan Williams – T Company Commander
Emily Perkins – T Company First Sergeant
5th Battalion
Patrick Kress – 5th Battalion Commander
Kathryn Christmas – 5th Battalion Sergeant Major
Peter Tillman – P Company Commander
Carlos Liriano – P Company First Sergeant
Colton Webster – PB Commander
Antonio Carbajal – PB First Sergeant
Thomas Hammerstone – S Company Commander
Bennett Lucas – S Company First Sergeant
Adam Russell – V Company Commander
Garrett Graettinger – V Company First Sergeant