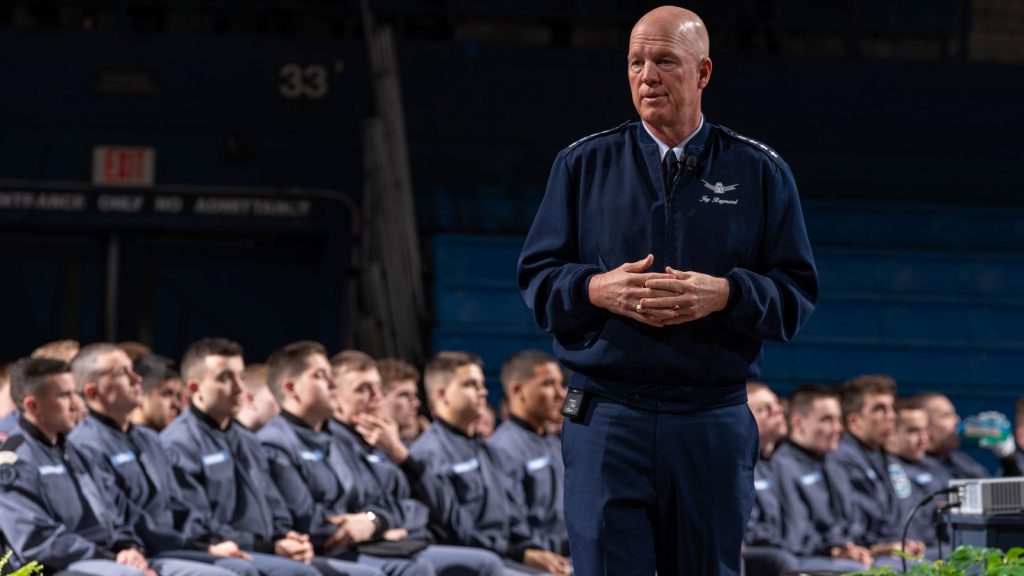 General John "Jay" Raymond, United States Air Force, delivered the first Greater Issues address of 2019.
Every day, the life of almost every person in America is affected by what the nation's military is doing in space. That's according to the man in charge of it all, General John "Jay" Raymond.
In his February address to the South Carolina Corps of Cadets, Gen. Raymond discussed how essential space operations are to both the American way of life and the American way of war.
"There is nothing that we do as a joint force, absolutely nothing, that isn't enabled by space capability. Whether it's humanitarian assistance, disaster relief operations or combat operations and everything in between, there's nothing we do that isn't enabled by space," said Gen. Raymond.
Another thing space command is responsible for is tracking all everything that's orbiting the earth. Gen. Raymond says that's a total of about 24,000 objects. He said, "We act as the space traffic control for the world. So if one object is going to hit another object, we provide warning to make sure that domain stays safe." Gen. Raymond went on to say, "It's a congested environment, if you will."
After the address, Gen. Raymond took questions from cadets. In response to a question about leadership, Gen. Raymond said, "To be a leader, the first thing that you have to be able to do is make sure that everybody in your organization understands their link to the mission. The second thing that I think a leader needs to do is set really high standards." On leadership, Gen. Raymond went on to say, "The main thing in, my personal opinion, is you have to be a good person. You have to treat people with respect, you have to treat people with dignity and you have to treat people like you want to be treated."
General John "Jay" Raymond is the Commander of Air Force Space Command and Joint Force Space Component. As Commander, Gen. Raymond is responsible or organizing, training, equipping and maintaining mission-ready space forces and capabilities for North American Aerospace Defense Command, U.S. Strategic Command and other combatant commands around the world. His command comprises approximately 30,000 space professionals around the world.
Before taking command of the Air Force Space Command, Gen. Raymond was the Deputy Chief of Staff for Operations, Headquarters U.S. Air Force. He was commissioned through the ROTC program at Clemson University in 1984.
About the Greater Issues Series
The Greater Issues Series was founded in 1954 to engage Citadel cadets' interest and knowledge in important topics of the day. Since it was established by the Mills B. Lane Memorial Foundation, the series has brought presidents, heads of state, scholars, diplomats, journalists and distinguished business and military leaders to The Citadel, its cadets, students, faculty and staff and the Charleston community.