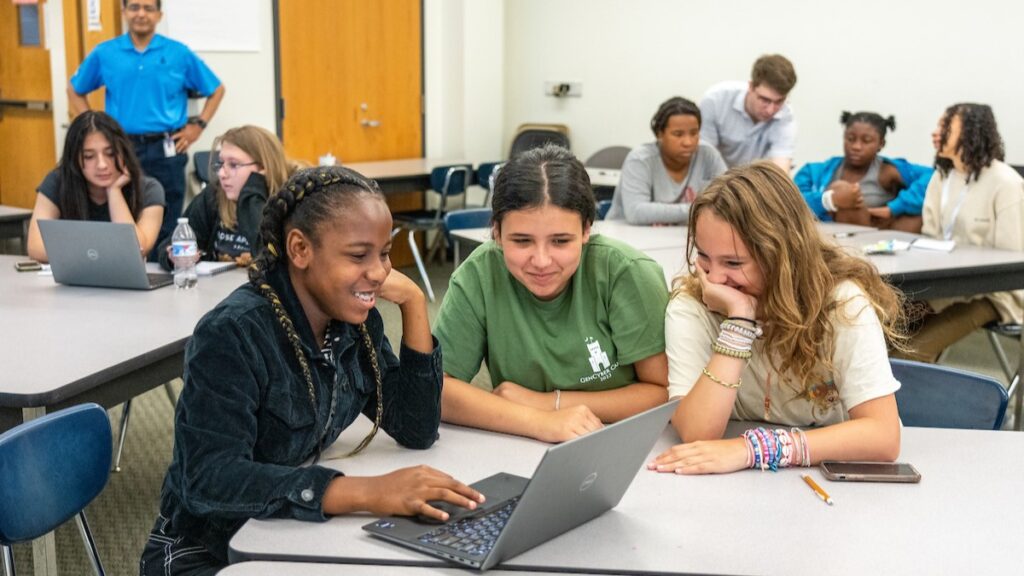 The next generation of cybersecurity professionals attended GenCyber camp at The Citadel, a weeklong summer camp that encourages local middle and high school students to pursue careers in the field of cybersecurity.
The National Security Agency (NSA) and the National Science Foundation (NSF) jointly sponsor the GenCyber program, which offers cybersecurity camps to K-12 students. This summer, there were two sessions of the week-long camp available; the first week was primarily for girls and the second week was for boys. The same topics were taught across these two weeks. Overall, a total of 36 local middle school and high school students attended this summer's GenCyber camps.
"The main goal of The Citadel's GenCyber camps is to generate interests in cybersecurity among the 8th – 12th grade students through fun activities," said Shankar Banik, Ph.D., program director for GenCyber Citadel, as well as professor and head of the Department of Cyber and Computer Sciences. "We hope that the GenCyber camps inspire these students to select a discipline related to cybersecurity when they go to college, pursue a career in cybersecurity when they graduate and keep our country safe in the cyberspace."
Students got the chance to participate in hands-on learning activities that taught them the basics of cybersecurity. Topics that were covered during GenCyber included:
Principles of cybersecurity
Six GenCyber concepts
Network security
Secure coding
Cryptography
Cyber crime, cyber safety, cyber ethics
"We teach concepts of cybersecurity, cyber safety and cyber ethics so that each student becomes a good cyber citizen," Banik added.
Instructors for GenCyber were Citadel faculty members from the Swain Family School of Science and Mathematics and from the Zucker Family School of Education which included:
Shankar Banik, Ph.D.
Michael Verdicchio, Ph.D.
William Johnson, Ph.D.
Antara Mukherjee, Ph.D.
Jordana Navarro, Ph.D.
Jennifer Albert, Ph.D.
The Citadel has been hosting GenCyber Camps since 2016 and was the first college in South Carolina to host one. The NSA and NSF provide grants to colleges and universities to host GenCyber camps across the country.