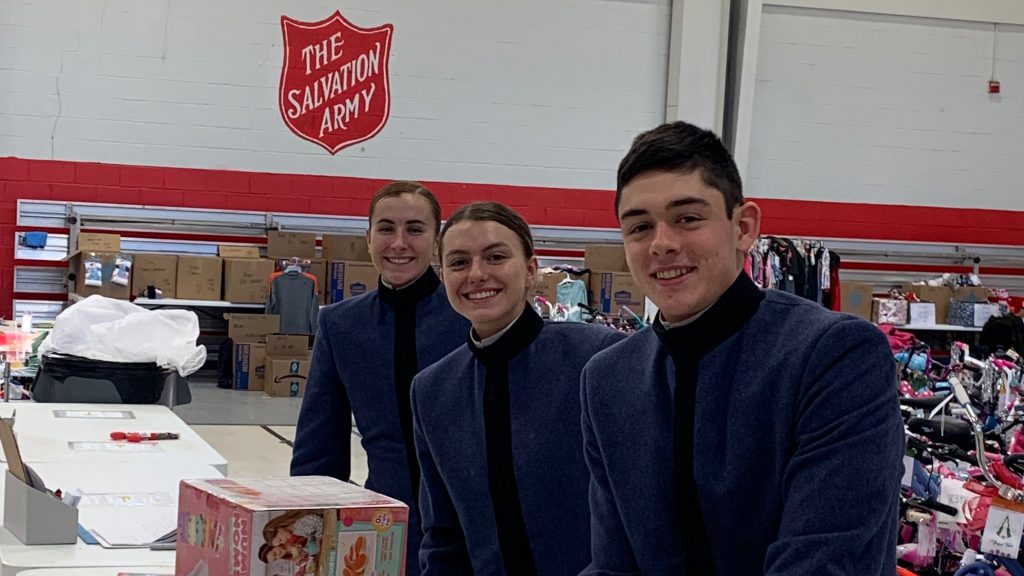 Photo: Claire Thomas, Ireland McConnell, and Trevor Atkins
All photos are courtesy of Cadet Haylee Neal
Dozens of Citadel cadets spent some of their last days of the semester giving back to the Lowcountry; more gifts still needed
The first half of December is usually spent studying for final exams or getting ready for the holiday break. But more than 30 Citadel cadets used this time to give back to local children in need.
Between Thanksgiving Break and the start of exams, the cadets volunteered a total of 135 hours working on the Angel Tree campaign for the Salvation Army.
Claire Thomas working at the Salvation Army

Matthew Salazar sorting through donations

Sophomore volunteers working at the Salvation Army
The cadets helped to sort through the gifts, making sure the right gifts get to the right children.
"Everyone's favorite thing was that, despite it being a project where you don't get to meet those you serve, the recipients have a list of items they like and the Palmetto Battery cadets did their best to select from the donations to meet the child's wishes," said Cadet Haylee Neal. "For the cadets, it helped to feel like they still got to meet or know the recipient."
Trevor Atkins selecting a bicycle for an Angel

Citadel cadets arranging gifts for the Angel Tree campaign
Neal was one of the cadets to volunteer alongside other Palmetto Battery cadets, who went as a group on one of the last days before exams.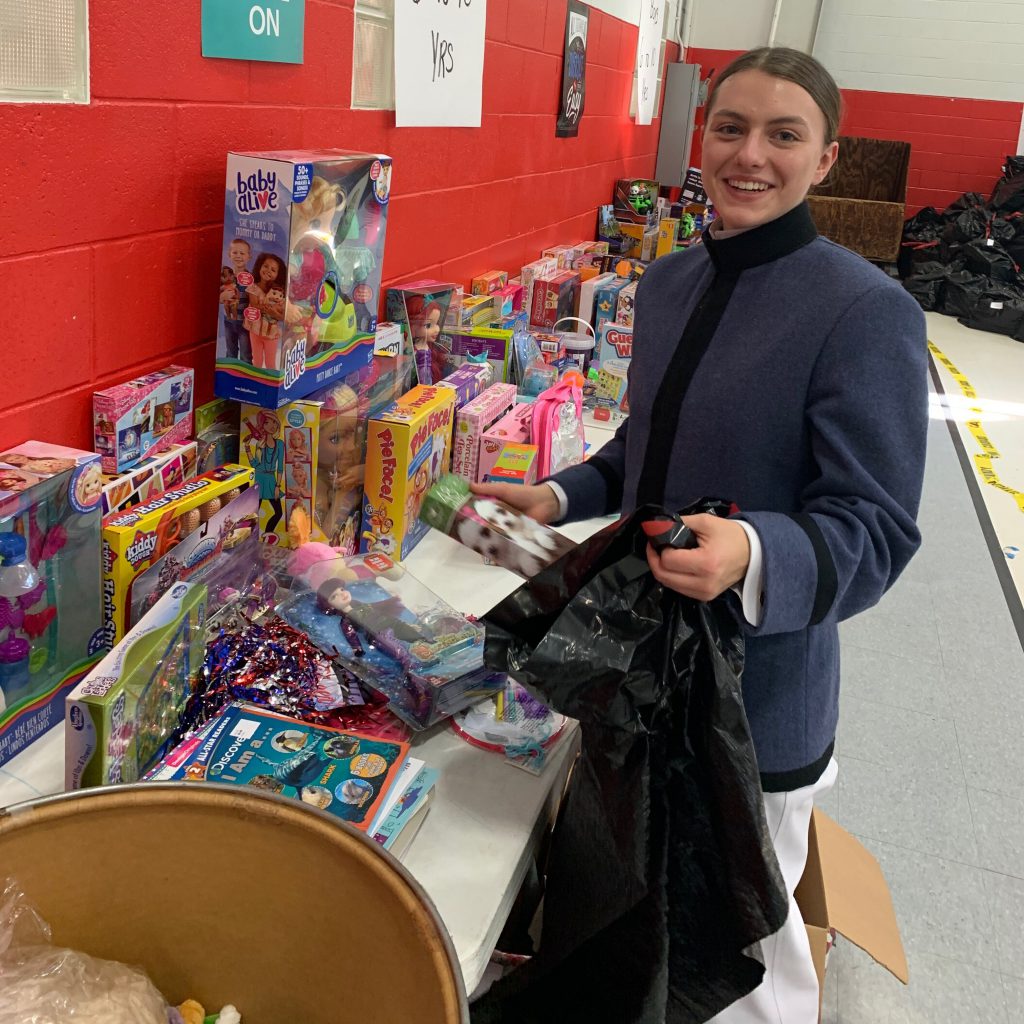 "Being able to give back to the community has always been something I have enjoyed doing, and getting to be a part of such an important cause is what inspires me," said Cadet Ireland McConnell, a knob in Palmetto Battery.
Though the cadets may not have any more time to volunteer, it's still not too late for anyone else to give back.
The Salvation Army in Charleston says 2108 children sign up through the Angel Tree program. There are still more than 200 Angels who did not get adopted, and gifts are running low. Requests are for items like remote control cars, Legos, nerf guns, dolls, educational toys, LOL dolls, Mickey Mouse, etc. Gifts, toys and clothing for children birth-12 years old would be greatly appreciated.
Gifts can be dropped at 6209 Rivers Avenue from 8:30 a.m. – 4:30 p.m. The last chance to leave those donations will be on Wednesday, Dec. 18, at noon.
"I am proud that my company chose this as our project despite it being one of the most stressful times of year for us," continued Neal. "Everyone that went from Palmetto Battery enjoyed participating in this project because they know they're going to share the brightness of the holidays."
Richard Krug, Nathan Stone, and, Jonathon Rhymer

Matthew Salazar helping with the Angel Tree campaign

Freshmen volunteers helping sort gifts