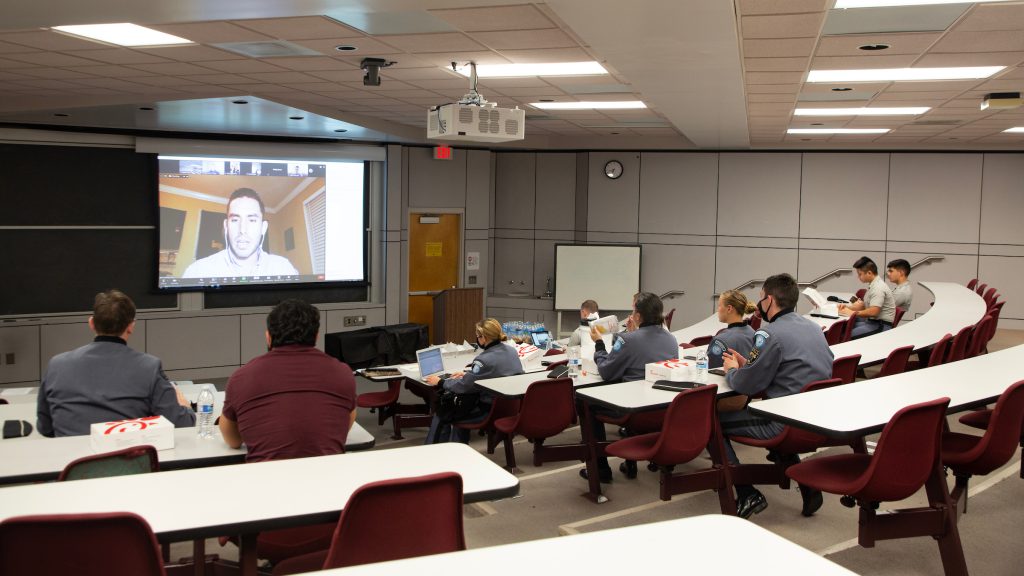 The main consensus: have a healthy GPA
Especially in the current climate, the word "exposure" has a lot of negative connotations — but, even from a medical point of view, exposure can also be a good thing.
In fact, exposure to positive alumni outcomes is very important to healthcare-bound cadets and students — that's according to Sarah Imam, M.D., faculty administrator for The Citadel Health Careers Society and a professor in the Department of Health and Human Performance.
That's why, for the society's holiday meeting, they invited four Exercise Science alumni to visit (via Zoom) and discuss their successes.
"It gives our current students hope," continued Imam. "Sometimes the goal of being a doctor or dentist, or any health professional seems like an unattainable dream. Seeing alumni that were in their shoes not so long ago makes the dream obtainable."
The guest panel included:
Fernando Gonzalez, medical student at USC-Greenville. He has an HPSP Naval Scholarship and is a Medical Officer, 01 Ensign USNR
Kyle Smith, dental student at MUSC. He has an HPSP Army Scholarship and was the founding Vice President of The Citadel Health Careers Society.
Taylor Baucom, Physician Assistant student at MUSC. Current MUSC Public Relations chair for MUSC College of Health Professions and former president of The Citadel Health Careers Society.
Christian Shave, Physical Therapy student at MUSC. Commissioned 2LT, Army.
One main theme of their conversation: grades.
"The most important part of coming out of The Citadel is: they give you a great opportunity to have a high GPA. Which, sometimes isn't the most important thing on your bucket list, but I really want to emphasize that having this high GPA will make you super competitive," said Smith, Class of 2018. "I think The Citadel gives you ample opportunity to boost your GPA, not only through the extra classes you take but also the study programs they have and the help that is provided to you."
And while everyone stressed the important of grades, they also point out that there are plenty of other things that make for a distinctive application to healthcare programs.
"I also have two medical mission trips under my belt," said Gonzalez, a member of the Class of 2016. "They do help you to stand out from everybody else if you pursue them with the right mentality. I think they're a great opportunity for anyone who can do that."
But, ultimately, applications are not only about grades or extracurriculars — they're about the applicant. And The Citadel's leadership laboratory produces some of the best and most competitive.
"Just being at The Citadel gives you a one up on most other candidates," said Shave, who graduated in 2020. "The director of the MUSC Physical Therapy program — after I got my acceptance — he actually sent me an email personally saying 'Hey, we really value what you guys do at The Citadel, and we know you'll bring great things to this program because of your experience at The Citadel.' So they know that you guys are really doing good stuff and, even though your time may be limited in other areas, they recognize that and they know what you guys are learning."
The Citadel Health Careers Society is a student-led organization, for cadets and students — from any major — wanting to pursue any career within healthcare. The society helps members be more competitive applicants for postgraduate studies.