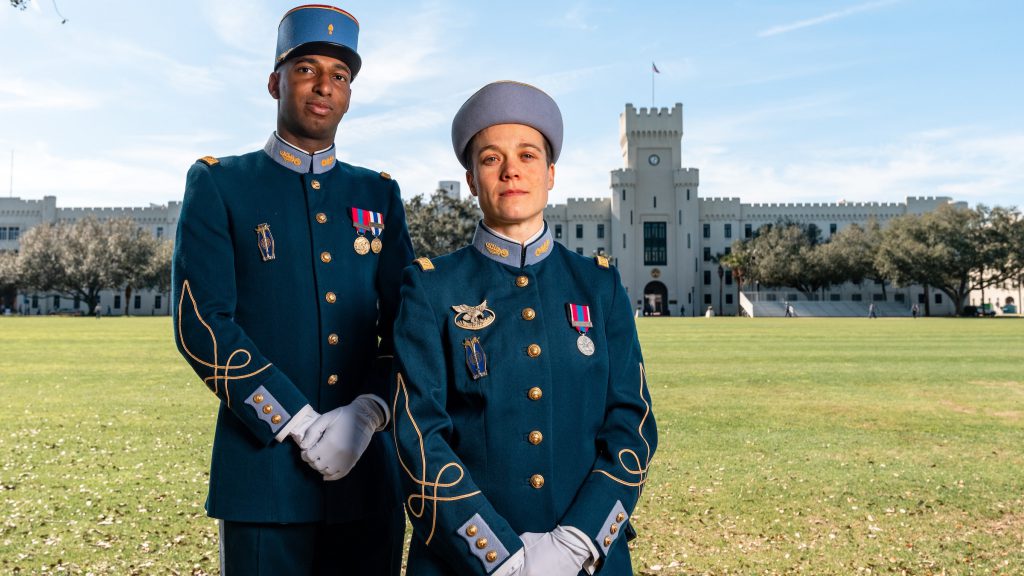 By Jennifer Healy, CGC
The Citadel recently bid adieu to two guest officers from Saint-Cyr's French Military Academy. Leo Moulin and Kevin Berthelot, both second lieutenants in the French Army, came for a four-week visit through an exchange program sponsored by The Citadel Center for International and Special Programs. The students, while already commissioned officers, spent the month dropping in on different classes, meeting with students and professors, and touring the city of Charleston. "It's a great experience," said Moulin. "I want to meet people. I want to learn what they think. Every time I meet someone, I am happy." Her colleague concurred. "Meeting people was the biggest point," said Berthelot.
What stood out to them the most at The Citadel? The Fourth-Class System. "It's an amazing opportunity for cadets to actually experience a real leadership position. They have to go through an interview process, so that they have to think about what they want, why they want it," said Moulin.
Both lieutenants said they wished they had more time in Charleston, agreeing that they still have more people to meet and history to learn. "We'd like to come back, and we also hope that many people want to come to Europe," said Berthelot.
The Citadel Center for International and Special Programs offers a robust lineup of study with domestic and international programs, including Belize, Estonia, France, Greece, Italy, Kenya, Spain and the United Kingdom.  In addition to semester-long study in the Global Scholars program, the signature Citadel in D.C. program offers students a full semester of adventure with exciting internships and classes in the nation's capital.
Jennifer Healy is a graduate assistant in the Office of Communications and Marketing, pursuing her master's degree in international politics and military affairs. She earned her bachelor's degree in journalism from DePaul University in 2008 and served four years on active duty in the U.S. Air Force. She is currently a Reservist, stationed in Charleston.