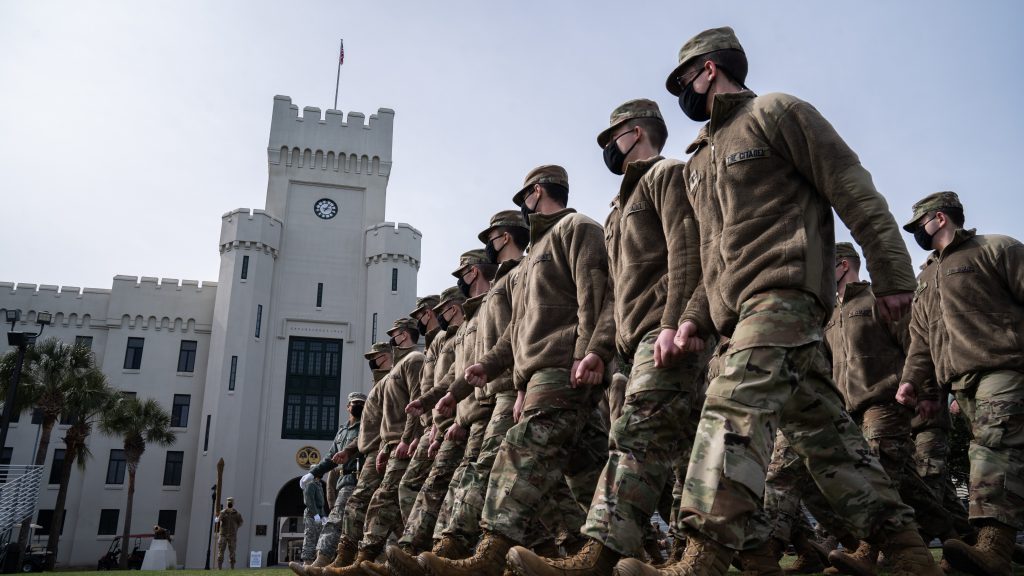 Finalists to make presentations on campus
There are four finalists in The Citadel's search for the next Commandant of Cadets.
The Citadel Commandant of Cadets is a vice presidential position that is responsible for the command, leadership development and oversight of the 2,300-member South Carolina Corps of Cadets and is crucial to the success of the Military College of South Carolina.
The finalists include:
Col. Thomas J. Gordon, U.S. Marine Corps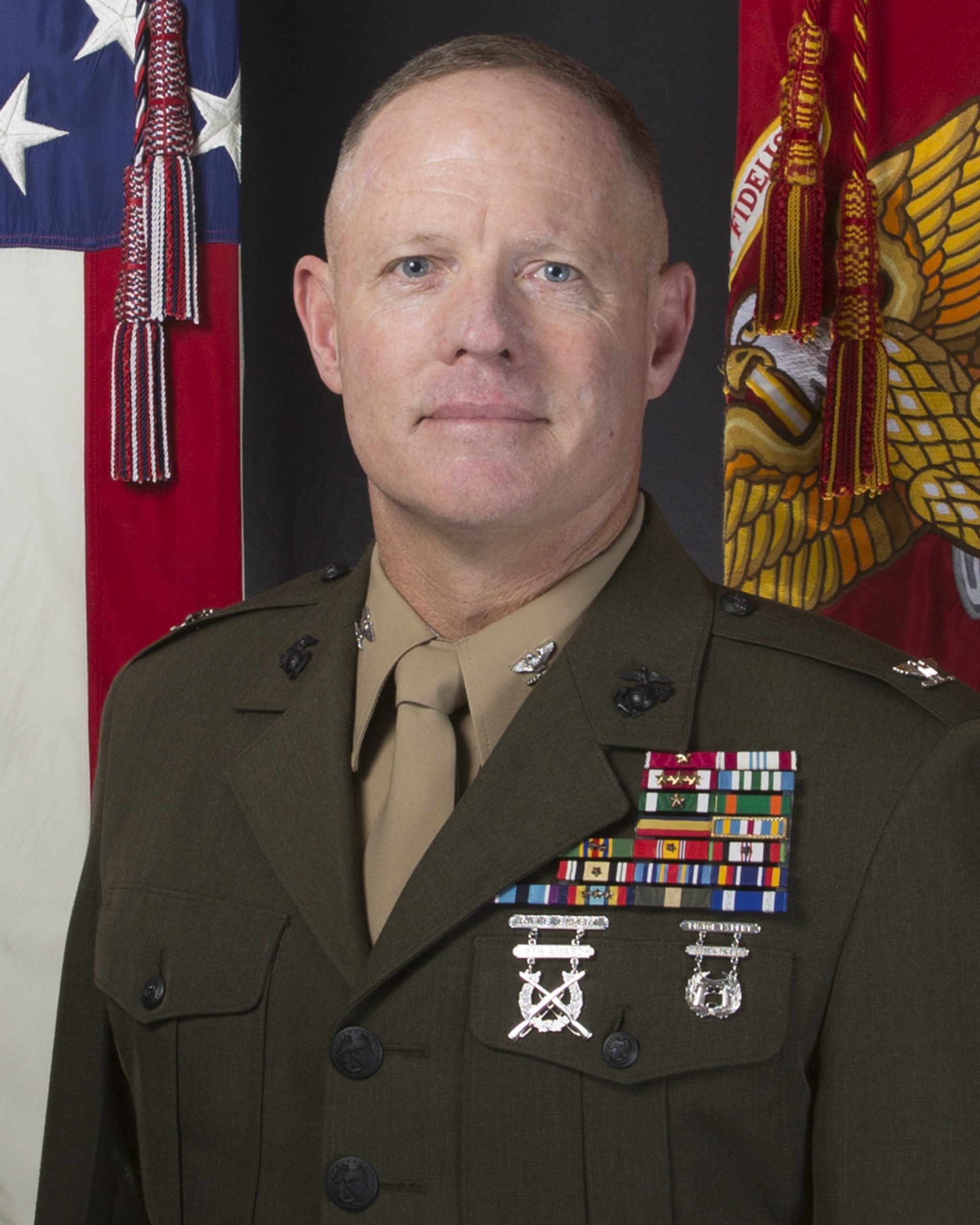 Gordon graduated from The Citadel in 1991, becoming a U.S. Marine Corps (USMC) officer. He retires from military service in May 2021 after 30 years. Gordon is currently the Director of the Command & Staff College at Quantico, Virginia, one of the four Department of Defense Professional Military Education Colleges where he leads the development of future commanders of the joint force with graduate level education. Previously he served as the Chief of Staff to the Commandant of the Marine Corps, supporting the coordination of policy, plans, and decisions governing the manning, training, and resourcing of nearly 200,000 Marines and 13,000 civilian employees with an annual budget of $42 billion. Examples of other positions include serving as a Resident Fellow with the Council on Foreign Relations and as Commanding Officer for a 4,000 member organization executing world-wide combat operations that provided the communications, intelligence, electronic and cyber warfare capabilities, supporting arms integration, and liaison capabilities for the USMC. Gordon holds a Master's Degree in Business Administration from Webster University and studied as a Fellow of International Relations and National Security with Massachusetts Institute of Technology.
Col. Michael McDonald Larsen, U.S. Army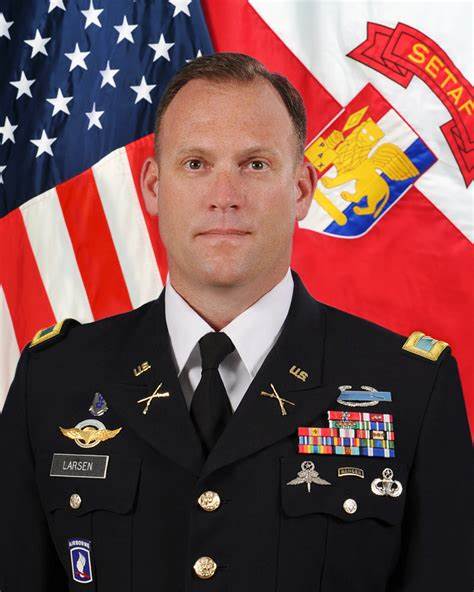 Larsen graduated from The Citadel in 1992 and has served in the U.S. Army as an active duty Infantry Officer for 28 years. Larsen is currently Deputy Commanding Officer for the U.S. Army Training Center at Fort Jackson where he is second in command over the Basic Combat Training of 50,000 soldiers annually (1,000 weekly during the coronavirus pandemic). Prior to that, he was Chief of Staff, U.S. Army Africa, supervising 20 colonels and their directorates with responsibility to respond to contingencies and security cooperation activities in 53 countries on the African continent. Larsen also spent time as a Garrison Commander in the Kwajalein Atoll, Republic of the Marshall Island, where operations included a $4 billion test range and leading the community of 2,000 military service people and civilian contractor workers there. Larsen was the Brigade Operations Officer and Battalion Executive Officer for 1st Brigade 82nd Airborne Division at Fort Bragg, with combat service in Iraq. In addition to a Bachelor of Arts in History from The Citadel, Larsen holds a Master's of National Security and Strategic Students from the U.S. Naval War College, and a Master's of Military Art and Science from the School for Advanced Military Studies at Fort Leavenworth.
Capt. M. T. Meilstrup, U.S. Coast Guard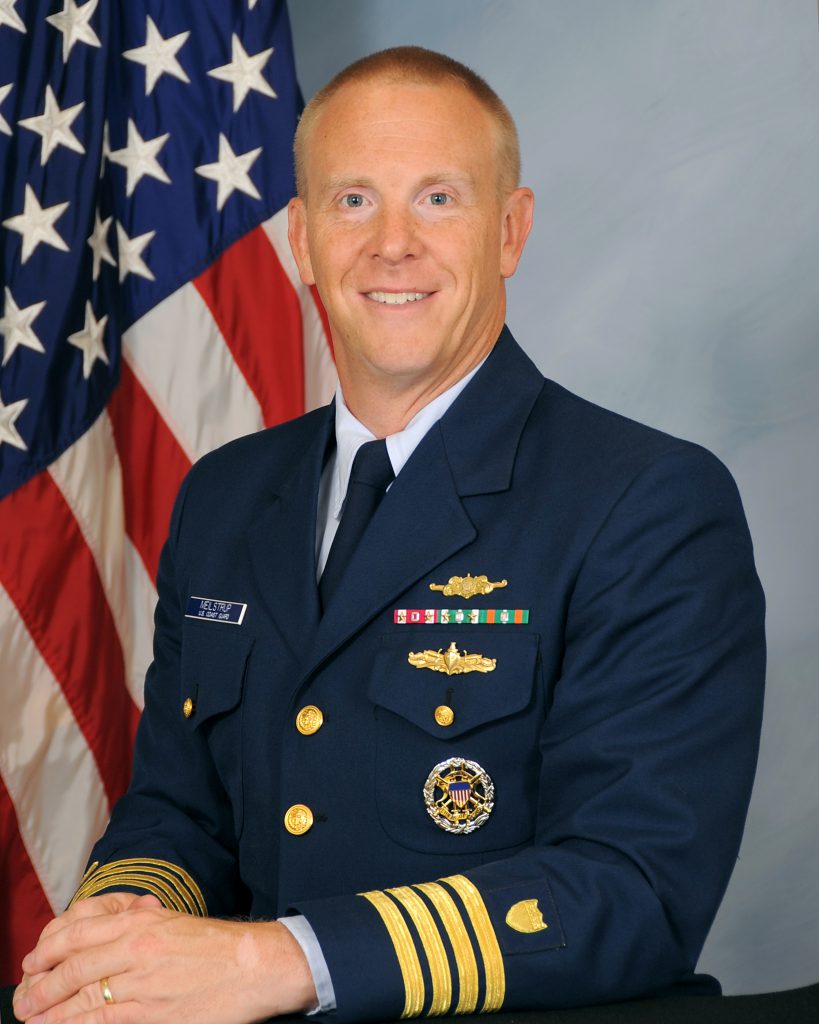 Meilstrup graduated from the U.S. Coast Guard (USCG) Academy in 1992 and continues to serve the USCG. He is currently Senior Manager, Logistics and Business Operations for the USCG, directing enterprise-level logistics policy, procedures and integrated assessments and business operations for the nearly $2 billion directorate. Meilstrup spent 18 years aboard ships and, thus far, 11 years in command roles. For four years he commanded the Coast Guard's three-masted EAGLE sail-training ship leading over 2,000 officer trainees through 80 different ports and on four trans-Atlantic voyages. Other assignments included serving as Senior Manager/Adviser in the Office of the Chairman of the Joint Chiefs of Staff and as Chief, External Affairs and Heritage for the USCG. In addition to earning a Bachelor of Science in Marine Sciences from the USCG Academy, Meilstrup holds three master's degrees: one in Strategic Studies from U.S. Marine Corps University, a Master of International Public Policy from Johns Hopkins University SAIS, and a Master of Business Administration from Regis University.
Col. Scott Nahrgang, U.S. Air Force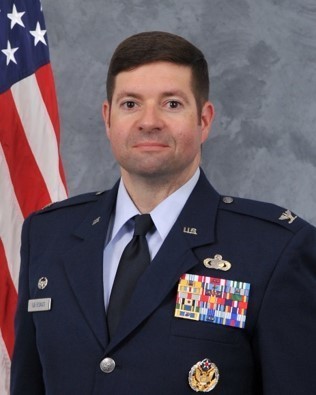 Nahrgang graduated from The Citadel in 1996 and became an officer in the U.S. Air Force (USAF). He continues to serve almost 25 years after his commission. Nahrgang is currently Chief of Command and Control, Electronic Warfare and Global Integrated Intelligence, Surveillance and Reconnaissance Strategic Plans and Programs, at the USAF headquarters in the Pentagon. Previously, he led intelligence operations as group commander at Beale AFB for the 548 ISR Group, a 24/7 combat mission entity. Earlier, Nahrgang commanded the Department of Defense's largest multi-service intelligence training unit, composed of 375 instructors teaching 6,400 joint-service students each year. He was deployed as the executive officer to the Secretary of Defense Representative in Europe and Defense Advisor to the U.S. Ambassador to NATO, and the Defense Intelligence Policy Advisor for the U.S. Mission to NATO. In addition to a Bachelor's Degree in English from The Citadel, Nahrgang holds a Masters of Aeronautical Science from Embry-Riddle University and a Government Affairs Institute Legislative Studies Certificate from Georgetown University.
About the search
The search was initiated in November following an announcement by The Citadel President, Gen. Glenn M. Walters about the upcoming retirement of current commandant, Captain Geno Paluso, USN (Ret.), '89, at the end of the current academic year.
Some of the position requirements include:
Extensive military background with a minimum of 20 years of service in one of the branches of the U.S. Armed Forces and attained the rank of Colonel (O-6)
Background in the command of military units (O-6 level) is required in order to provide the senior leadership for the Corps of Cadets
The Commandant must also have ONE of the following:
· Experience at a Senior Military College
· Experience at a Federal Service Academy
· Graduated from a Senior Military College or from a Federal Service Academy
The Commandant Search Committee members are as follows:
Col. Tom Philipkosky, USAF (Ret.), '82, senior vice president for Operations and Administration (chair)
Col. Pete McCoy, vice chair for The Citadel Board of Visitors
Faith Rivers-James, J.D., assistant provost for Leadership
Col. Leo Mercado, USMC (Ret.), '79, former Commandant of Cadets
Jay Dowd, Ph.D., president and CEO, The Citadel Foundation
Presentation dates
The finalists will provide presentations on campus at noon on these dates:
Col. Tom Gordon – February 22
Capt. Matt Meilstrup – February 24
Col. Mike Larsen – February 26
Col. Scott Nahrgang – March 1
The presentations will take place in the Bond Hall 165 auditorium, with very limited, socially-distanced seating on a first come, first served basis. The presentations will also be shown live via Zoom. The link will be provided to the campus community prior to each presentation via email and advertised via The Citadel's social media accounts. Zoom participants will be able to send in questions via Zoom's chat function.