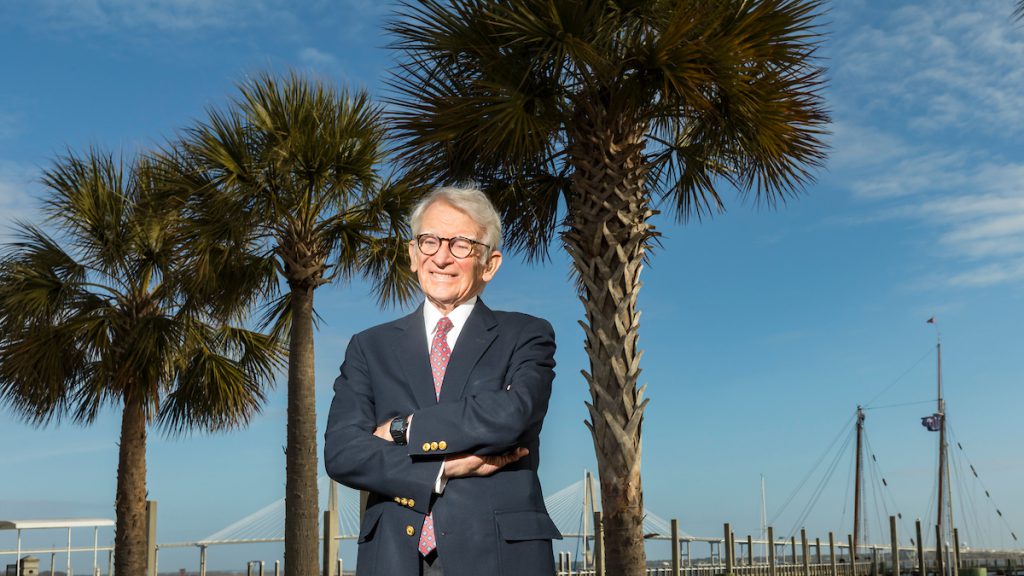 Citadel professor and former Charleston Mayor Joseph P. Riley, Jr., is teaching a new course for the spring semester called The Why and the How: The Making of the International African American Museum. Every class in the course is open to the public.
From examining old South Carolina school textbooks that distorted the subject of slavery to presentations by guests who lived through what Riley refers to as the under-told stories of African American experiences, all facets of the course center on what will be presented in the future International African American Museum (IAAM) as well as the making of the museum itself. Riley was instrumental in launching the effort to raise funds for the IAAM in in 2000. The museum is projected to open in 2020 near the Maritime Center at what was called Gadsden's Wharf. More enslaved Africans were brought to and sold at Gadsden's Wharf than any other place in North America.
"The museum site is sacred ground. The location was crucial because every day it is painfully evident that America continues to be fractured by our structural defect resulting from the days of enslaved Africans. This fissure exists because we Americans do not know this important part of our country's history," Riley said. "The International African American Museum will boldly tell the full story of the enslaved people of America and their evolution to modern day, with Charleston having been a part of almost every chapter. It will also celebrate the beauty, creativity and intelligence of those people in a manner, which in the end, allows the visitor to leave feeling a sense of jubilance and hope."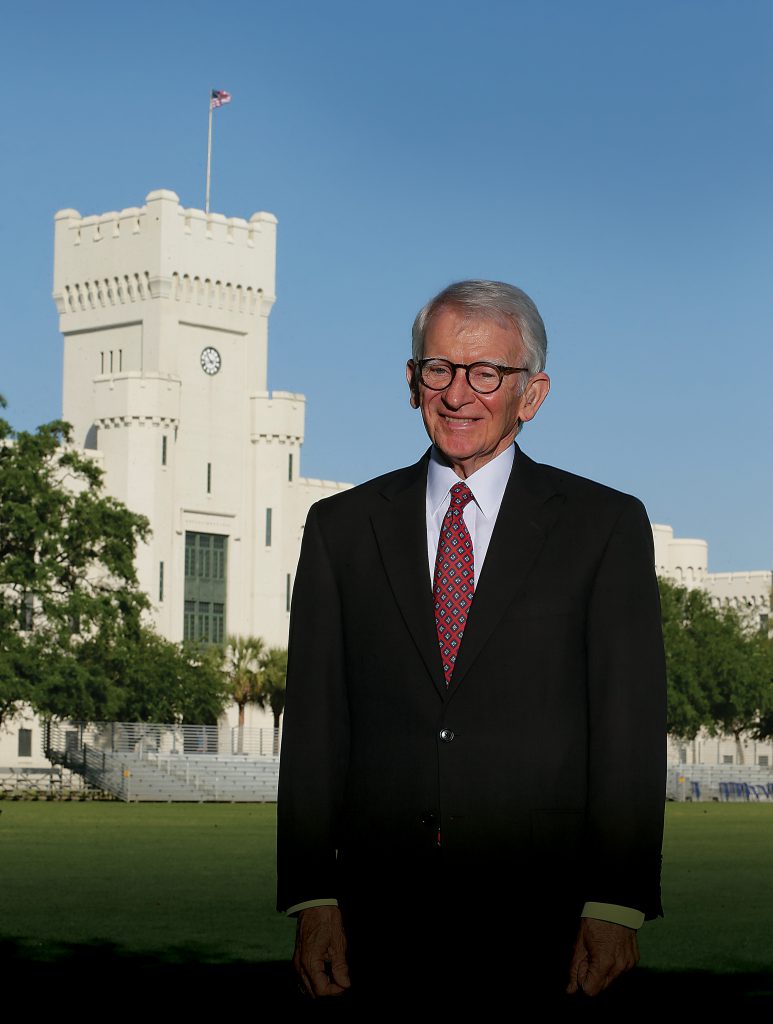 The course is as much a study of history learned through the culmination of decades of work by church historians, genealogists and storytellers as it is a business case study of what goes into taking on a major public project of this kind, including architecture, civil engineering, finance, public policy and project management.
"Our cadets and students are gaining an indelible picture of African American history related to Charleston's role, and they will finish with an understanding of the importance and complexity of preserving and commemorating this public history," Riley said.
For Riley, an IAAM board member, the museum represents an extension of his political commitments, dating back at least to the time of his first mayoral election in 1975.
Classes began Jan 16. and included 1) "Things we never learned," 2) The making of slaves in the family, and 3) The South Carolina Landscape of Slavery. The remaining classes are below.
Feb. 6 Black Charleston in slavery and in freedom. Featuring Bernard Powers, Ph.D., co-author of We are Charleston, Bond Hall 165
Feb. 13 The Student Nonviolent Coordinating Committee and the modern African American freedom struggle (Livestreamed on Citadel Facebook page at 2:30p.m.) Featuring Cleveland Sellers, Ph.D., on his experiences during the Orangeburg Massacre, other civil rights events, and how they compare to contemporary challenges, Holliday Alumni Center
Feb. 20 Financing the IAAM. Featuring:Pete Selleck, former chairman & president, Michelin North America, and Anita Zucker, CEO, The Intertech Group, Bond Hall 165
Feb. 27 The modern African American freedom struggle in South Carolina. Featuring Rev. Nelson Rivers III, Charity Missionary Baptist Church, Holliday Alumni Center
March 6 IAAM museum design. Featuring Walter J. Hood, Professor of Landscape Architecture and Environmental Planning and Urban Design, University of California at Berkeley and founder, Hood Design Studio and representative, Pei, Cobb, Freed and Partners, The Charleston Maritime Center, future IAAM location
March 20 IAAM Center for Family History. Featuring Toni Carrier, genealogist, Center for Family History, IAAM, Bond Hall 165
March 27 A look inside the IAAM. Featuring Michael B. Moore, CEO and president, IAAM, and Ralph Appelbaum, Founder, Ralph Appelbaum Associates. The Charleston Maritime Center
April 3 The International African American Museum and Charleston's half-century. Primary presenter for entire class: Professor/Mayor Joseph P. Riley. Bond Hall 165
The public portion of the classes occurs from 3:30- 5p.m. on each day listed. Classes are held in the locations as noted. Members of the community wishing to attend a class or wanting more information should email Christina Mortti at cmortti@citadel.edu. Members of the media wishing to cover classes are welcome, but should email kkeelor@citadel.edu in advance.