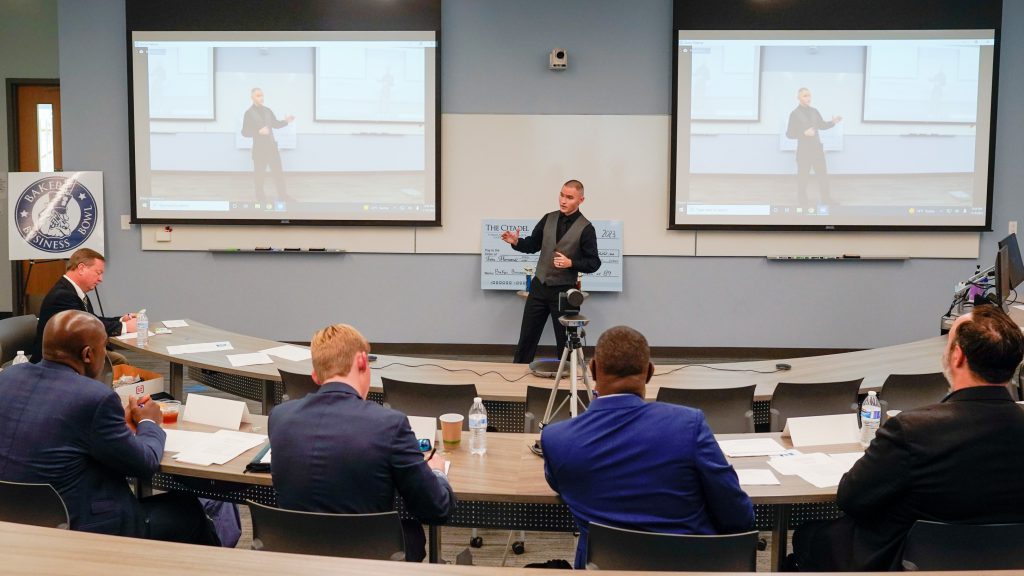 Photo: Clayton Tovo presenting for Team Patriot Goalie.
Eleven teams competed in the semi-final round of the Baker Business Bowl IX on Thursday, Nov. 3. Business ideas ranged from hockey gear, bait casters, delivery drones and more. By the end of the day, only five teams advanced to the final round.
This elevator pitch round consisted of five-minute summaries from each team, where they had the chance to explain their business idea to a panel of business experts and then had a ten minute question and answer portion from the judges.
In its ninth year, the Baker Business Bowl is a program for budding entrepreneurs who have an idea for a new product or service along with a drive to turn that idea into a business. This program is open to cadets, evening undergraduate students and graduate students.
Now, five teams will move on to compete in the final round. They include:
BreaKINGchains/Worthy Living Co.
This company is a personalized life and accountability coaching service that specializes in nutrition support through delivered meal boxes to promote weight loss. They aim to develop this business into more fitness and incentive focused plans.
FarmHand
This team's goal is to help eliminate food deserts through micro-green, aquaponics, vertical farm franchising systems. This will be done by partnering with homeowners to use their homes' space to install these aquaponic systems.
Landsformer
This team wants to develop a solar–powered, self-driving lawn mower. Made up of mechanical engineer majors, the team aims to develop a more cost-effective version that utilizes solar-powered batteries and a boundary system.
Patriot Goalie
This company hopes to create handcrafted, quality hockey equipment, specifically for youth goalies. Youth hockey is a growing sport, and since children grow quickly out of their gear, this company aims to cut the cost of replacing goalie gear by creating sizeable pad leaf inserts.
Sideways Performance
The Sideways Performance team aims to improve the performance and efficiency of any vehicle by replacing older motors with fuel injected LS motors. This will save vehicle owners money by improving gas mileage on older vehicles, as well as boosting its reliability and power.
The other teams who competed in the second round were: The Infinity Ring by AROS Technologies, Jet Boat Nozzle, What I Got, EM Bait-caster, Whirlwind Bait Caster and Sigma Drone Corp.
The Tommy and Victoria Baker School of Business would like to thank the judges:
Jessica Taylor Goyack
James Wigfall
Peter Wild
Bobby Hudson
Patrick Conti
Gene King
Stephen Evans
Joseph Berger
The final round of Baker Business Bowl XI will be a professional business plan presentation before the judging committee. This will include marketing, pricing and production strategies, financial projections and other details. The final round will be held next semester, where the finalists will present their full business plan to a panel of judges. The winning team will receive $10,000 to kickstart their business and the second-place team will receive $5,000.
This event is made possible through the generous donations of The Citadel Class of 1989, Jeff Cobb and Dan D. Nale, PE, '82. To learn more about this program and the Tommy and Victoria Baker School of Business, click here.