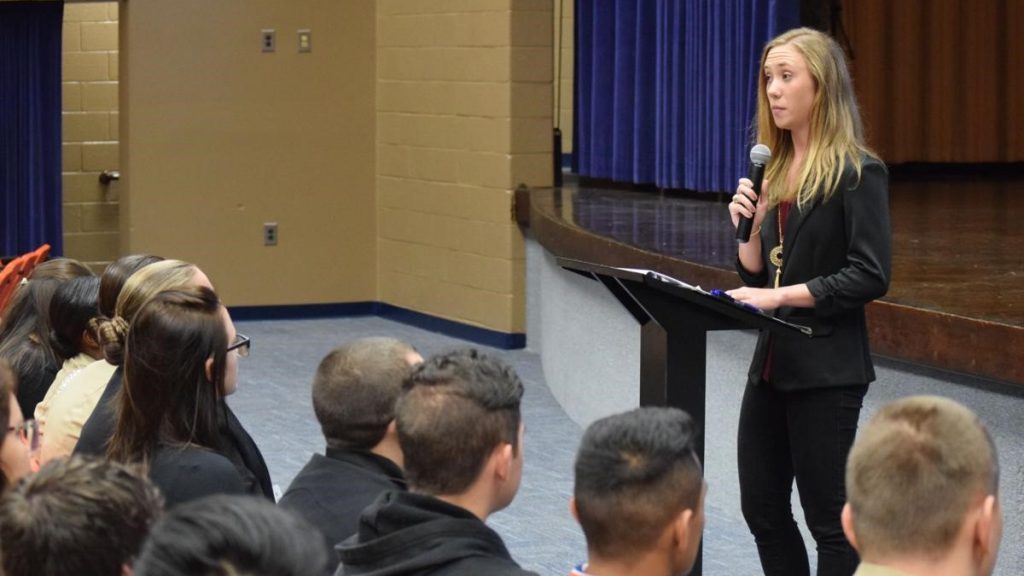 As seen in the Aiken Standard, by Larry Wood, lwood@aikenstandard.com 
GRANITEVILLE – Sarah Zorn's goal never was to be the first female regimental commander at The Citadel in Charleston.
Her goal always was to put her fellow cadets first. Making history just came with the title.
Zorn, a 2015 graduate of Midland Valley High, returned to her alma mater Monday to talk to seniors and NJROTC officers and share her experiences at South Carolina's 175-year-old military college, which first admitted female cadets in 1996.
"I didn't want the label. More importantly, I wanted to serve the corps of cadets in my best capacity," she continued. "That was my goal. I wanted to give back to the corps of cadets as they had given to me and to give to my community and to my nation."
Zorn, a senior who will graduate in May, said becoming regimental commander was a natural progression of The Citadel's Fourthclass System, which teaches "the habits of self-discipline, teamwork, and a collective sense of accountability for everyone on the team," according to its website.
"You start as a knob, and you learn to follow," said Zorn, referring to the name given to fourth-class cadets, or first-year students. "Then, you learn to serve, to lead and to command."
As the regimental commander, Zorn directs subordinate battalion and company commanders.
"She's in charge of more than 2,400 students. That's more students than Aiken High and Midland Valley High put together," Midland Valley Principal Carl White said, introducing Zorn. "It's a big deal that she's the first."
Zorn's day starts at 5 a.m. with workouts. She can do 65 push-ups in two minutes – more than three times the minimum for women – according to a news story that appeared on the national television show "CBS This Morning," by anchor Norah O'Donnell.
Zorn's physical strength comes from years of training. She started karate at 10 and holds black belts in three different martial arts disciplines.
After her workouts, Zorn is in class with a full course load until the afternoon.
After graduation this spring, Zorn will commission with the U.S. Army on May 3 as a field artillery officer and will report to Fort Sill in Oklahoma for her basic officer leader course.
Zorn knew she wanted to go to college but didn't know how she was going to get there until Chief Warrant Officer Gary Seim, the senior Naval ROTC instructor at Midland Valley who since has retired, encouraged her to apply for an Army ROTC scholarship.
"I didn't have a way to pay. My mom passed away when I was 16, and my dad didn't have a way to help me financially. I was like, man, what do I do?" said Zorn, who is a daughter of Patrick Zorn and the late Venetia Zorn, who was an Air Force veteran.
"Officer Seim showed me information on all four military branches and said pick the one you like and apply. I liked the Army, so I applied and received a four-year national scholarship. I wanted to be a mechanical engineer at the time, so The Citadel checked all of my blocks."
Seim said he was not surprised when Zorn was named regimental commander and knew she'd do well.
"She is motivated," Seim said. "When she sets her mind to do something, she does it. She's a very determined young lady. She's conscious of everybody around her and takes care of those folks."
Zorn said she wanted to encourage high school students to "look outside themselves and see the world around them" during her talk Monday morning.
"Look at people for who they are and treat everybody with dignity and respect," she said. "I encourage them to give back to their communities. That was my intention coming back today, being able to pour into others and be an example to them."
Zorn said being named the regimental commander has "meant the world to me." Sometimes, the position makes her emotional.
"I've been almost in tears because you see the achievements of the corps and you see people who are happy and doing all the things they've dreamed about and always wanted to accomplish," she said. "That feeling is the best feeling for me and the best feeling you can have as a leader: to see anyone you had some small influence on succeed and be happy."
Zorn said the response to her being the first female regimental commander at The Citadel has been more than positive, considering the first female cadet, Shannon Faulkner, received death threats and was escorted onto campus by U.S. marshals just a little over 20 years ago.
"There's been a lot of outreach on social media from people sending positive message saying you're such an inspiration and thank you so much for what you're doing," Zorn said. "That was overwhelming because The Citadel comes from a challenging past with the admittance of women in 1996. So to see this overwhelmingly positive message from people from all walks of life was absolutely fantastic."