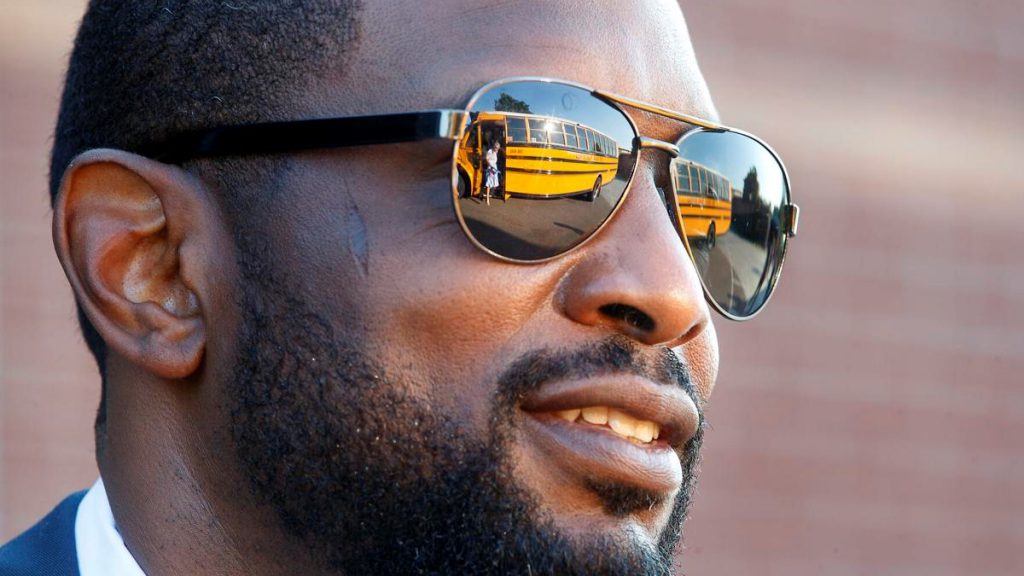 Note: Deon Jackson is a member of the South Carolina Corps of Cadets Class of 1999; he also earned degrees through The Citadel Graduate College in 2005 and 2013. (Photo courtesy: Grace Beahm Alford, The Post and Courier)
More than a decade later, Superintendent Deon Jackson still remembers the feeling he had when he was named principal of the yet-to-be-built Cane Bay Middle School.
It was early summer in 2011. Jackson was still 10 years away from becoming the first African American superintendent in Berkeley County. After the obligatory handshakes and congratulatory pats on back, Jackson hopped into his car and made the short drive from district headquarters in Moncks Corner to Cane Bay Boulevard.
What he found at the construction site left him speechless.
"It was just a slab of concrete, the beginnings of a foundation, nothing else, nothing vertical," Jackson said. "I remember thinking, 'Oh my gosh, what have I gotten myself into?'"
As the head of the fourth-largest school district in South Carolina — with more than 36,000 students — Jackson admits there are moments when he has similar feelings to that first time he saw the school construction site.
But then he remembers why he got into education.
"You do it for the students, that's the 'why,'" he said. "I think that's how you stay in touch with the mission. We do this for the students, to try and make a positive impact on their lives."
Just a year into his new role, Jackson understands the challenges that face one of the fastest-growing school districts in the state. Coming out of a pandemic, the district is facing historic growth, funding issues, new attendance lines and construction headaches.
School board Chairman David Barrow can't think of anyone better suited to face the challenges in front of the district than Jackson.
"Deon has a vision," said Barrow, who hired Jackson as an assistant principal at Timberland High School in 2006. "He'll lead us into the future. He's going to lead Berkeley County where it needs to be. He's the right person at the right time for this job."
That sentiment is shared by Willis Sanders, who spent more than four decades in the district as a teacher, principal and administrator.
"Deon unites people and brings them together in a common cause," Sanders said. "He builds relationships, builds teams and is very goal-oriented. People are drawn to him because he cares."
Super agent
In the mid-1990s, when Jackson was going through grueling two-a-day preseason practices as part of The Citadel football team, he wasn't dreaming about becoming a future school superintendent.
He was more interested in merging his two major interests — finance and athletics. Jackson wanted to become the next super sports agent like Scott Boras or David Falk.
"When I started to research what was required to become an agent, it was a lot more involved than I thought," Jackson said with a chuckle.
His journey from student-athlete, to teacher and coach, to principal and finally administrator began along the Interstate 77 corridor. Jackson borrowed a friend's car for a job interview and was hired to work as an assistant football coach and physical education teacher at Lancaster High School.
He spent two years in Lancaster before moving back to the Lowcountry to get his master's degree in educational administration.
"I was dating my wife at the time and driving back and forth between Lancaster and Charleston was starting to wear on us," he said.
He got a job at Goose Creek High School coaching defensive backs under Chuck Reedy, taught one P.E. class and worked as an administrator the rest of the day with former Principal John Fulmer.
"Deon was very smart, very organized and related to everyone," Reedy said. "He had all the attributes you'd want in someone leading young men. I knew the sky was the limit for Deon. If he had stayed in athletics, he would be a head coach or an athletic director by now."
It's still Jackson's favorite job.
"Best job I ever had," Jackson said. "I got to do everything I loved. I got to coach, I had an administrative role, and I was in the best shape of my life."
Barrow lured Jackson away from Goose Creek to become an assistant principal at Timberland High School.
"I told Deon that if he stayed at Timberland, he'd be a principal in five years," Barrow said. "I was wrong. He became a principal in four years."
In 2010, Jackson took over at St. Stephen Middle School, where he experienced a culture shock.
"The last time I was in middle school I was 12 years old," Jackson said. "I had been working at high schools, big high schools with large enrollments, and this was a totally different experience."
St. Stephen had about 250 students at the time and Jackson learned to wear many hats.
"It was a small staff, so I was involved in everything," he said. "From instruction, to curriculum, to programing, everything. That experience taught me to put myself in everyone's shoes and see what they were up against."
Two years later, the doors at Cane Bay opened as Jackson created a school from scratch.
"I think his job at Cane Bay more than any other job molded him into the administrator he is today," Barrow said. "He built that school from the ground up. Working with contractors, teachers, parents, students, everything and everybody. He created something out of nothing."