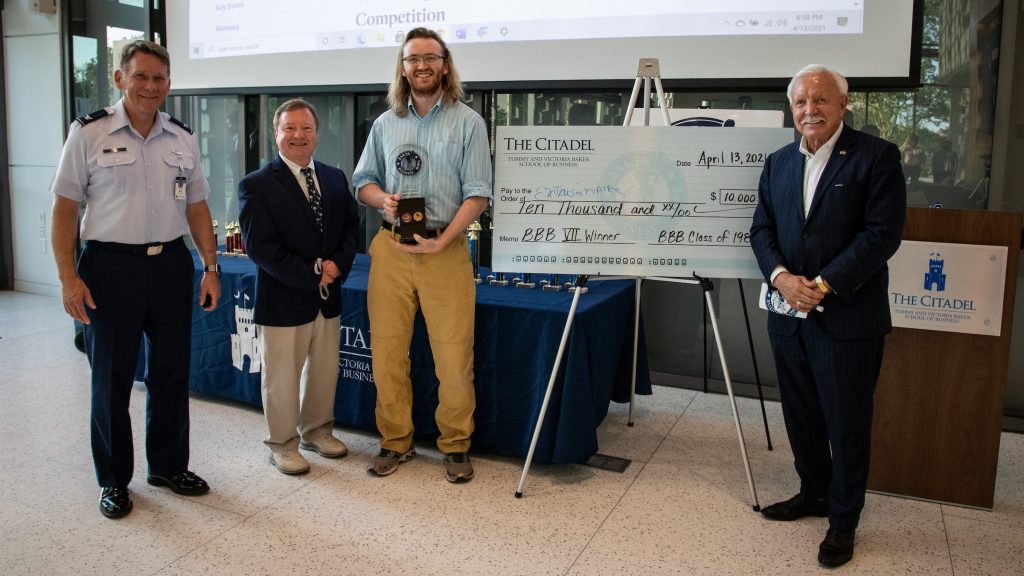 Photo: (left to right) Michael Weeks, Ph.D., dean of the Tommy and Victoria Baker School of Business, Shawn Swartwood, director of the Baker Business Bowl, Team Extrusionaire's Tiernan VanDyke and Tommy Baker remove masks to pose for a portrait while awarding the first place price.
An annual tradition with the Tommy and Victoria Baker School of Business has a new home on campus — Bastin Hall, the new headquarters for The Citadel's business school.
Now, from inside the new building, a new student-founded business is $10,000 closer to reality.
Extrusionaire — device that melts down 3D printed parts and scrap, and then reforms it back into filament to be reused by a 3D printer — won first place in the Baker Business Bowl VII.
3D printing creates a large amount of waste during production, and Extrusionaire provides a fully automated way to for waste or failed prints to be melted down and reformed into a spool of filament, which can be reused. The entire process takes about five hours to melt down, reform and spool plastic products into useable 3D-printing filament.
"This event allowed me a chance to better understand how important business planning and organization is beyond the pure arithmetic and designing process," said Team Extrusionaire's Tiernan VanDyke, an evening undergraduate Mechanical Engineering student. "More than anything, our winning is the result of an effective and compelling product. Additionally, the Extrusionaire would not be nearly as functional if not for the effort and expertise of my team, and for that I'm grateful."
Team Extrusionaire worked with 3D-printing hobbyists in mind, though they also see possible partnerships with The Citadel Makerspace, College of Charleston's Mace Brown Museum of Natural History and more.
The final round of the competition was held on Tuesday, April 13.
Each of the five final teams had 30 minutes to present their business ideas, and to answer questions from the judges.
Team Extrusionaire includes:
Luis Garcia
Mateo Gomez
Craig Niswender
Benjamin Perry
Tiernan Van Dyke
Team Solar Suck came in second place, earning $5,000 for their business. The company's goal is to create an effective dehumidifier that exclusively uses solar power to lower utility prices and promote clean energy; it can also be used in survival situations, such as in a lifeboat, in order to collect water from the air to drink.
Members of Team Solar Suck include:
Cade Bennett
Andrew Brabazon
Charles Marsh
Joshua Valencia
Jack Zappendorf
In late 2020, nine teams competed in the second round of the Baker Business Bowl VII. Five of those teams progressed to the final round held in April 2021.
The Baker Business Bowl is a program aimed at helping budding entrepreneurs who have an idea for a new product or service, and the desire to turn that idea into a business. It's open to cadets, evening undergraduate students and graduate students.
Contestants participate in teams and compete in three rounds over the academic year. The final five teams are given the opportunity to attend a series of educational workshops on how to develop their full business plan.