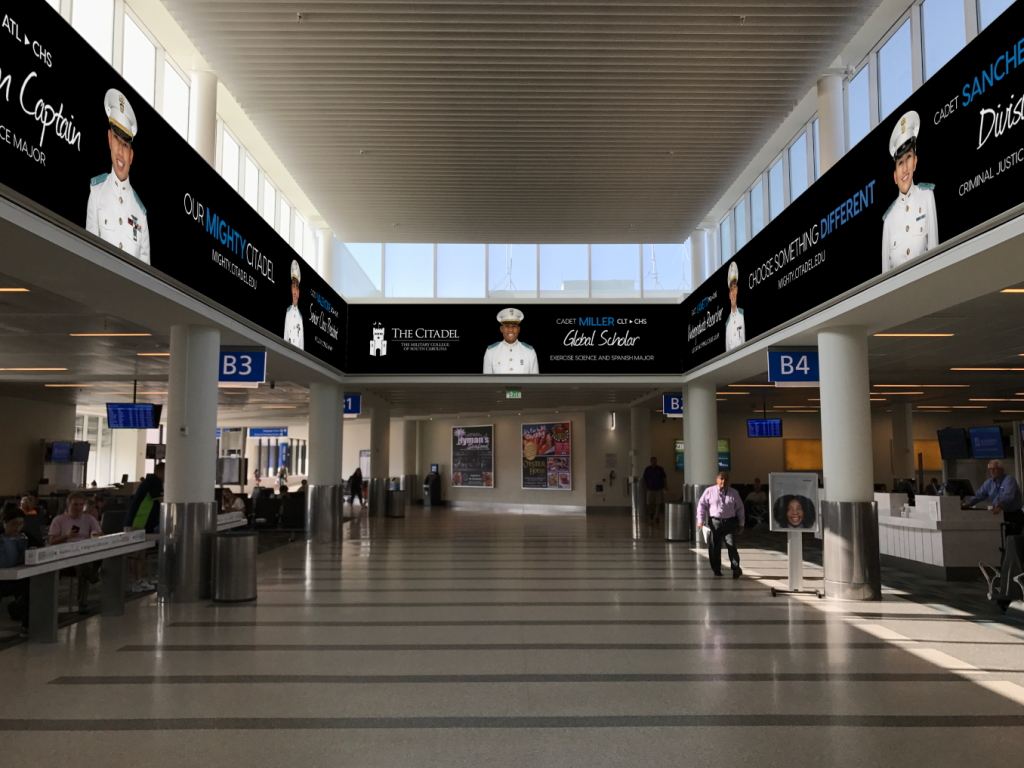 Kannapolis native Logan Miller's face is greeting visitors in the Charleston airport in a giant banner for The Citadel, the military college in South Carolina.
Miller, a senior cadet at the Citadel, was featured as a part of the school's "Our Mighty Citadel" campaign.
"We wanted to showcase individual cadets who are standouts, like Logan Miller," Kara Klein, The Citadel's director of marketing said. "The campaign is designed to help the public get to know our students on a personal and relatable level."
"What I thought was amazing was the discipline and the structure and just how well the cadets conducted themselves," Miller said. "Those were the tools I knew I needed to be a better leader."
During his time at The Citadel, Miller has taken on leadership roles in the school and studied abroad in several countries.
"I'm the regimental public affairs officer so I'm the spokesperson for the school," Miller said. "If there are any media on campus I'm there to direct the media and direct interviews."
This past summer, Miller studied healthcare in Lithuania. He said the trip solidified his decision to go to medical school to be a physician's assistant. During his trip, Miller shadowed specialists in endocrinology, neurosurgery, intensive care, rehabilitation, and abdominal and thoracic surgery.
Miller said he was also inspired to be a PA after he sustained an injury in high school.
"I used to work at the Gem Theater (in Kannapolis), and I had an injury at the job, and I went to the hospital and we were there for 8 hours overnight waiting on a doctor to stitch me up," Miller said. "A doctor didn't show up, which is all fine because a PA did. This woman was very nice, her energy radiated through the room. She was just very understanding, very thorough and she stitched me up in 5 minutes."
After he graduates, Miller will begin attending PA school at the Medical University of South Carolina.
Miller said he thanks God, his mother and his school for his success.
"The Citadel is going to challenge you mentally, physically, and emotionally," Miller said. "You learn how to cope with failure, you learn how to be humble, you learn how to problem solve and think critically and you learn how to have a holistic view about life."