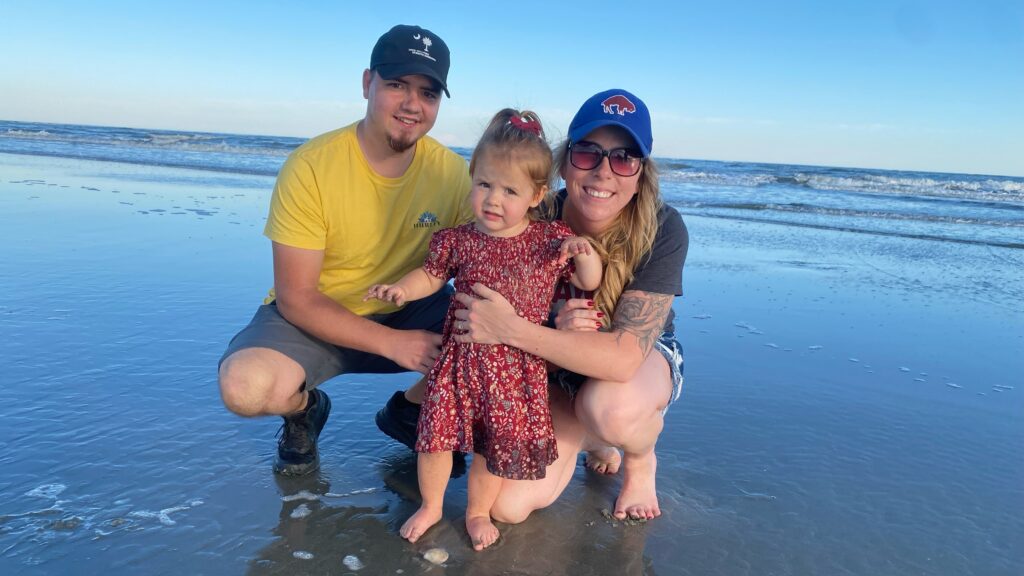 In honor of Veterans Day on Nov. 11, The Citadel is featuring some of the college's outstanding veteran and active-duty students representing different branches of the U.S. Armed Forces.
There are more than 330 veterans and active-duty students currently studying at The Citadel as either undergraduate or graduate students. They can take classes as day students alongside the Corps of Cadets, evening students with other non-cadet students or online. The Citadel's Veteran Student Success Center also offers resources to these students to ensure they have an easy transition and excel here.
Named #1 Best College for Veterans in the South for six consecutive years, the Military College of South Carolina is honored to help our nation's heroes advance their education.
Q&A with Mackenzie Baker, Class of 2027
Mackenzie Baker is a veteran and undergraduate student at The Citadel studying Marketing and Business Development, with a minor in both Spanish and Aerospace Science. After serving seven years active duty in the Army, Baker is currently a drill sergeant in the Army Reserves, in addition to being a mother and full-time student.
At what rank did you leave the military? How long did you serve? What was your time in the military like?
Technically I am still in the Army Reserves. I'm currently an E-5, which is a sergeant. I've done seven years active duty. It's been my favorite thing ever, honestly. I joined as a nursing student at the college that I was at, in hopes for a cadet contract through their ROTC program. I did an aviation MOS, a military occupation specialty, for my first contract. I did that on purpose because I wanted to do something off the wall in contrast to my degree plan and I fell in love with it. I love aviation, I love the mechanic side of it, it just really struck me and I had a good time. And now, currently, I am a drill sergeant in the Reserves and that's my favorite job so far, since it's teaching, leading and coaching future soldiers.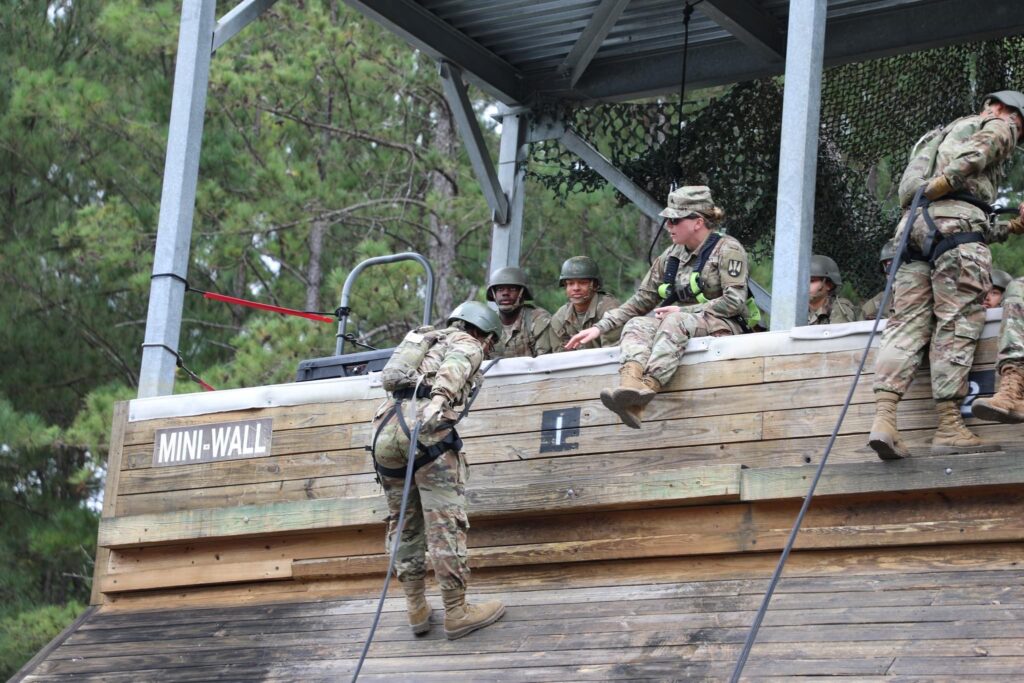 How did you hear about The Citadel?
My husband got a job at Boeing, so we just moved from upstate New York. We were both active duty, we both got out and we wanted to leave the area. My husband started looking at jobs in areas we liked, and Boeing reached out to him and offered him a job, and so he said, "We're moving to Charleston." When I was looking for jobs down here nothing really struck me. I was in a job that I wasn't very happy with and I thought it was a good time to go back to school. I thought I would take this time to focus on my education, so I Googled "colleges in Charleston" and a bunch popped up. The military aspect of The Citadel was really intriguing to me. I like the structure and discipline of the military, so when I found out there was a veteran program where I didn't have to be part of the Corps of Cadets I was sold.
What are you studying at The Citadel? When do you expect to graduate, and what do you want to do after?
Marketing and Business Development. I have a lot of credits that transferred, so right now it's looking like 2026 or 2027, but I'm also doing a minor in Spanish and a minor in aerospace science. I'd really like to work on the corporate side of Boeing. I want to stay in the aviation sector, but I'm done with the maintenance side of it. I'd like to do marketing for Boeing or some kind of management position with them.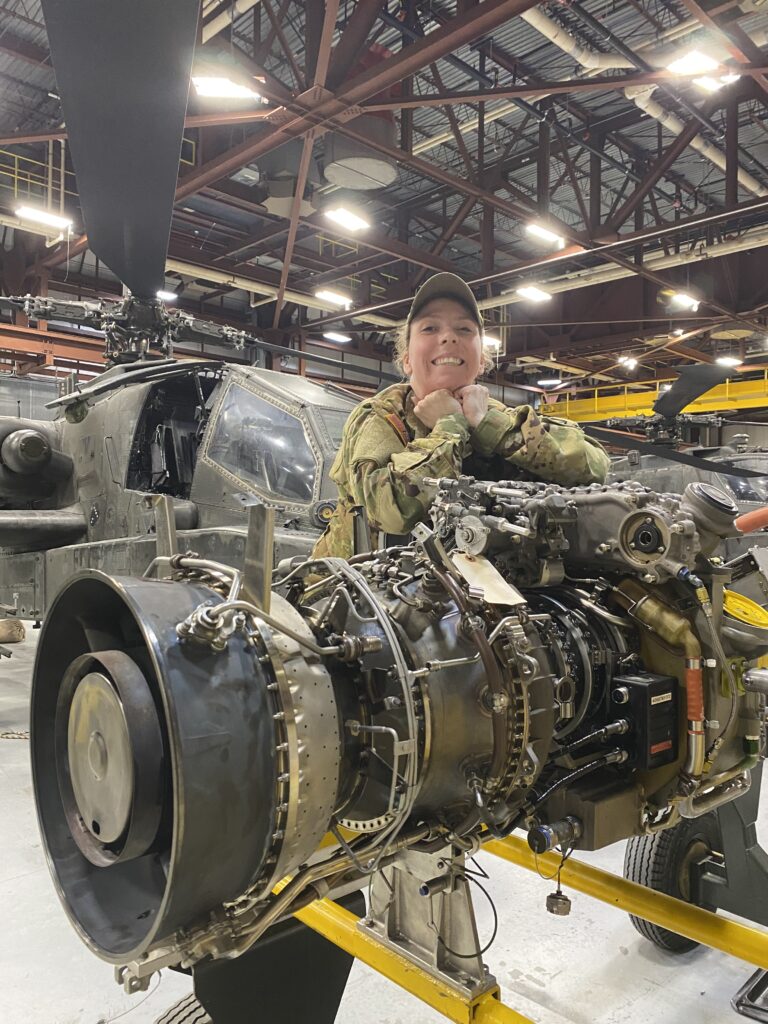 What experiences from your military service have prepared you to be a better student and/or citizen?
In hindsight, I should have graduated high school, joined the military and then went to college. Because the first time I went to college, I didn't know what I wanted to do, I was going off what all my friends were doing and I didn't have a good sense of discipline. And now, after seven years in the Army and growing up a little bit — I'm also a wife and a mom — I have a different mindset of why I'm here. I'm more focused and driven, and I know what I'm doing. The military, that structure and discipline and everything that they instill in you, made me more prepared to be here and taught me to see the bigger picture.
Are there any advantages to being a veteran at The Citadel?
It has exceeded all of my expectations. I get to enjoy all of the benefits that The Citadel offers and none of the stress that the cadets endure. I get to go to a prestigious college and attend classes with everybody, I get the same access to all the amenities and I'm treated just like everybody else. And I love that, because I want to be as included as possible but I'm able to clock out and leave at the end of the day, but I still get the exposure to the discipline here. It's very welcoming here.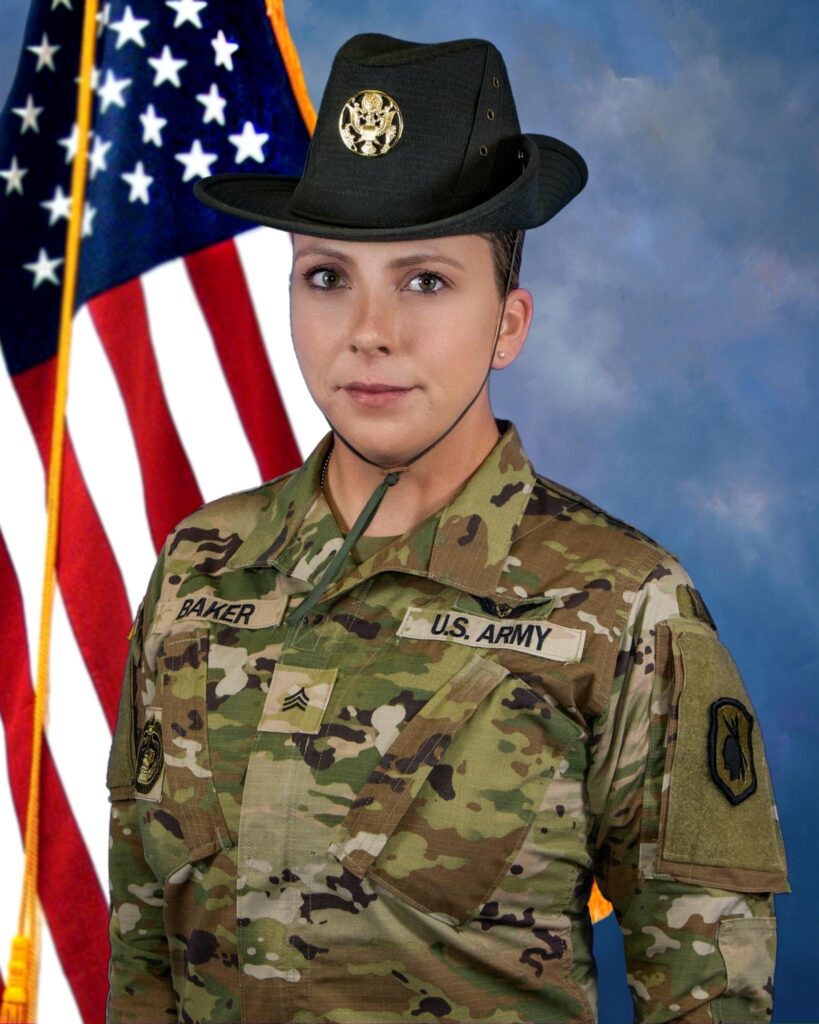 Do you ever get to interact with cadets on campus? If so, what are those interactions like?
I do. All of my classes have cadets, and they're all different class years. So some classes are all knobs, or freshmen, and a few are sophomores, juniors or seniors. They're all very kind and welcoming. I enjoy talking to them.
What's your favorite thing about The Citadel as a whole?
This is my first semester here, but so far, I love the professors. They're very supportive. I had to go on duty for three and a half weeks at Fort Jackson. I was supposed to go nine days, but they extended my orders, and all of my professors were telling me to get my assignments to them when I could, that they understand and they've just been so amazing. The campus is beautiful, and everything has exceeded my expectations as far as being a student here.