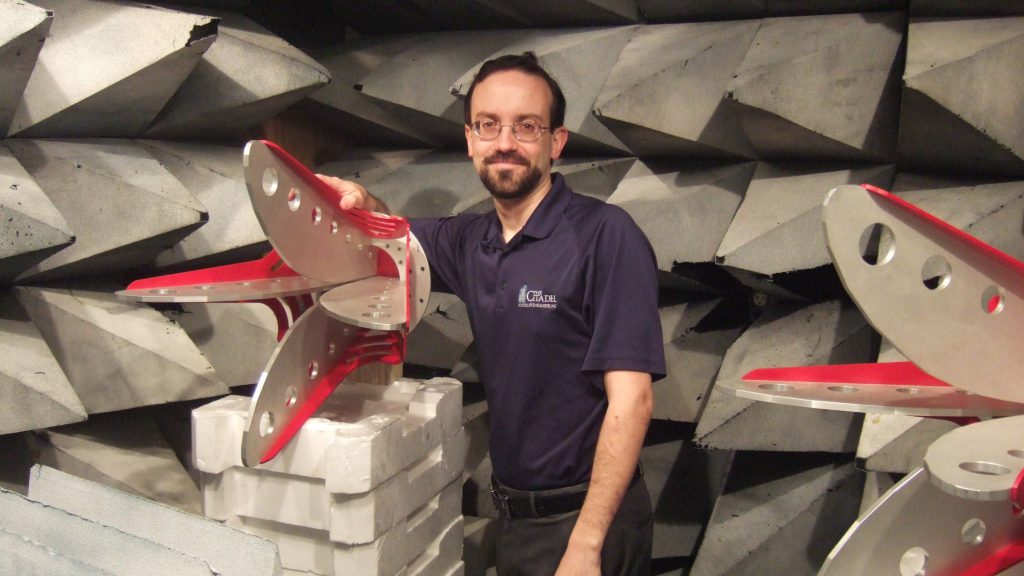 Electrical engineering professor Gregory Mazzaro, Ph.D., splits time between labs at The Citadel and ARL's headquarters in Adelphi, MD
Gregory Mazzaro, Ph.D., a professor in The Citadel's Department of Electrical and Computer Engineering, is using his sabbatical, awarded for 2020-21, to focus full-time on research that he's been conducting with the Army. Since August, Mazzaro has been working closely with Army researchers in Adelphi, MD to develop a unique type of radar as part of a suite of sensors for detecting deadly hazards.
Since joining The Citadel in 2013, Mazzaro has worked part-time as a consultant for the U.S. Army Combat Capabilities Development Command Army Research Laboratory (ARL) on several different technologies, including:
Harmonic radar — for detecting electronics such as those used to trigger explosives
Acoustic radar — for finding metallic objects such as landmines
Passive radar — for locating radio-frequency circuits such as those found in (2-way) communications gear and (1-way) scanner/listening devices
Mazzaro and his colleagues in the Sensors & Electron Devices Directorate at ARL have developed a variety of novel techniques for implementing these radars. This past spring, his team was awarded a pair of patents:
Method and Apparatus for Detecting Objects using a Combination of Radio and Acoustic Signals (US patent # 10,564,280)
Passive Non-Linear Synthetic Aperture Radar and Method Thereof (US patent # 10,649,080)
To date, Mazzaro is a named inventor on nine radar-related patents.
This year, Mazzaro and his team at ARL's Adelphi Laboratory Center (ALC) designed, fabricated, programmed and tested a non-linear junction detector ("non-linear radar") intended to be carried by a mobile platform (e.g. a drone) for detecting explosives. The initial design of the radar was conceived by Mazzaro; specifications were guided by experiments that he conducted on-site during prior summers at ALC.
One of Mazzaro's teammates, technician Khalid Salik of Ideal Innovations Inc., fabricated a prototype transceiver for transmitting very clean high-power probe signals while receiving very low-power radar-target responses. Another of Mazzaro's teammates, Army electronics engineer Kyle Gallagher, programmed the software-defined-radio controller which generates and captures radar waves through that transceiver. In the fall, Mazzaro traveled to ALC to test the capability of this radar hardware to detect particular targets-of-interest, in different configurations:
At different distances away from the radar
Behind walls (i.e. inside nearby buildings)
Near ground (i.e. at different heights above a dry sandy surface)
Between his trips to ALC, Mazzaro processed the data he collected into actionable information which fed back into multiple redesigns of the radar. The latest incarnation of the radar was successfully tested in a desert environment as part of the Army's Blood Hound Gang Program.
This spring, Mazzaro is using his lab at The Citadel — an anechoic chamber located in the old coin-laundry building behind Letellier Hall — to evaluate his team's radar against targets placed in different orientations (e.g. tilted, upside-down). Data that he gathers will further refine the radar's design — widening its capabilities while reducing its size, weight, power and cost.
Despite not teaching, Dr. Mazzaro enjoys staying in-touch with his fellow Electrical & Computer faculty and students. "I bump into my students in Grimsley Hall and they ask me, 'Aren't you on sabbatical?' and I say 'Yes, of course.' Then I smile and wait for the inevitable, 'Hold on, what is a sabbatical?' to which I reply, 'I'm excused from teaching, which means I have more time to do real engineering.'"
With three more papers he's written, expected to be released in conference proceedings this April, Mazzaro will reach a personal milestone: 100 technical publications. "I need to share credit for that accomplishment with my Ph.D. advisor, Dr. Michael Steer of North Carolina State University. He emphasized equal importance for both sides of research: advance the state-of-the-art, and communicate your advances to the scientific community."
Mazzaro looks forward to sharing the latest-and-greatest in radar technology with his students when he returns to teach ELEC 426 Antennas and Propagation in June.