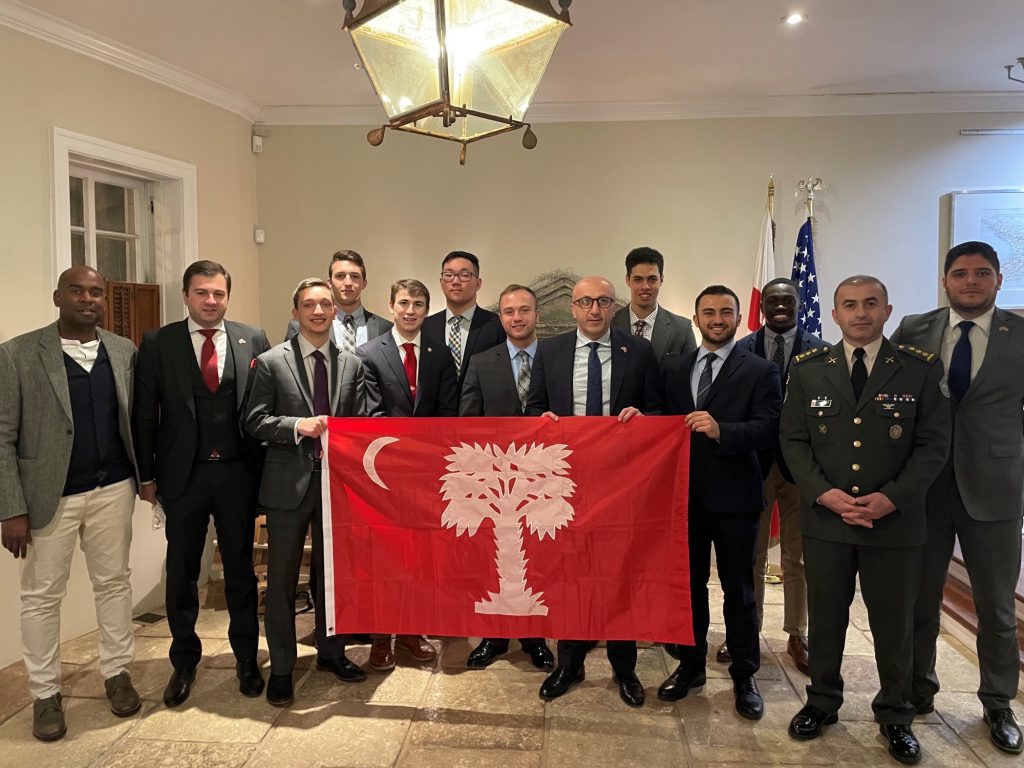 Photo above: Citadel cadets and students studying away in Washington D.C. holding the college's flag and posing for a photograph with dignitaries from Georgia, at the Embassy of Georgia, on March 2, 2022. Pictured far left is Dr. Muhammad Fraser-Rahim, the director of The Citadel in D.C. program, with Tornike Nikvashvili, First Secretary for the Embassy to his right. In the center wearing glasses is Giorgi Tsikolia, Charge d'affaires of Georgia to the United States. Col. Robert Argvliani, the Defense, Military, Naval, and Air Attaché of Georgia to the United States and Canada, is wearing the military uniform.
The Citadel cadets and students living and studying in Washington D.C. for the spring semester are realizing the many benefits of the program. The proximity of their studies to global leaders is one of them.
On March 2, some of the college's cadets and students there were welcomed to the Embassy of Georgia for an opportunity to discuss current world events and, in particular, the invasion of Ukraine by Russia with senior officials from Georgia. Like Ukraine, Georgia was formerly a part of the Soviet republic.
According to a researcher with Harvard's Program on Georgian Studies, "Georgia formally recognizes Ukraine as a vital strategic partner, and scholars Levan Kakhishvili and Alexandre Kupatadze found that since 1991 fully 39 percent of all Georgia's bilateral agreements have been with Ukraine."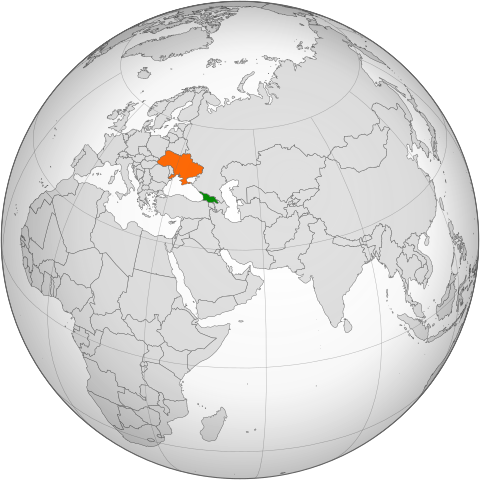 "The timing for our gathering at the Embassy of Georgia was fortuitous from an educational aspect. There were numerous high level Georgian officials in the meeting, with the Ambassador away and closer to home due to needs related to the Russian-Ukrainian conflict," said Muhammad Fraser-Rahim, Ph.D., The Citadel in D.C. program director and a professor of Intelligence and Security Studies.
"Senior officials from Georgia in attendance included Giorgi Tsikolia who currently serves as Charge d'affaires of Georgia to the United States. Mr. Tsikolia was appointed Deputy Chief of Mission (DCM) at the Embassy of Georgia to the United States in August 2015," Frasir-Rahim continued.
Additionally, Tornike Nikvashvili, a career diplomat serving as a First Secretary at the Embassy covering economic issues, attended along with other Embassy representatives.
Fraser-Rahim, who arranged the meeting, says 90% of a Citadel student's time while studying for a semester in D.C. is spent outside of the classroom, as a group. "It's the exposure to the inner-workings of the nation's capitol, including access to embassies, leading figures on Capitol Hill and experts in international affairs, intelligence and diplomacy that really make an impact on the cadets and students who come here."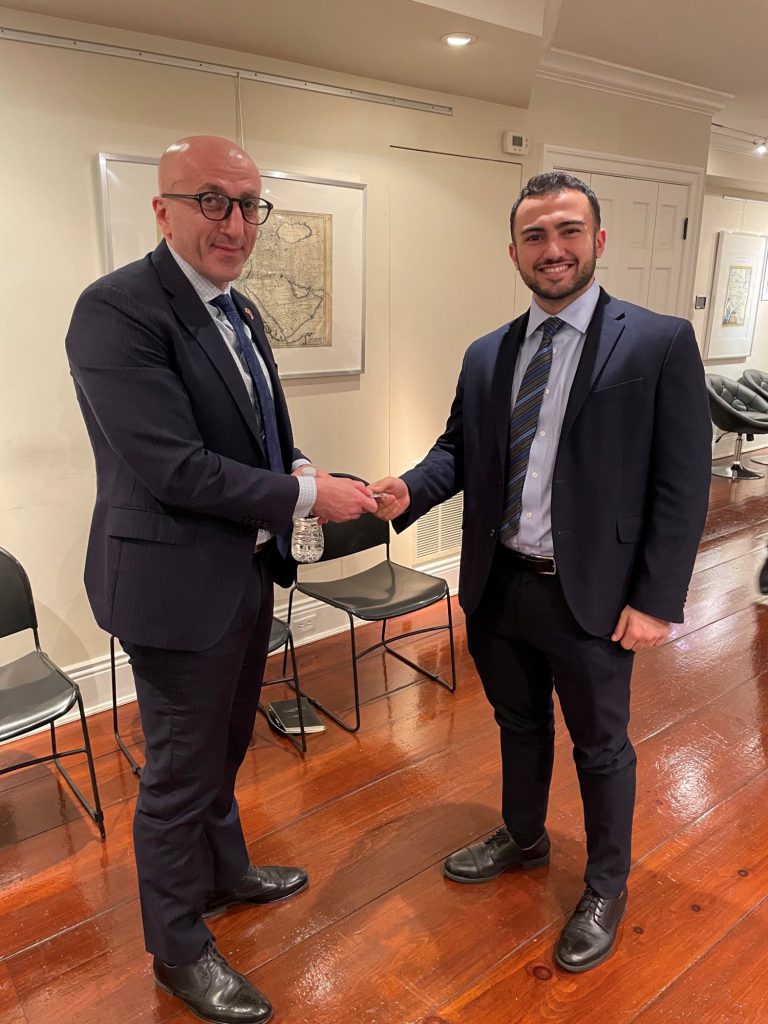 How does The Citadel in D.C. program work?
The full course offerings, providing nine credit hours for Political Science and Intelligence and Security Studies students can be seen here.
The tuition a cadet or student is already paying to attend The Citadel covers all living and travel expenses, other than food, for the semester in D.C. Food costs will be deducted from tuition amounts. Students in the program stay in WISH program housing, in Capitol Hill Classic Houses. There is an additional $500 program fee, not covered by tuition.
Summertime option
The Citadel in DC Summer Program is a 10-week program in Washington DC from June – August. This experience also involves living, learning and interning in DC. Cadets and students can earn up to nine academic credits — three academic and six internship credits — in the summer section. Contact studyabroad@citadel.edu for more information.