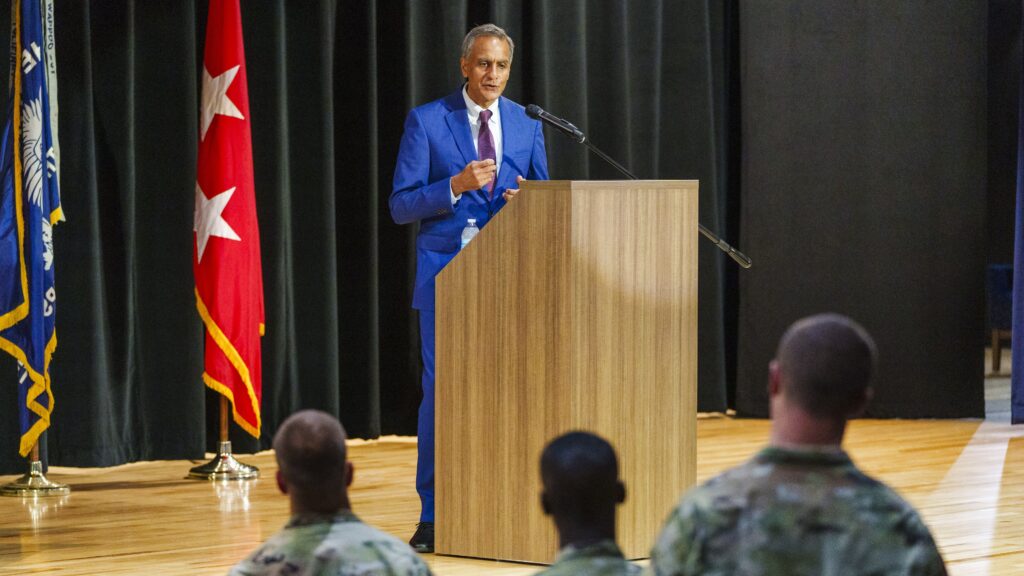 Many Citadel cadets and students now have a new, inside perspective into how America manages its place in the global community.
On Monday, Sept. 25, the Deputy Secretary of State for Management and Resources — Richard Verma — visited The Citadel to meet with cadets, students, faculty and staff. In his role at the State Department, Verma acts as the chief operating officer and leads the Department's efforts on modernization, foreign assistance and a wide range of workforce and strategic issues.
"Like our military colleagues, State Department officials swear an oath to protect and defend our Constitution against all enemies foreign and domestic, just like some of you will one day and some of you already have," Verma said during his address. "And many of us take this oath because we are, in our hearts, optimists."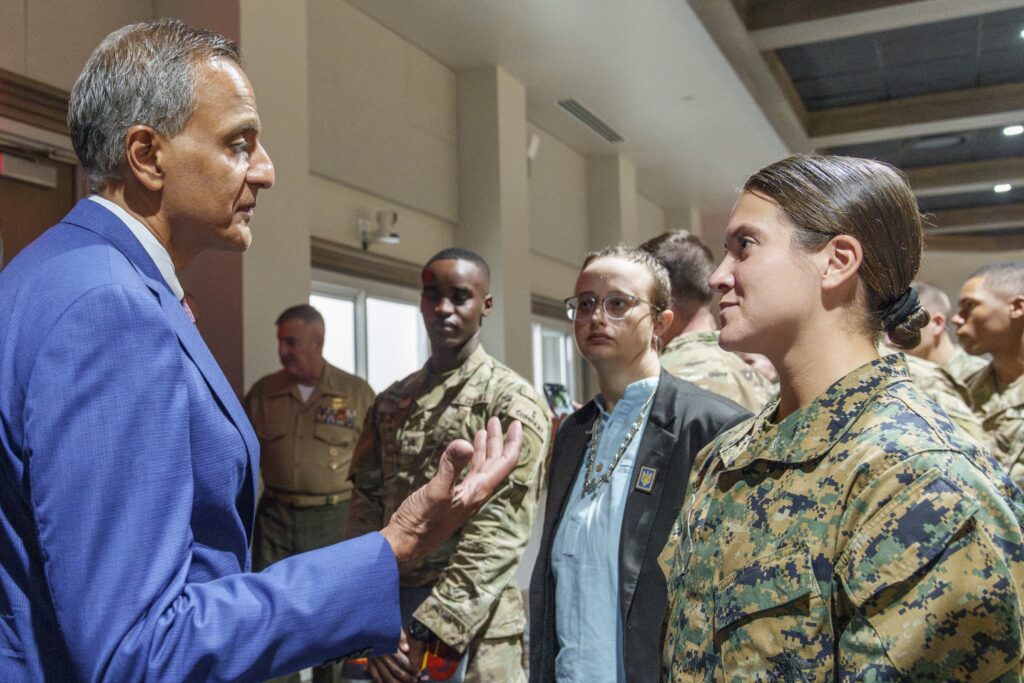 Verma first spoke to dozens of cadets and students, who filled the new auditorium in the recently rebuilt Capers Hall, about how the State Department manages international relations as well as the importance of diplomacy. After, Verma and his team spoke about career options in the State Department.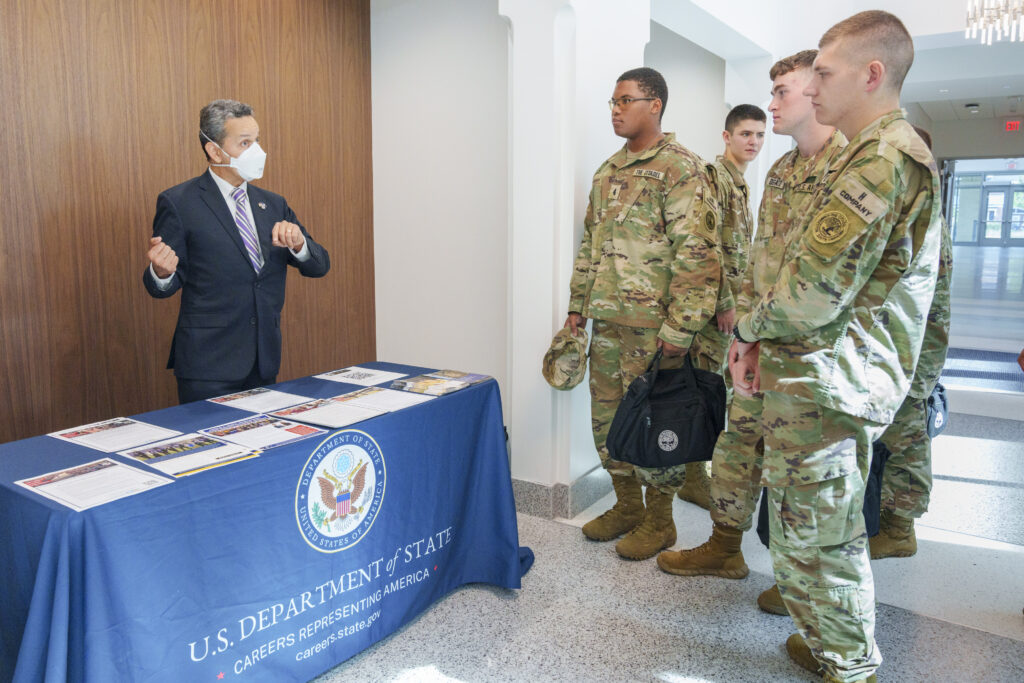 When introducing Verma, The Citadel President Gen. Glenn Walters, USMC (Ret.), '79, said, "As a Marine, I am trained to fight. It's just what we have to do. But not every problem needs a hammer. Diplomacy and relationships are a bedrock of our national security, and I'm excited you have a chance to hear directly from someone who is working to advance our nation's interests on the global stage through the art of state craft and diplomacy."
After taking questions, and discussing possible careers in the foreign and civil services, Verma and his team spoke with a small group of Citadel faulty and leadership to discuss ongoing geopolitical challenges, as well as different academic programs The Citadel offers to contribute solutions to those exact challenges — including the undergraduate and graduate programs offered by the Department of Intelligence and Security Studies.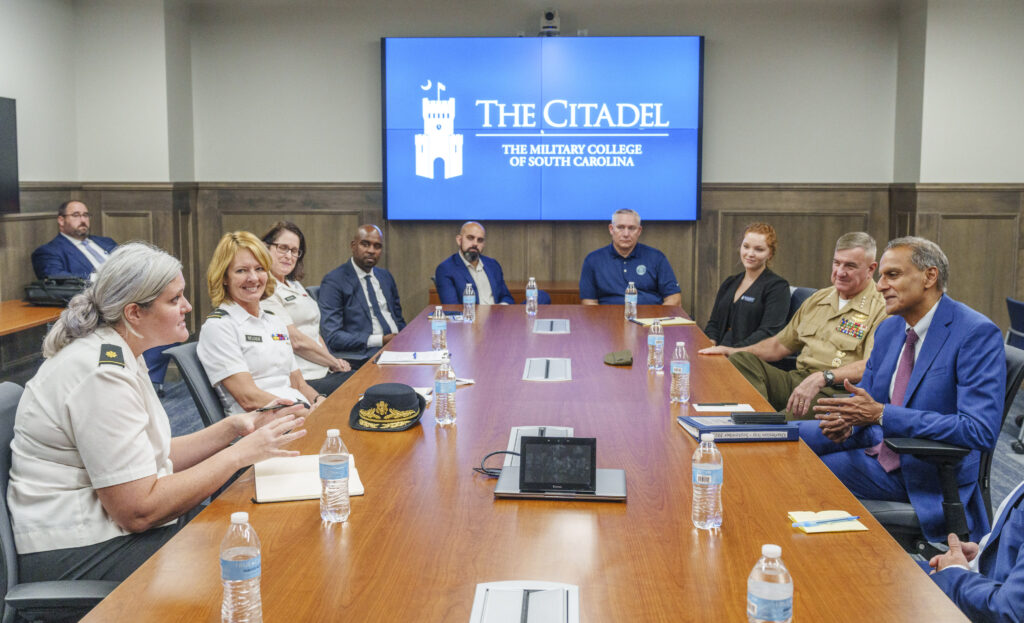 During his remarks, Verma added, "The Secretary of State likes to say, 'The world doesn't organize itself.' It needs organizations, alliances and partnerships to address these global challenges. Building the right capabilities and bringing the right people and organizations together is one key to addressing these shared global challenges."
Verma has previously served as the U.S. Ambassador to India, where he led one of the largest U.S. diplomatic missions and championed historic progress in bilateral ties. He is also a former Assistant Secretary of State for Legislative Affairs and the former National Security Advisor to the Senate Majority Leader. He also had a distinguished career in the private sector, most recently serving as the Chief Legal Officer and Head of Global Public Policy for Mastercard.
Verma's visit to The Citadel also held a personal significance. While on campus, he discussed his late brother in law, Britt Poston, who graduated from The Citadel in 1986 and, tragically, passed away exactly three years ago.
"Britt had such an impact and left such a legacy, and The Citadel helped make all of that possible," said Verma. "We miss him dearly, but I'm so grateful to be here with all of you today to remember him and celebrate him."