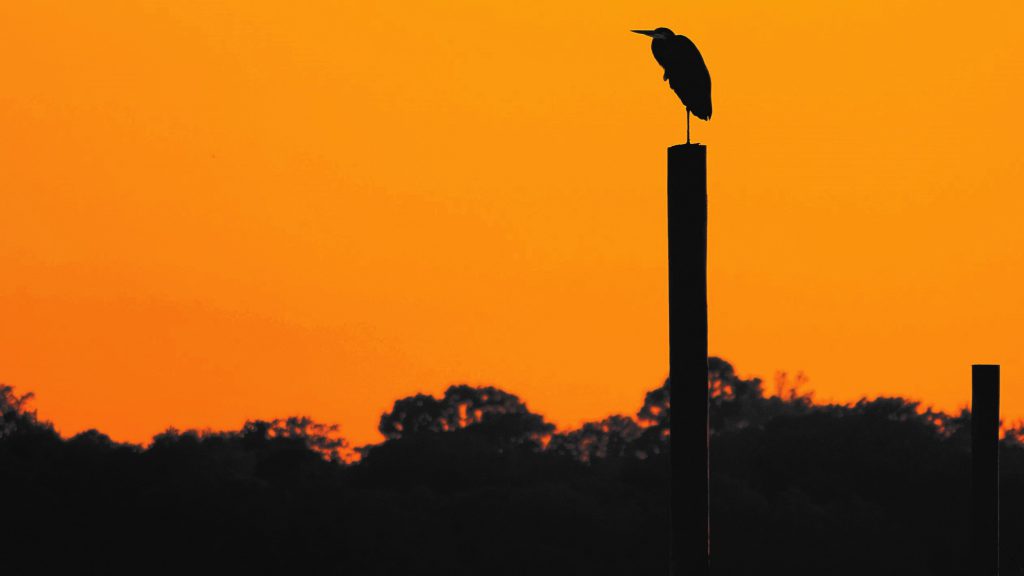 The Gold Star Journal 2021 awardees to be recognized at academic conference March 30
Photo above: The Gold Star Journal's 2021 Distinction in Photography winner, "Serenity" by Chase Ervin, '22, Civil Engineering major. (Full photo below).
The Gold Star Journal promotes academic excellence at The Citadel through the publication of cross-disciplinary, nonfiction papers and photographic work. The journal provides cadets and Citadel Graduate College students the opportunity to publish scholarly work.
The Gold Star Journal's 25th Anniversary will be celebrated on campus March 30 during the journal's academic conference. The event will be held from 6 – 7:30 p.m. in Buyer Auditorium.
The conference supports the academic excellence of The Citadel and those involved with or being published in the 2021 journal. There will be awards given to certain authors and photographers and certificates to all published students. Free copies of the journal will be available.
The 2021 edition features nine papers and photographs written or captured by some of The Citadel's best and brightest undergraduate and graduate students. Some of the 2021 authors will speak about their papers at the conference. The papers are listed below:
Cadet Hannah Dion, Class of 2022, Biology major, "Cleopatra: The Propagated Villain of Rome"
Cadet Joseph M. Field, Class of 2021, Political Science major, "The Importance of Military Discipline in the 17th Century Manchu Army as Seen in Dzengseo's 'Diary of my Service in the Army'"
Cadet Nick Fricchione, Class of 2021, History major, "German War Graves: A Tragic and Somber Reminder of Cost of War
Frank Hoffman, Graduate Student, International Politics and Military Affairs major, "Engaged Containment: A Viable Solution to the North Korea Problem"
Cadet Thomas Kyte, Class of 2022, Political Science major, "One Belt and one Road Right Through Ethiopia?"
Cadet Ashley Ruiz, Class of 2022, Political Science, and Intelligence and Security Studies major, "Geopolitical Impacts of Wahhabism in the Middle East"
Cadet Jalen Singleton, Class of 2022, Computer Science major, "Cybersecurity and Cryptography: The Interrelation"
Cadet Shiloh Smiles, Class of 2022, Computer Science and Cyber Operations major, "Implications of Quantum Computing on Computational Complexity Theory"
Cadet Dylan R. Wood, Class of 2023, Mechanical Engineering major, "Electric Car Battery Development and Analysis"
The journal will also honor our photographers by showing their work during the conference. The 2021 selected photographers are:
Anna Britton, Graduate Student, "A Day in Havana".
Dashawn Costley, 2022, Psychology Major, "Breastplate", "Ring March", and "Ultimate Judge".
Chase Ervin, 2022, Civil Engineering Major, "Curiosity", "Salute", "Serenity", and "Strange Times".
William Moran, 2023, Mechanical Engineering Major, "In the Pines".
Jacob Williams, 2022, Chemistry Major, "A Sundown Caper", "Abandoned Chair", and "Sunset off the Dock".
Members of the campus community and cadets' guests can register for limited seating by emailing the club supervisor at mabrouks@citadel.edu. Seating is limited.
This conference and The Gold Star Journal are brought to you by:
Cadet Jake Norris, Editor-in-chief, 2022, Computer Science Major
Cadet Taylor Diggs, Assistant Editor-in-Chief, 2022, Political Science Major
Cadet Carleton Bailiff III, Executive Editor, 2021, Psychology Major
Cadet Daniel Wilkes, Editor, 2021, Political Science and History Double Major
Cadet Bryce Garcia, Editor, 2022, Political Science Major
Cadet Briona Gray, Editor, 2021, Criminal Justice Major
Cadet Harrison Wedgeworth, Editor, 2021, French and English Double Major

Access all 25 editions of The Gold Star Journal here.