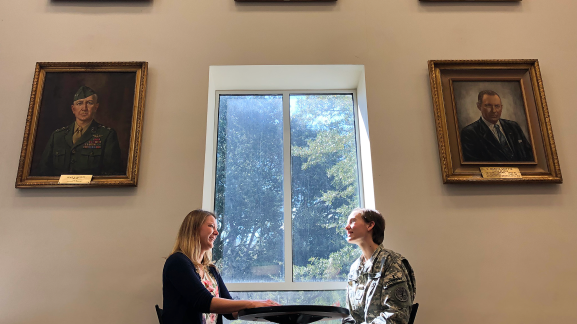 Photo: Holly Irvine and Taryn Hall in Daniel Library
Citadel alumna determined to increase the number of women cadets
Women cadets make up about a tenth of the South Carolina Corps of Cadets. Many are working to grow that percentage. Holly Irvine, Ph.D., Citadel Class of 2009, is one of them.
Ten years ago, just after graduating from The Citadel, Irvine founded the Mace-Lovetinska Fund for Women, which is The Citadel's first scholarship named after women, founded by women, and provided to women. Fast forward to 2019, when Irvine visited Charleston, just days before the start of Women's History Month. During her visit, she got to see the results of her hard work, personified by a freshman cadet walking on campus in an Army combat uniform. That was when she met Taryn Hall, the first cadet to ever receive the historic scholarship.
This is also the first time Irvine was able to invite her scholarship recipient to The Citadel Foundation's Scholarship Donor Dinner, which was on Feb. 21. It's an annual event that gives cadet scholarship recipients the chance to personally meet and thank those whose generosity has made their college education a reality. It also provides an opportunity for donors to meet The Citadel's next generation of principled leaders.
After meeting the alumna who helped make her college career possible, Hall said, "Thank you to Dr. Irvine and all those that have supported the scholarship. I am very humbled to be the recipient of this grant. I am grateful to the female alumni who have paved the way before me to give me the honor of attending The Citadel."
Irvine says she wanted the scholarship to bring recognition to the legacies of the first female graduates of the South Carolina Corps of Cadets, Nancy Mace and Petra Lovetinska. She says her goal is to increase the enrollment of bright, motivated young women who are interested in leadership development, teamwork and discipline in the Corps of Cadets.
"I am so excited that the Mace-Lovetinska Scholarship has been awarded for the first time this year. Taryn is exactly the type of young woman that I envisioned receiving the scholarship and I can't wait to see the places she will go. We will continue to grow the scholarship fund and will hopefully one day be able to award it as a full scholarship," Irvine said.
Hall is currently studying Intelligence and Security Studies and was named to the dean's list for her first semester. She is from North Carolina and has contracted with the U.S. Air Force.
Irvine currently works in Washington, D.C. after graduating from The Citadel with a Bachelor of Science in Biology and going on to earn a Ph.D. from the University of Miami in Microbiology and Immunology.
Award preference for the Mace-Lovetinska Fund for Women Scholarship is for females who are entering their freshman year, had a minimum high school GPA of 3.0, and prior JROTC, CAP, or similar program experience. The scholarship recipient should maintain a 2.5 GPA as a freshman and a minimum 3.0 GPA in subsequent years.
For more information about scholarships and financial assistance for prospective cadets, please click here.