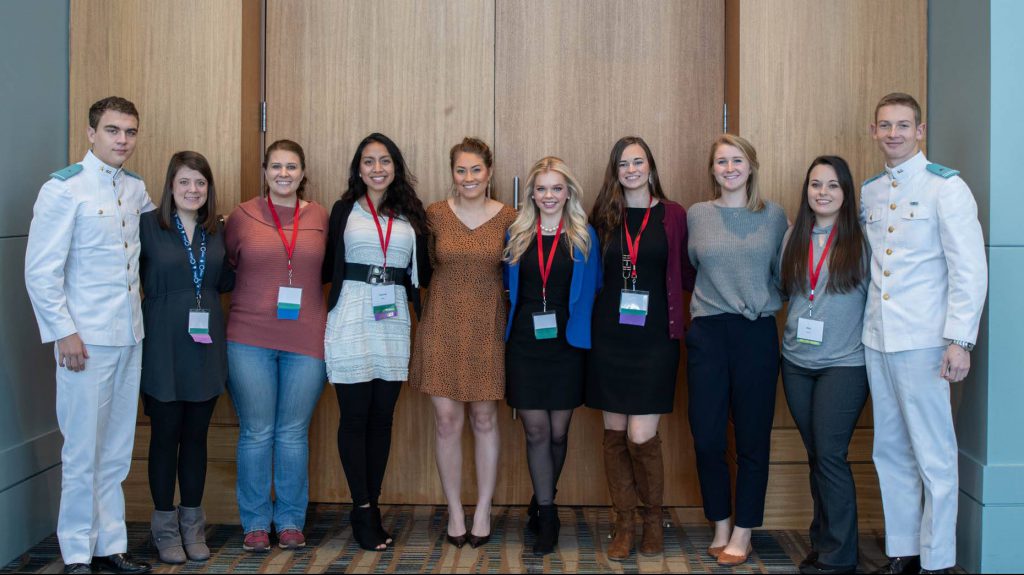 Photo: Newly elected executive board for Student Nurses Association – South Carolina
Of the ten positions on the board, three are now held by people from The Citadel
The South Carolina Student Nurses Association has new leadership, which includes two cadets and one student from The Citadel. At the January convention, the association elected Cadet William (Miller) Brunson, a junior, as its treasurer, Cadet Andrew Mappus, a sophomore, as its breakthrough nursing director, and Charity Pippin, a junior evening undergraduate nursing student, as its community Health Director and delegate to the national Convention.
Also representing The Citadel at the annual convention was another evening undergraduate nursing student, Crystyn Neely.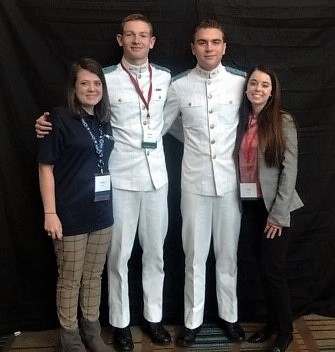 "Although many schools were unaware of the new nursing program at The Citadel, we were able to inform them of the upcoming graduates this spring and our growing program. We also had the opportunity to network with other students, graduate schools, and possible future employers," said student Charity Pippin. "We look forward to representing The Citadel and South Carolina in April at the National Convention for SNA."
The Student Nurses Association says being a board member gives students a chance to improve their professional development by leading and mentoring other student nurses across the state.
"This is the second year nursing students from The Citadel attended the SC Student Nurse Association Convention in Columbia and the first time cadet students attended," said Amelia Joseph, Ph.D., Nurse Administrator for the Swain Department of Nursing. "Although all four of the students were new to the association, they saw the opportunity to serve in leadership roles for this important organization."

Charity Pippin accepting the 2019 Community Health Project Award
The Citadel also won the 2019 Community Health Project Award for providing more supplies for the homeless than any other school represented at the conference.
This recognition comes ahead of the Citadel's inaugural nursing pinning ceremony, when nursing students are symbolically welcomed into the profession. One cadet and 20 students are expected to be the first to graduate from The Citadel's nursing program in May 2019.
All nursing students at The Citadel are encouraged to attend an informational meeting to discuss joining SNA and forming a chapter at the Citadel. That meeting will be Tuesday, January 29 at 5:00 pm in Deas Hall 219b.
The Citadel offers cadets and veteran students a traditional four-year bachelor's degree in nursing, while an evening completion program is offered for community students who have earned the required general education and prerequisite courses at another institution. The Citadel offers the only evening bachelor of science in nursing program in the Lowcountry.