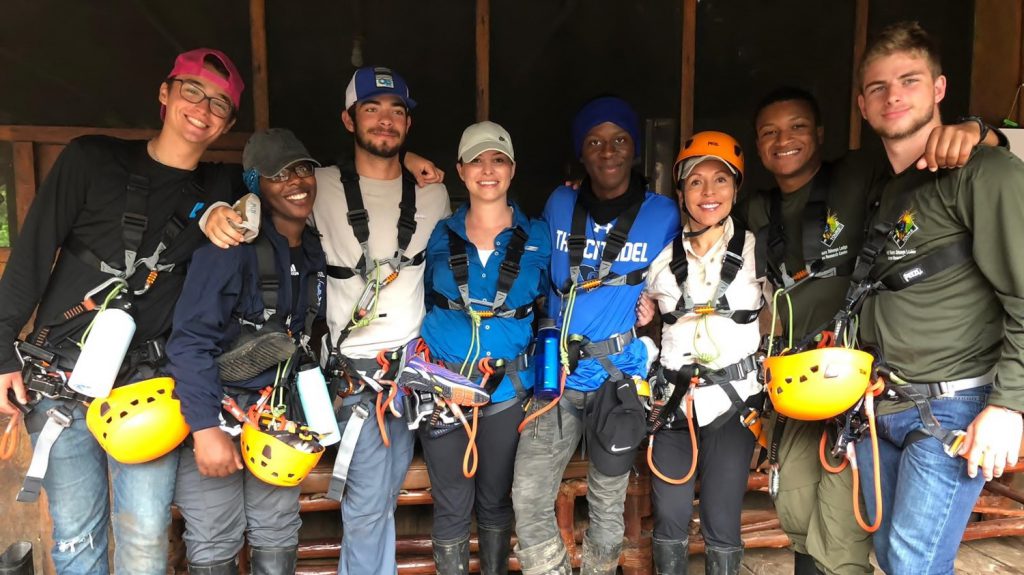 (Photo above: The Citadel Summer in Peru study abroad cadets and students after ziplining through the canopy of the Peruvian rainforest. The experience was led by Dr. Audrey Parrish, pictured fourth from left.)
For four weeks, seven cadets and students from The Citadel shared the learning adventure of their lifetimes. It included traveling on the Amazon River by boat, working with indigenous people in the jungle and observing the complex ecosystem supporting the diverse wildlife in the Peruvian rainforest.
The Citadel Summer in Peru is one of many faculty-led short-term study abroad opportunities offered by the Military College of South Carolina. (There are also many longer study abroad opportunities.)
The Peru experience was created for psychology students who earned six credits. They were based out of Iquitos, Peru, where they got their introduction into the culture of that region of the country.
Iquitos, in the middle of the Amazon basin, is the "world's largest city that cannot be reached by road," according to Lonely Planet.
The leader of the group was Audrey Parrish, Ph.D., a professor of psychology at The Citadel. Parrish sent journal notes and photographs back to campus in Charleston to document the trip.
"Three of the four weeks were spend in Iquitos where we focused on psychological perspectives relevant to the area. We were fortunate to spend time visiting and volunteering with students attending the Special Children of The Amazons School."
"Halfway through the trip, we ventured into the Peruvian Amazon jungle. We stayed in a conservation area of the Amazon known as the Tamshiyacu-Tahuayo Reserve located on the Tahuayo River. There the students conducted research with the local communities that are indigenous to that area."
"This area is known for its biodiversity with many species of mammals (including several species of primates and the infamous pink river dolphin), birds, reptiles, amphibians, including poison dart frogs, and of course insects."
"We observed and studied the resident animal species by boat and by hiking into the flooded rainforest with our guide. We saw many creatures, including a small anaconda."
We also took a break to cool off in Charo Lake, which locals call Dolphin Lake. (Yes, there are piranha in this lake, but it is safe to swim if taking precautions.)
Cadet Carleton Bailiff sent these thoughts:
"Just by coming here, I have already accomplished my personal goal of spending time outside of the country. I faced my fears about being in a strange environment head-on in the Amazon jungle and I learned that I have the ability to adjust to different environments."
Read more about The Citadel Summer in Peru from Cadet Carleton Bailiff's point of view here.