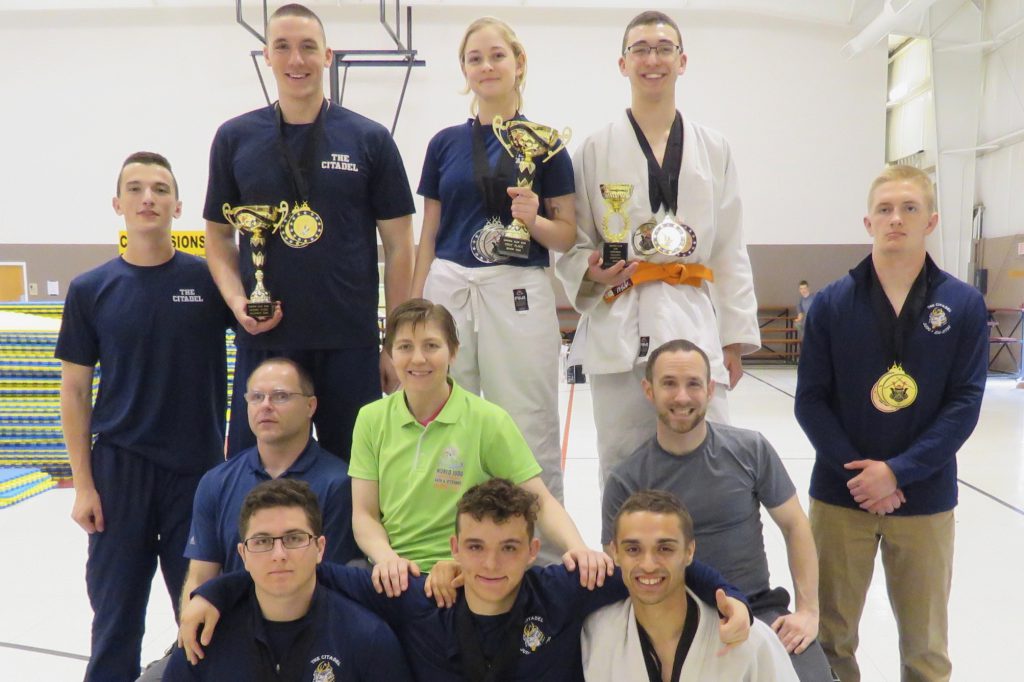 The Citadel Judo Team. Top row left to right: Justin Zeilstra, Sam Wendt, Lilly Laydan, Will Herbert
Middle row, coaches: Lorenzo Menzel, Lisa Capriotti, Rob Gouthro
Bottom Row: Matt Dixon, Matt Devine, Gunther Martin
The Citadel Judo team is training for its next competition after taking first place in the senior category during the recent Southeast Regional Collegiate Judo Championships in Summerville.  The Citadel hosted tournament included junior, collegiate, and senior judo teams from the University of Florida (UF), University of Tennessee, University of West Georgia, University of Central Florida, and several others.
The Citadel beat UF's Gator Judo in the senior category by a narrow margin of 51 to 46.  In reply, UF won the collegiate category, with The Citadel placing second.
"The Citadel Judo athletes have really developed in the past 6 months.  It is an honor to coach each one of these dedicated athletes," said Lisa Capriotti, Ph.D., The Citadel team's coach, 2016 World Veteran Jiu Jitsu Champion, and chemistry professor.
Capriotti reported that two notable players were team captain, Joshua Malott, who won the Men's Collegiate under 73kg Novice Division, and Matthew Dixon, who won the Men's Collegiate Under 90kg Novice Division.
The team will travel to West Point for the National Collegiate Judo Championships March 23.  According to Capriotti, the team has a gofundme.com fundraiser underway, and is planning a BBQ fundraiser on campus for staff and faculty later this month to help cover the travel costs. The date will be announced later on DogNews and on the team's Facebook page.