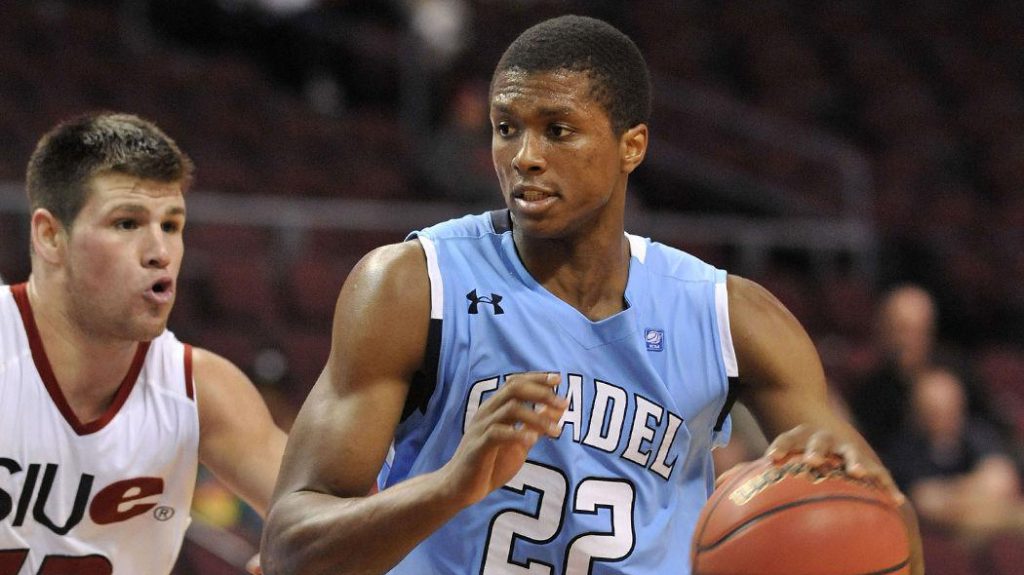 Photo: Citadel graduate Cameron Wells was inducted into the school's Hall of Fame in 2018
The saying goes, "Last, but certainly not least." He may be the final Bulldog in this series, but Cameron Wells is certainly not the least of those representing The Citadel in the professional ranks.
Wells' name is one that surely still gives opposing Southern Conference coaches and fans nightmares, and one that Citadel basketball fans look back on and remember fondly.
A native of Houston, Texas, Wells was inducted into The Citadel Athletics Hall of Fame in 2018, and rightfully so. Wells' name can be found all over The Citadel basketball record book and he has parlayed one of the best careers in Bulldog basketball history into the beginning of a very promising professional career.
A three-time National Association of Basketball Coaches (NAABC) All-District 22 first-team selection, Wells was named the 2007-08 Southern Conference Freshman of the Year by both the media and coaches, and was also a three-time All-Southern Conference selection by the coaches and earned first team and second team honors by the media in 2008-09 and 2009-10. He was also a three-time SoCon Player of the Week and two-time NetScouts.com Player of the Week.
On top of all of that, Wells is the program's current all-time leader in scoring with 2,049 career collegiate points, having broken Regan Truesdale's record of 1,661 points that stood for almost 26 years. He is also still the Bulldogs' leader in field goals made (753) and assists (485), and he is second in free throws made (454), steals (187) and minutes played 4,463.
Wells started 126 of the 127 games in which he played and finished his career averaging 16.1 points per game. He was a key member of the 2008-09 team, coached by Ed Conroy, that became only the second Citadel basketball team ever to win 20 games in a season (20-13) and went to the first-ever postseason tournament, the CollegeInsider.comTournament.
It should come as no surprise that since graduating from The Citadel in 2011, Wells has already enjoyed a prolific professional career, having already earned three all-star honors (2012, 2015, 2017).
Wells first signed with Landstede Zwolle in Holland before moving to Germany to play for the Tubingen Tigers (2012-13) and Giessen 46ers (2014-17). Following his three-year stint with the 46ers, Wells moved on to Italy, where he played the 2017-18 season for Pallacanestro Varese. He returned to Germany for the 2018-19 campaign, this time lacing up his sneakers for the S. Oliver Wurzburg in the top professional division in Germany. He also led his team to the 2019 FIBA Euro Cup Finals.
Wells is currently enjoying the offseason, using it as a time to rest and relax.
"My main focus after the season is just to rest and relax," said Wells. "We play a lot of games during the year and there is a lot of traveling and practices, so it's vital that I give both my body and mind a chance to slow down and rest."
To say there has been a lot of traveling is an understatement. Wells has visited no fewer than 16 different countries since turning pro, and it has helped him realize something important.
"The main thing I realize while traveling is just how blessed I am to be doing something I love and having these awesome experiences I wouldn't have otherwise," Wells said. "It's been an incredible journey."
While the experience has certainly been exciting, the lifestyle has taken some getting used to.
"It hasn't always been easy. It took me a few years to really get adjusted, to figure out everything and get over being homesick or 'America sick,'" Wells said. "Just like when I was at The Citadel, once you get into a good routine things start to come more naturally."
His experiences playing for the Bulldogs and being a member of the South Carolina Corps of Cadets helped him prepare for the rigors of being a professional athlete.
"Playing for the two coaches I had, Coach Conroy and Coach (Chuck) Driselle, a lot was based on principles and fundamentals," said Wells. "Things like: hard work, team work, next play mentality, discipline. Carrying those to any environment is a good way to be successful at anything."
While the discipline certainly has helped with his professional career and is forever etched in his memory, there are a few more fun memories as well.
"Winning only three games my freshman year and winning 20 the next season," Wells said. "Beating CofC for the first time in years at McAlister Field House and movie nights in the locker room are some other great memories."
The Citadel men's basketball program has had 12 players go on to play professional basketball over the years, including Rick Swing (Class of 1979) and Gary Daniels (Class of 1962), both of whom were drafted into the NBA.
Currently, four players are playing professionally overseas with three recent Bulldogs – Matt Frierson, Zane Najdawi and Lew Stallworth – set to join their ranks later this year.