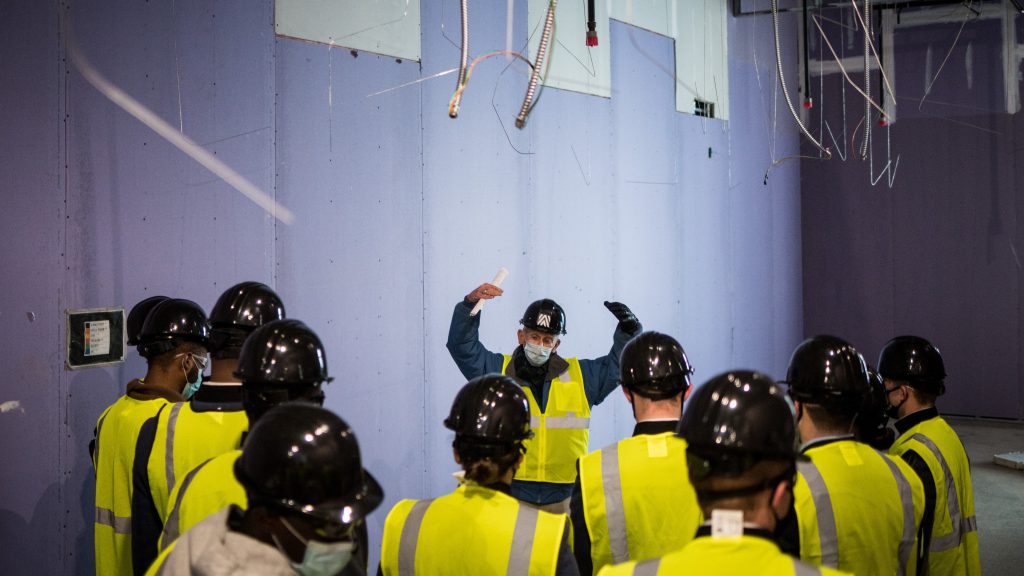 Photo: Former Mayor of Charleston and current Citadel professor, Joe Riley, '64, speaking to his class as they tour the International African American Museum construction.
Cadets studying American history at The Citadel will experience history in the making. To kick off recognition of Black History Month at the military college of South Carolina, they will tour the International African American Museum currently under construction in Charleston.
The students are enrolled in the spring semester course titled, "The Why and the How: The Making of the International African American Museum."
The instructor is Joseph Riley. The former Charleston mayor is a graduate of the class of 1964, and now serves in the role of professor of American Government and Public Policy at his alma mater.
Riley will tag team with history professor Kerry Taylor, Ph.D., who specializes in African American history. Taylor is director of the Charleston Oral History program at The Citadel.
"I believe for the students this will be a most meaningful college experience, for they will study a project that is under construction and learn much about our nation's long-hidden history," Riley said in a statement from the school.
"Upon graduation, in years to come, I have no doubt the museum will be part of their return visits to Charleston."
The IAAM is located near the South Carolina Aquarium along the Charleston Harbor, and is set to open in 2022.
According to the IAAM website, "This museum is about a journey that began centuries ago in Africa, and still continues. It is about the journey of millions of Africans, captured and forced across the Atlantic in the grueling and inhumane Middle Passage, who arrived at Gadsden's Wharf in Charleston, South Carolina and other ports in the Atlantic World. Their labor, resistance and ingenuity and that of their descendants shaped every aspect of our world."
A statement released by the school describes the goal of the class. This collaborative course, while offering Citadel cadets the unique opportunity to learn African American history through the establishment of the IAAM, is as much a study of history as it is a study of the making of history, drawing additionally on the disciplines of marketing, finance, architecture and design, civil engineering, public policy, and project management.
Riley and Taylor are planning a second visit to the museum later in the semester.