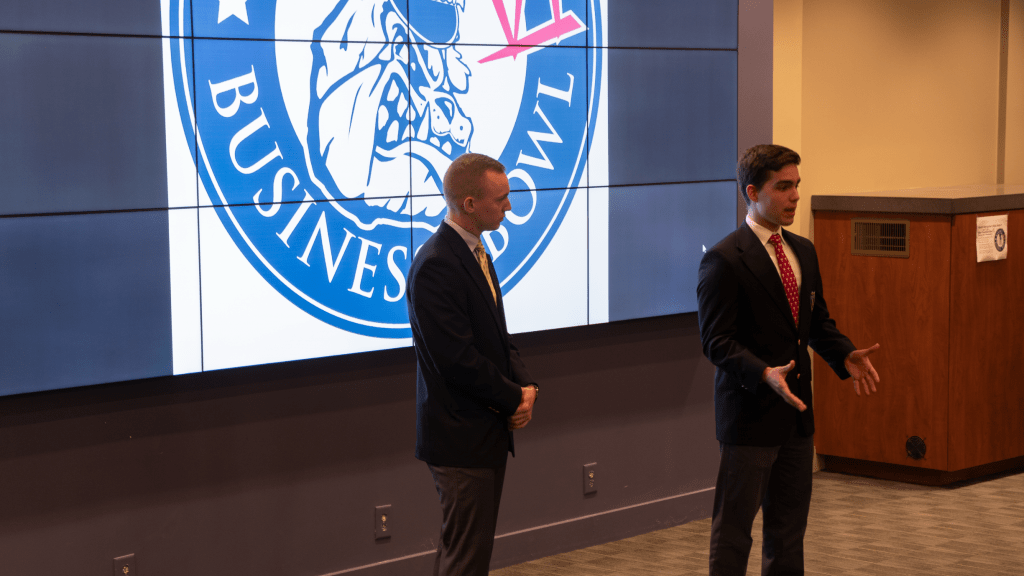 Photo: The final winner of the Baker Business Bowl VI in 2019-2020 presents their Wall Dynamic Inspection System presents during the elevator pitch round during the event last year. The final round was held virtually.
Do you have an award-winning elevator pitch?
Eight teams of Citadel cadets and students are honing theirs as they prepare to compete in the elevator pitch round of the Baker Business Bowl on Nov. 11.
The Citadel's interdisciplinary competition challenges promising entrepreneurs who have an idea for a new product or service to showcase how they would turn it into a business.
The top five teams from next Friday's semi-final round will earn a place in the competition's finals, held in April 2021.
Overall first place winners will be awarded a $10,000 investment for their proposed business, with $5,000 going to second place. Cash prizes are donated by the Baker Business Bowl Class of 1989.
There are three rounds total and in the upcoming semi-final round, teams present a three-to-five-minute summary in which they explain their business idea to a panel of business experts. They will be judged primarily on their oral presentation skills. Judges will then hold a 10-minute question and answer session for each team.
Now in its seventh year, the Baker Business Bowl is open to cadets, evening undergraduate students and graduate students.
The competition is open to the public and can be watched on Zoom.