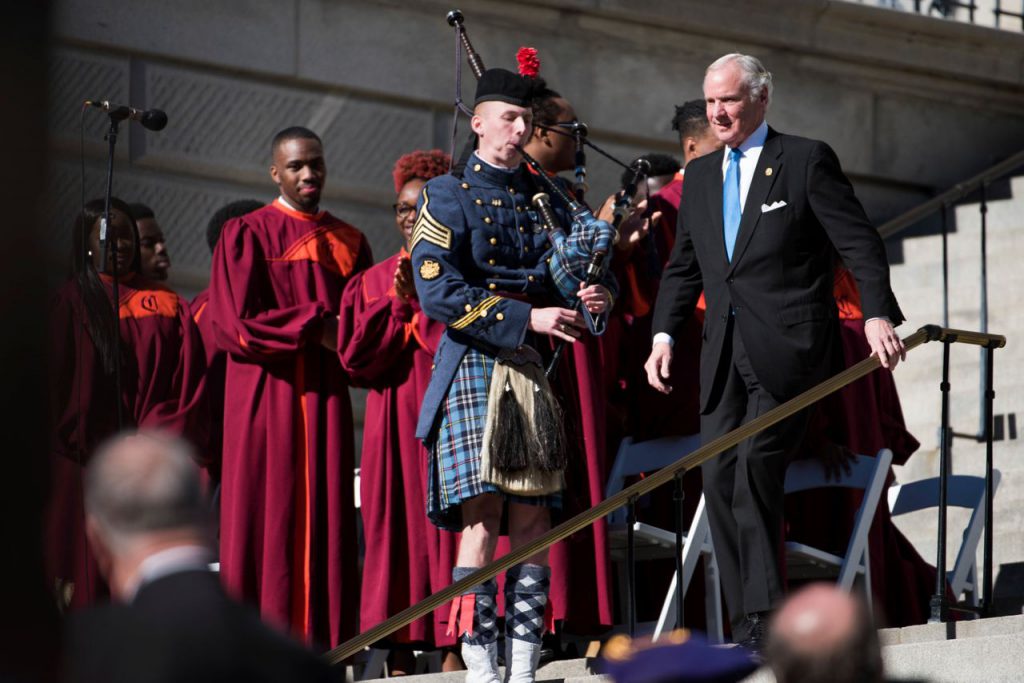 As The Military College of South Carolina, members of the South Carolina Corps of Cadets have served in many of the state's gubernatorial inaugurations going back more than 100 years.
Governor Henry McMaster's inauguration on January 9 was no exception. A cadre of 29 cadets participated in the ceremonies in some way, whether it was as a member of the color guard, playing bagpipes for the prayer service or ceremony, or walking down the capitol steps as a ceremonial escort for dignitaries.
The cadets are chosen to participate based on their positions as officers within the Corps, the Regimental Pipes Band, or the color guard and their overall performance as cadets.
Examples of some of the South Carolina gubernatorial inaugurations where cadets served in ceremonial positions include Gov. James Francis Byrnes in 1951; Citadel alumnus, Gov. Ernest F. Hollings in 1959; Gov. John Carl West in 1971 and Gov. Nikki Haley in 2015.
Who was there
The cadets selected by to participate in the ceremony by The Citadel's Office of the Commandant included the following:
Pipers
Richard Johnson
Patrick Johnson
Color Guard
William Hope
Jacob Moule
Cullen McCoy
Krishawn Royal
James Shields
John Butler
Jacob Ramseur
VIP Escort Cadets
Sarah Zorn
David Days
Robert Hudson
Richard Dekold
Cedric Barnes
Andrew Snoke
Mitchell Felt
Elijah Melendez
Chase Kinsey
Brennen Zeigler
Henry Brown
Richard Snyder
Mitchell Dobin
Morgan Meredith
Marc Thackson
George King
Hamilton Rhinehart
Hannah Murray
Robert Young
Greyson Young
As seen on WCIV-TV
Citadel cadets were included in this news report, "McMaster takes oath of office, lawmakers optimistic about productivity," by WCIV-TV (ABC/News4) reporter Bill Burr.