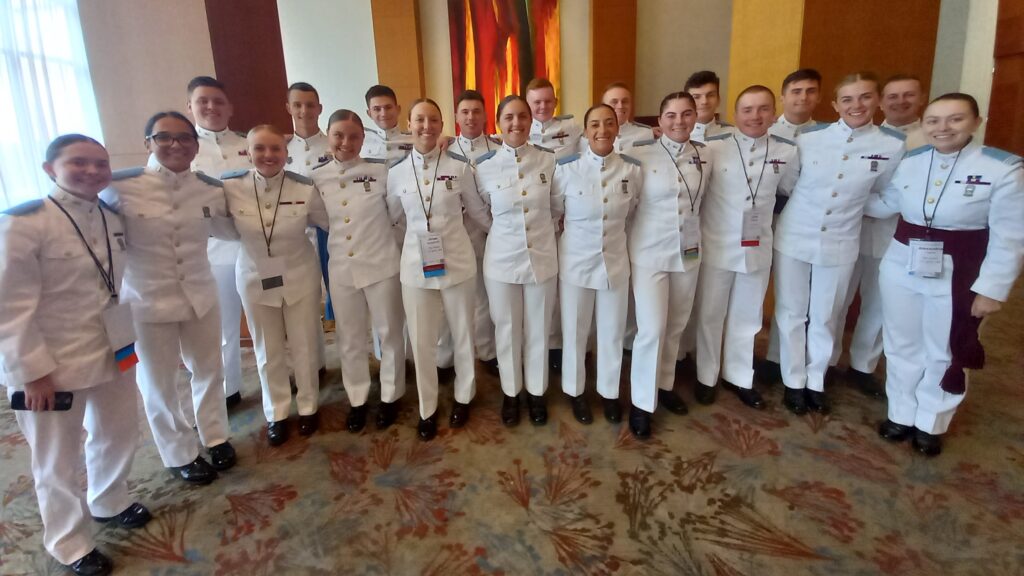 The Citadel Honors Program traveled to the annual Southern Regional Honors Council, or SRHC, conference on March 30 through April 2 to give cadets in the honor program the opportunity to meet and collaborate with honors students from other institutions, as well as to discuss the research they've been working on.
This was the largest group The Citadel has taken to the SRHC conference, with 20 cadets presenting a research poster, participating in a student panel or giving a presentation.
"It has been fascinating to watch these students work together to find overlapping areas of interest to develop student panels or group presentations," said Deirdre Ragan, Ph.D., a Mechanical Engineering professor and the director of The Citadel Honors Program. "I am thrilled that, in the past few years, we have grown the number of cadets and students who attend and present. The SRHC environment is supportive of student research, whether it be a multi-year, in-depth research project or a research topic that the student is just getting involved in."
The Citadel Honors Program is a specially designed educational experience that challenges high-performing students — those who have an outstanding record of academic achievements — in intellectual discourse. A few of the key features of the Honors Program includes small classes, discussion-style instruction, specialized curriculum, one-on-ones with faculty and the chance for personal and professional development.
The founder of The Citadel Honors Program, Jack Rhodes, Ph.D., was a strong advocate for taking cadets early in their Citadel career to the SRHC conference so they could observe and then aspire to eventually present at the regional or national Honors conferences.
"I am very proud of all of these cadets for the energy they put into their academics and cadet life as well as how they embrace things that are uncomfortable in order to develop their skills further. It can be stressful to present your own thoughts and knowledge to a group of strangers; I am excited that our students are willing to do this, especially as I know the audience of other honors students and faculty will be so interested and supportive," said Ragan. "It is a transformative confidence boost for all the students. Now, we can start to dream of what other research they will do and what other conferences they will present at during their time at The Citadel."