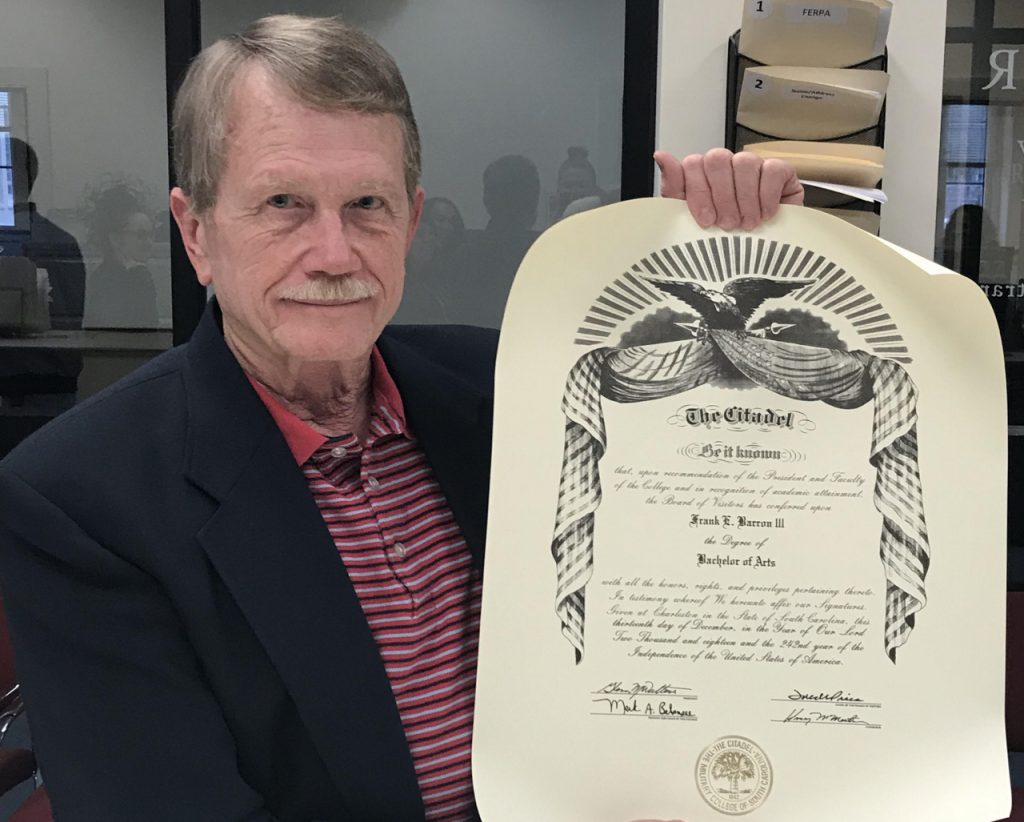 'I fully expected to graduate from The Citadel': 75-year-old SC man become one of college's oldest graduates
COLUMBIA, SC (WIS) – Out of love, one Midlands man made a promise that he had to keep, and roughly 50 years later, he's now completing a different kind of promise.
Frank E. Barron III, is finally graduating as a member of The Citadel's Class of 1966, in 2019.
It's 53 years after he began.
The story dates back to his junior year at Morehead High School in Eden, North Carolina, when Barron decided he wanted to enroll in one of the country's top military colleges – The Citadel.
But as we know, plans don't always work out the way we want them to. Barron says it started in the first day of his senior year of high school.
"I was in a line in the cafeteria when I saw a very pretty girl on the opposite side of the room in the other cafeteria line," Barron said. "That was the beginning of a romance that changed her life and mine."
The Citadel is about 300 miles from Eden. Susan, the girl he met in high school, had two more years until she would graduate and start college.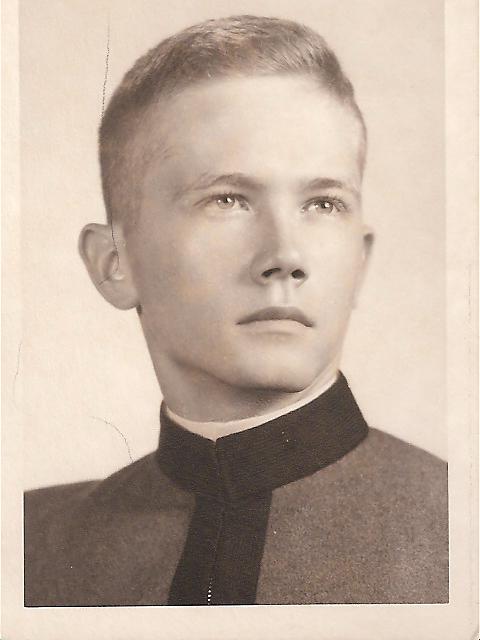 "She said well when I finish high school I'll go to [the] College of Charleston if we can get married," Barron said. "I agreed, you know we were young and in love, you make promises like that, and I kept my promise."
It was a promise Barron kept, even if it meant giving up what he worked so hard for.
The plan was for Susan to attend The College of Charleston.
"First and second class men at The Citadel were able to leave campus most weekends and many afternoons, so we expected to be able to spend a lot of time together," Barron said. "I fully expected to graduate from The Citadel."
A few days after returning to school in the fall of 1963 (after his freshman year) "a new commandant called the class of 1966 into Mark Clark Hall and told us that he was going to require our class to sign an oath at the beginning of our junior and senior years saying that we were not married," Barron said. "The first week of my sophomore year, I said well I'll be here all this year but I won't be back next year and that's why I left."
He moved to Columbia in 1964 after leaving The Citadel and has lived there ever since.
As planned, Frank and Susan got married.
He enrolled in UofSC, eventually becoming Richland County Coroner for 22 years. With a lifetime of success, he says there was still one uncompleted dream.
"After leaving The Citadel, I never felt like my heart was anywhere else," Barron said.
That's how he felt for nearly 50-plus years, until January 2017, when he discovered an online degree program at The Citadel and decided it was his time to go back.
He pursued a degree in Criminal Justice, and 57 credit hours later, with a GPA of 3.89, he will soon graduate from The Citadel.
"It wasn't easy to believe me. Like before each exam, for days I'd just study day and night," Barron said. "It took a lot. It meant a lot. It still does it always will. It's where my heart was the whole time."
Dr. Robert McNamara, his professor, had lunch with Barron the day he got his diploma.
"He said to frank you can't go home and do nothing now. You got to take these two years and all this knowledge and put it to work serving mankind again. You just can't do all this and go home and retire and forget about it that's not in you to do that." Barron said.
As he turns 75 years old, he now will be the oldest Citadel graduate.
His degree is in criminal justice, and technically he is a member of the Class of 2019, but he says he'll always consider himself as the Class of 1966.
Barron is unsure if he is going to walk for graduation on May 4.
See a photo gallery related to this story on WIS-TV at the bottom of the story.