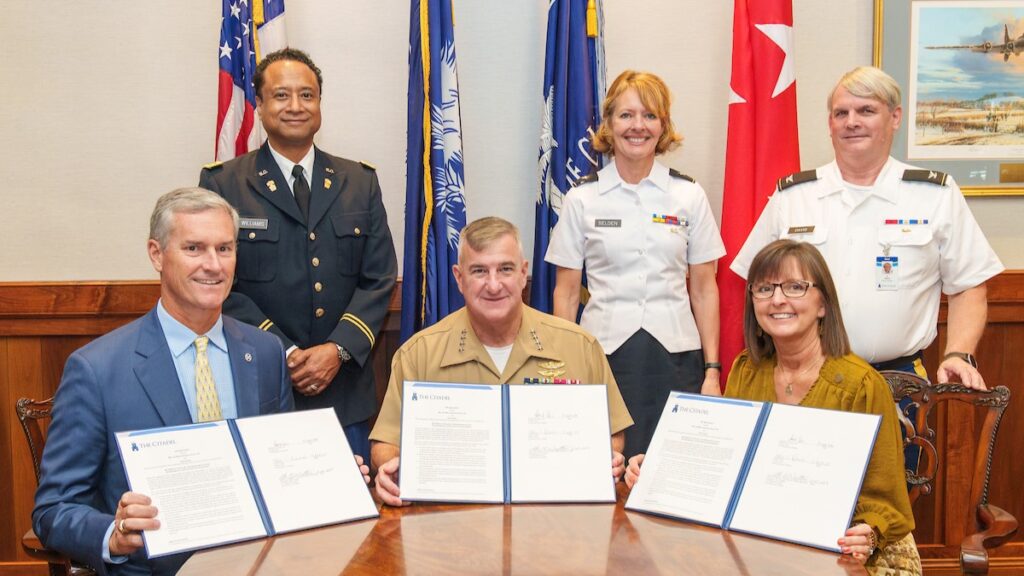 Photo: The Davis family signs their gift agreement with The Citadel. Left to right, top row: Andrew Williams, Ph.D.; Sally Selden, Ph.D., SPHR; William J. Davis, Ph.D., PE. Left to right, bottom row: Stephen Davis; Gen. Glenn Walters, USMC (Ret.), '79; Lori Davis.
Thanks to a generous gift through The Citadel Foundation, the college will soon be improving and enhancing its offerings through the School of Engineering.
The $3.5 million dollar gift comes from Stephen L. Davis, Class of 1985, and his wife, Lori, through the Davis Family Foundation. Davis' father, Dr. Emmett I. Davis Jr., graduated in 1950 with a civil engineering degree, and his son followed in his footsteps. This gift is meant to honor both Emmett and his wife, Mona Ruth Davis, as well as the Davis family's enduring and multigenerational support of The Citadel.
"The Citadel is deeply honored and grateful for the Davis family's generosity and support. This gift will strengthen their family's legacy on campus and the impact they're making on our School of Engineering," said The Citadel President Gen. Glenn Walters, USMC (Ret.), '79. "Their contribution will help lay the foundation for a state-of-the-art engineering building as well as strengthen The Citadel's commitment to excellence in engineering education."
In appreciation of the Davis family's contributions, The Citadel will name a department in the School of Engineering as the Dr. Emmett I. Davis, Jr., '50, Department of Civil, Environmental and Construction Engineering.
Stephen and Emmett Davis are also notable as the only father-and-son pair of alumni to be inducted into The Citadel Academy of Engineers, a point of pride for the department and its alumni. Their engineering company — Davis & Floyd — has successfully completed numerous projects across South Carolina and beyond. They have also served as a source of inspiration for Citadel cadets and students, showing a real-world example of what graduates can achieve with a Citadel education in engineering.
"For over 70 years, The Citadel has been integral to the Davis family, spanning several generations. This tribute to my father acknowledges his service, integrity and statesmanship, principles that still guide our family and the growth of Davis & Floyd. We are proud to contribute to this legacy to ensure we are collaboratively building the next generation of principled leaders to serve our state and country," said Stephen Davis.
Aside from inspiration, Davis & Floyd provides undergraduate civil, environmental and construction engineering cadets and students with valuable summer internships and mentoring experiences. The company also hires numerous graduates and provides career opportunities that help Citadel alumni grow into successful professional engineers.
"With this recent gift from the Davis family, The Citadel is able to take a significant step forward in educating and preparing future generations of principled leaders and innovators in engineering. The new engineering building will be a true testament to our institution's dedication to fostering research, creativity and hands-on learning," said Sally Selden, Ph.D., SPHR, provost of The Citadel. "We give our deepest thanks to our donors for helping The Citadel lead in the engineering education field."
Through Davis & Floyd, the Davis family also supports The Citadel American Society of Civil Engineers, or ASCE, Student Chapter initiatives, including serving as guest speakers, hosting field trips and coaching student teams in preparing for the annual ASCE Carolinas Conference competitions. Many of their staff members volunteer their time to serve as capstone design panelists and as judges for student competition events.
"We are very grateful for Stephen and Lori Davis' gift to name our Civil, Environmental and Construction Engineering Department after Stephen's father, and we know that it will ensure their legacy of engineering education excellence in South Carolina and beyond continues for our cadets and students for generations to come," said Andrew Williams, Ph.D., dean for The Citadel's School of Engineering. "Our cutting-edge curriculum — paired with our knowledgeable faculty and a future brand-new building — will help The Citadel's engineering program continue to rise in the rankings among other top academic programs."
The Davis' gift supports Our Mighty Citadel 2026, the college's strategic plan, which – in part – aims to expand and enhance academic space in the School of Engineering, as well as develop programs of distinction that position The Citadel as a state and national leader in the discipline.
"Emmett and Stephen Davis are inspirational graduates who embody the highest ideals of The Citadel through their legacy of service to the engineering profession, contribution to communities across South Carolina and commitment to future civil and construction engineers in our program," said William J. Davis, Ph.D., PE, professor and head of the Dr. Emmett I. Davis, Jr., '50, Department of Civil, Environmental and Construction Engineering.
The Citadel is ranked as one of the Top 25 Undergraduate Engineering programs and is one of the first five engineering programs in the country, offering an exceptional educational experience to every cadet and student.