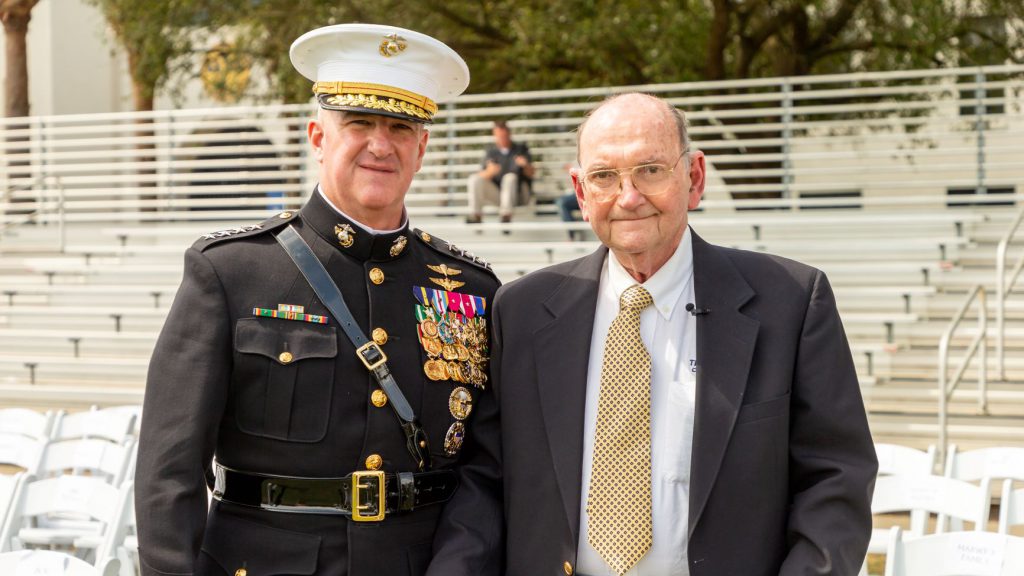 Photo: Gen. Glenn Walters, president of The Citadel, with Norris "Buck" Newton, Class of 1959
Watch the on air coverage here.
Norris "Buck" Newton, who has been living with Parkinson's Disease for more than a decade, had one of his last wishes to come true on Saturday.
Since his diagnosis, Newton has been living at Brookdale Senior Living in Anderson.
Brian Jenkins, the Executive Director of Brookdale, says Buck was recently placed in hospice care at their facility.
Along with his Parkinson's, Buck is now battling cancer. His dying wish was to attend The Citadel's annual parade.
"Just this past week, we found out about this event. We got a hold of Buck, and Buck was super excited," Jenkins says.
Buck graduated with the Class of 1959 at The Citadel, serving in Romeo company.
"I've always been real proud of this place," Newton says. "I honor the people that were established here to run this place and operate this community."
While watching the parade, Buck said it brought back a sense of nostalgia.
Jenkins says Brookdale was able to bring Buck four hours from Anderson to see the parade through their Make a Wish program.
"His name came up in our morning meeting with our managers about different things we could do for him, and we knew he was a Citadel graduate."
After the parade, Buck was able to eat lunch with some of his former classmates.