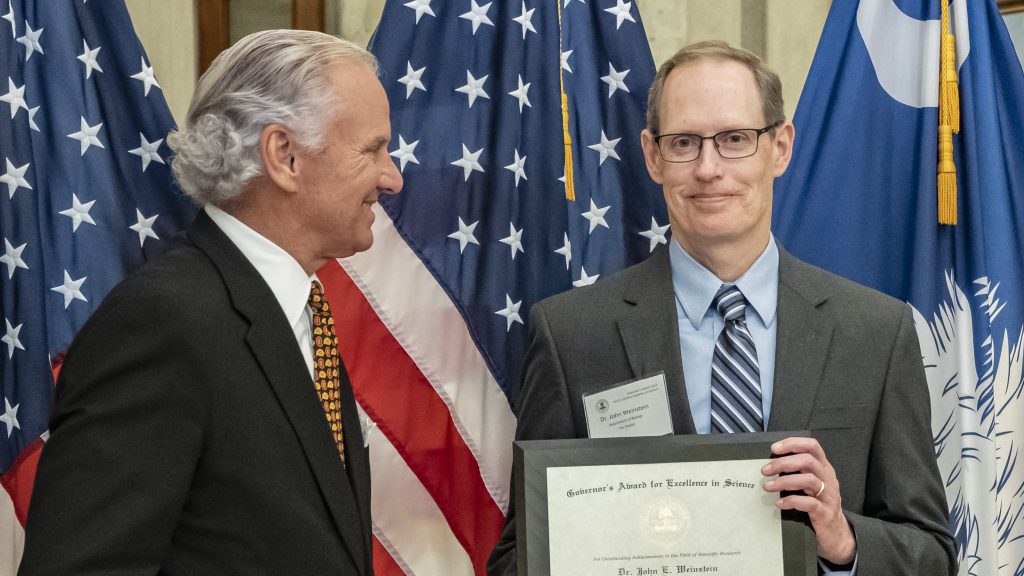 John Weinstein, Ph.D., recipient of Governor's Award for Excellence in Scientific Research
He is best known for his landmark studies assessing the sources, fate and effects of plastic and microplastic pollution along the South Carolina coast. That work is just part of what led John Weinstein, Ph.D., a professor of Biology at The Citadel, to be the 2022 recipient of the Governor's Award for Excellence in Scientific Research at a Predominantly Undergraduate Institution.
Dr. Weinstein's research in the last two decades has been squarely at the epicenter of environmental toxicology, providing scientific insight into some of the most pressing environmental issues that affect our coastal ecosystems.

Darin Zimmerman, Ph.D., dean for the Swain Family School of Mathematics and Science, introducing John Weinstein at the Governor's award event on May 31, 2022
Zimmerman accompanied Weinstein to the state capitol to accept the honor from South Carolina Governor Henry McMaster.
"This award recognizes Dr. John Weinstein's record of scientific research excellence as well as his many contributions to teaching and service. He is a highly respected scientist with an impressive record of research accomplishments. Through teaching and mentoring of students, he has expanded our state's STEM literacy and helped to increase the visibility of its research within the national and international scientific communities," the Governor's proclamation read.
Why he stands out
Weinstein's research on microplastics, especially the discovery of microscopic tire particles in coastal waters, has gained both national and international attention. The national media, including National Geographic, National Public Radio and the National Resources Defense Council have highlighted his research findings. Underscoring the international significance of Weinstein's research, he was recently invited to participate in hearings at the French Senate in Paris as the Parliamentary Office for Scientific and Technological Assessment were interested in learning more about his findings.
Weinstein's current national and international grant-funded research projects include:
Microplastic abundance in oysters and its impact on human health (funded through a $5.7 million grant through the National Institutes of Health to establish a Center for Oceans and Human Health and Climate Change Interactions at the University of South Carolina)
Pathways of Microplastic and Tire Particles through Stormwater Infrastructure (funded by the South Carolina Sea Grant Consortium, research being conducted with colleagues from Clemson and College of Charleston)
Nuisance Flooding as a Pathway for Microplastic Entry into Coastal Waters (funded through The Citadel Near Center for Climate Studies, research being conducted with colleagues from the University of Pennsylvania)
Occurrence and Degradation of Pandemic-Related Plastic PPE in Charleston Harbor (funded by the South Carolina Sea Grant Consortium)
Application of Standardized Litter Assessment Methodology to Southeastern U.S. Beaches to Compare French and U.S. Plastic Debris (funded by the Global Council for Science and the Environment, research being conducted with French scientists from the Center of Documentation, Research and Experimentation on Accidental Water Pollution)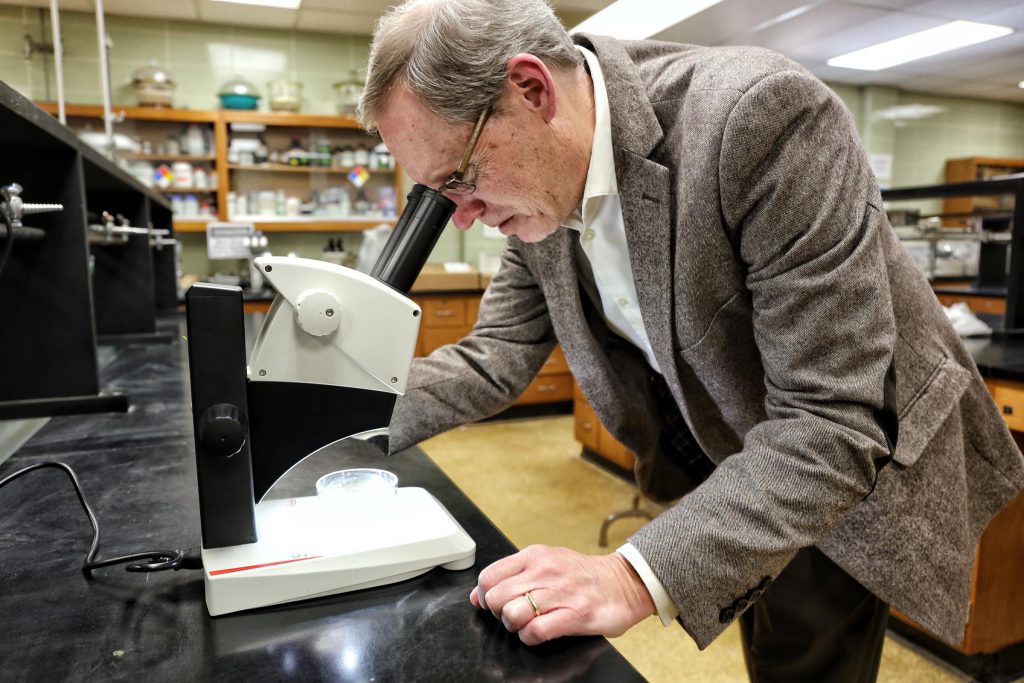 Weinstein, who was recently named assistant provost for research at The Citadel, received his Ph.D. from the University of South Carolina in 1991. He accepted a faculty position with the Department of Biology at The Citadel in 2000, where he has since also served in a variety of administrative roles including department chair, associate dean for accreditation and interim dean. Weinstein has established an impressive record of mentoring both undergraduate and graduate students in his research, many of whom have won presentation awards at local, national and international conferences and have gone on to successful careers in environmental science.
I can trace my interest in the field of environmental toxicology all the way back to when I was growing up in New Jersey, where my family would spend summers at the beach. Even at an early age, I used to wonder where marine debris came from and what impacts was it having on sea creatures. These early experiences fostered in me a curiosity of the natural world and an appreciation of how humans can influence natural processes. Equally important is that I thoroughly enjoy training the next generation of scientists by providing guidance and mentorship. The undergraduate and graduate students that I've trained in my research laboratory have been truly remarkable. The recognition that I've received is really a testament to their hard work and perseverance.

John Weinstein, Ph.D., Biology professor and assistant provost for research at The Citadel