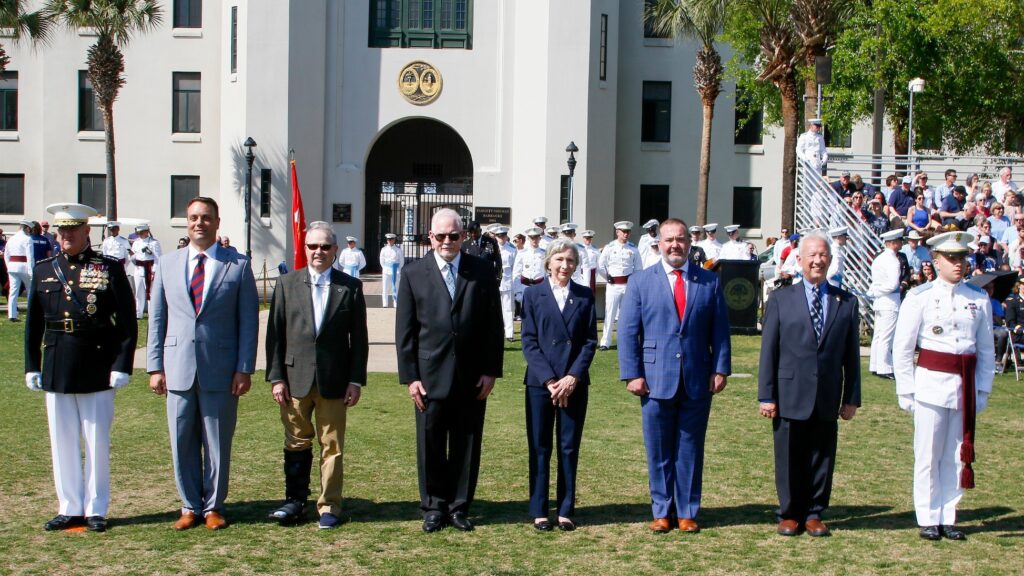 The Palmetto Medal Award recognizes exceptional performance reflecting great credit on The Citadel and the state of South Carolina. Established by the Board of Visitors, the award is presented to those whose service to the college or state is particularly noteworthy. Except for honorary degrees, the Palmetto Medal is the highest honor awarded by The Citadel.
Six individuals who embody the college's definition of principled leaders were chosen for the honor this year. Members of the Board of Visitors presented five awards during the military review parade on March 25; Cadet Elissa Reckdenwald will be recognized during the Commencement Awards ceremony on Thursday, May 4.
The citations for the award recipients are below.
Col. Carey M. Capell, USAF (Ret.), M.D., '71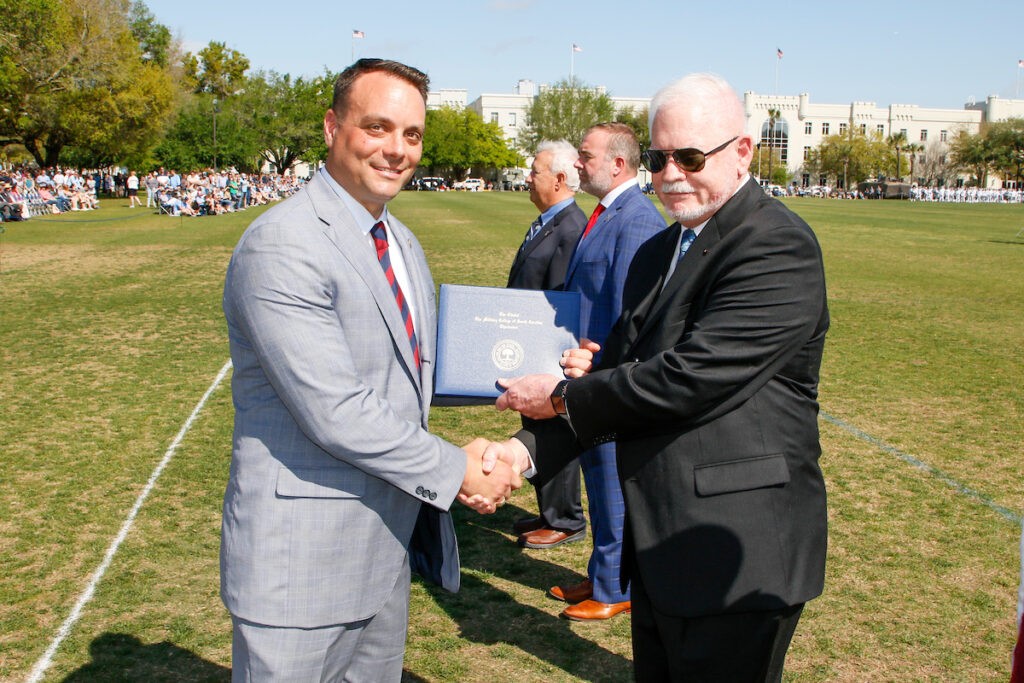 After graduating from The Citadel in 1971, Carey M. Capell. M.D., commissioned in the U.S. Air Force, where he served with distinction as both an engineer and a physician. In his final assignment, Capell was Command Surgeon for U.S. Central Command Air Forces, responsible for the medical care, public health and health service support for all Air Force personnel in Southwest Asia, Central Asia and the Horn of Africa.
After retiring from the Air Force in 2005 as a colonel and senior flight surgeon with more than 1,300 flight hours, to include over 500 combat and combat support hours, Capell returned to his Alma Mater to serve as Physician to the Corps of Cadets.
During the COVID-19 pandemic, Capell drew on his extensive experience with communicable diseases and community health to design and implement quarantine and treatment protocols mitigating the spread of the virus on campus. Through his tireless efforts, The Citadel was one of a few institutions to successfully conduct in-person classes for the 2020-2021 academic year. In 2022, after 17 years of caring for the Corps of Cadets and managing the infirmary, Capell retired from The Citadel.
For his service to his country and to his Alma Mater, The Citadel Board of Visitors is proud to award Dr. Carey Capell the 2023 Palmetto Medal.
Cadet William M. Connor VI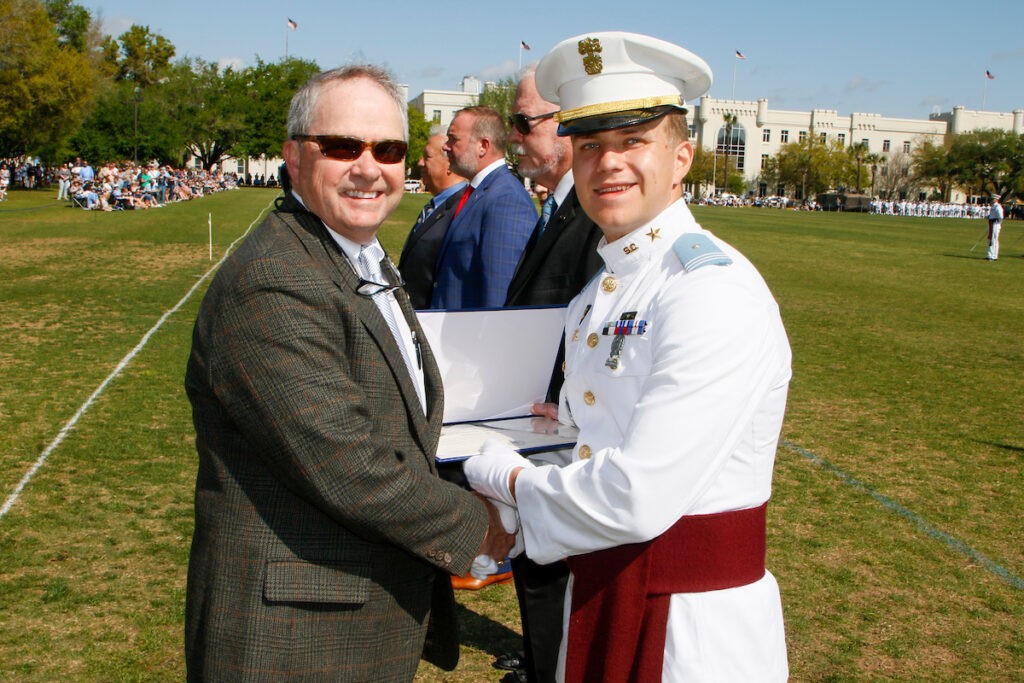 Senior Cadet William M. Connor VI embodies the four pillars of character, academics, military and fitness in everything he does. His achievements, which include six gold star awards, six times on the Dean's List, a Citadel Honors Scholarship and The Citadel Honors program, are impressive.
Additionally, Connor has exceled in leadership roles, such as cadre squad corporal, company clerk and Army ROTC Bravo First Segreant, among others. He is a detailed planner who maintains a high level of physical fitness and, as Tango Company's athletic officer, always encourages others to do the same.
Connor has been integral as an intern to former Charleston mayor and current professor Joseph P. Riley Jr., assisting with the publication of Mayor Riley's memoirs. A member of the Young Life Ministry and the Summerall Guards, Cadet Connor will commission in the U.S. Army as an armor officer upon graduation.
For his pursuit of excellence and leadership in the Corps of Cadets, The Citadel Board of Visitors is proud to award Cadet William Connor the 2023 Palmetto Medal.
Carla M. DeMille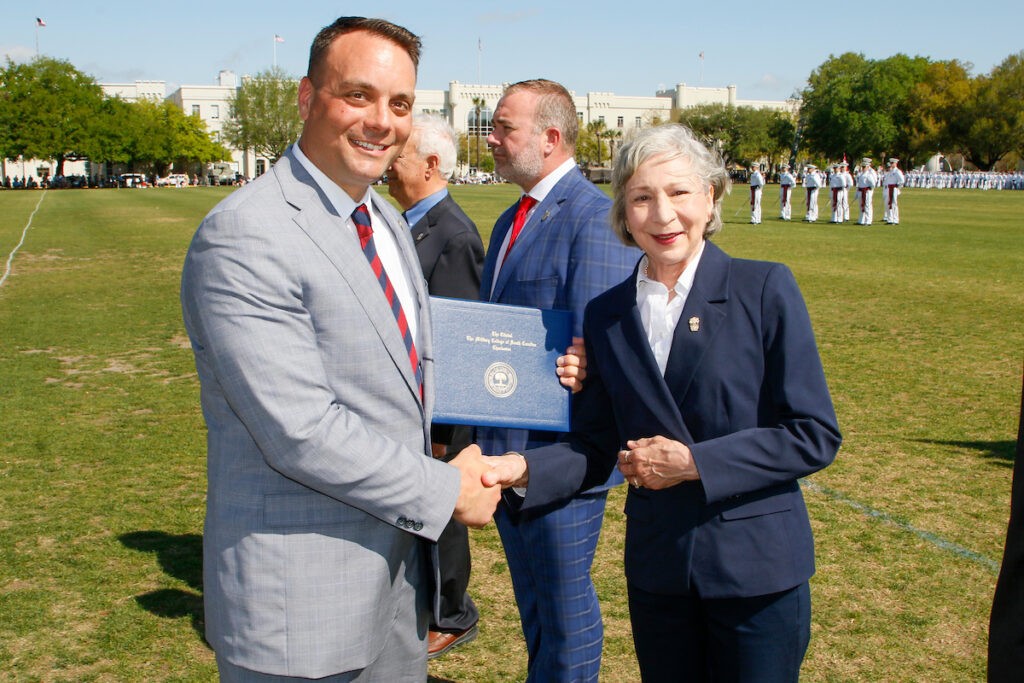 Carla M. DeMille is a consummate professional and an institutional treasure whose tireless service to The Citadel has spanned five decades.
DeMille began her career at The Citadel in 1969 in the Office of the Admissions. In 1973, she was promoted to associate registrar. In the days before computerized degree audits, she created a progress-toward-degree checklist for every student — a task that required exceptional organization and attention to detail. It was DeMille to whom faculty, staff and students turned for confirmation that a student had successfully completed degree requirements. After 23 years as associate registrar, DeMille was promoted to registrar, a position she served in until her retirement in 2002.
In 2007, DeMille came out of retirement to serve as the provost's executive assistant, a role in which she served until October 2022. In this capacity, she had daily interactions with faculty, administrators, parents, alumni, board members and campus visitors. In each of her encounters, DeMille was a kind, helpful and welcoming representative of the college. Her organizational skills and ability to function under pressure while operating with discretion, honesty and integrity made her the perfect person for the job.
For her decades of devotion and selfless service, The Citadel Board of Visitors is proud to award Carla DeMille the 2023 Palmetto Medal.
Sen. Stephen L. Goldfinch Jr., '04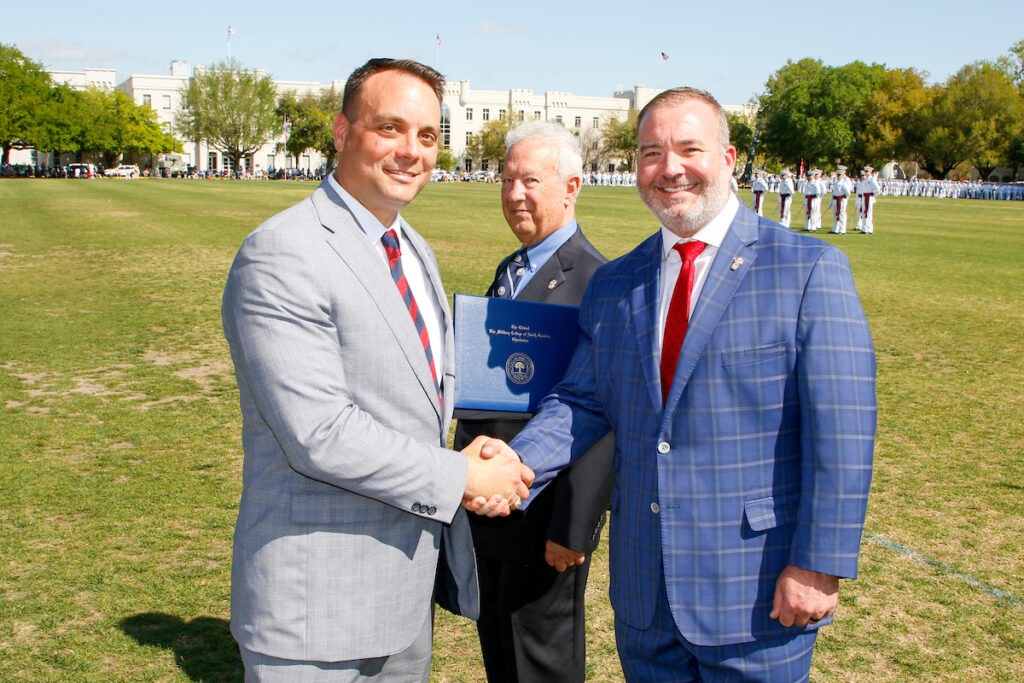 The Honorable Stephen L. Goldfinch Jr., has been a champion for The Citadel since his graduation in 2004. As a former member of the South Carolina House of Representatives, then-representative Goldfinch was instrumental in The Citadel receiving additional state funding for the School of Engineering, which, combined with additional funding, enabled the college to launch new programs in Mechanical and Construction Engineering.
Sen. Goldfinch also helped secure critical funds for the School of Humanities and Social Sciences and construction of the only cyber range in the state of South Carolina. His recent support of The Citadel has been focused on support for a new Engineering facility and recurring funding for tuition mitigation and campus operations.
Goldfinch has served the state of South Carolina as an accomplished attorney and as Judge Advocate General in the National Guard. He has been proud to represent Horry, Charleston and Georgetown Counties since 2012.
For his continued advocacy on behalf of The Citadel, the Board of Visitors is proud to award The Honorable Stephen Goldfinch the 2023 Palmetto Medal.
Johnston W. Peeples, Ph.D., '70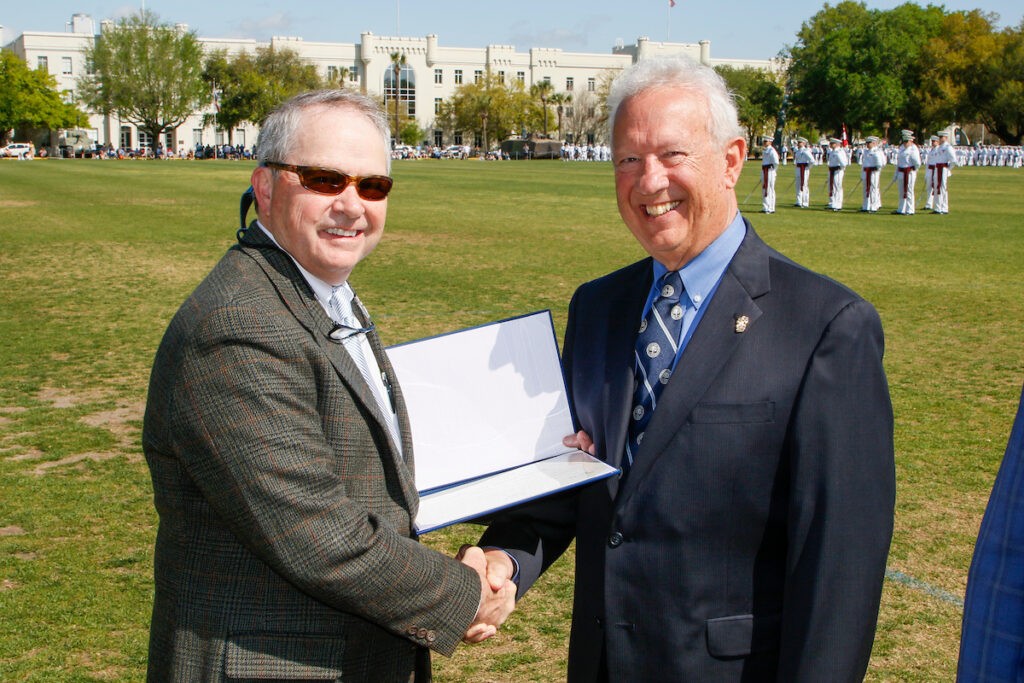 Johnston W. Peeples, Ph.D., is a gifted engineer who has made impressive contributions to the computer industry as well as to the education of the next generation of engineers.
Peeples' father and brother both attended The Citadel, and there was no question that the boy from the small town of Estill, South Carolina, would follow in their footsteps. After graduating from The Citadel in 1970, Peeples worked for a short time at Westvaco before becoming an officer in the U.S. Air Force.
After his service in the Air Force, Peeples embarked on an illustrious career in the computer industry, but in 2000 after completing his Ph.D. in physical electronics at the University of South Carolina, he was lured back to the Lowcountry to teach at his alma mater. From 2003 to 2015, he served as head of the Department of Electrical and Computer Engineering, where he helped to establish The Citadel as a national leader in undergraduate engineering programs.
Peeples has worked tirelessly to promote the engineering profession and to establish The Citadel and South Carolina as sites of engineering excellence, and in 2020 he was named the Charleston Engineer of the Year.
For his unflagging efforts and dedication to The Citadel and to the profession of engineering, The Citadel Board of Visitors is proud to award Dr. Johnston Peeples the 2023 Palmetto Medal.
Cadet Elissa N. Reckdenwald
Sierra Company Commander Cadet Captain Elissa N. Reckdenwald is a leader and a scholar who serves as a role model to her fellow cadets.
A double major in Spanish and Intelligence and Security Studies with minors in Leadership Studies and Cyber Interdisciplinary Studies, Reckdenwald has earned gold stars every semester for academic performance. As editor in chief of The Gold Star Journal, she leads student editors, authors and artists to publish an award-winning academic research journal. Selected by faculty, she was named to the Distinguished Scholars Program as well as the Leadership Scholars Program, and was recognized as one of the top 10 cadets in the Class of 2023.
Beyond her extensive cadet and academic accomplishments, Reckdenwald is a servant leader who has completed hundreds of community service hours at Katie's Krops, Soldiers' Angels and the Johnson Family Farm, where her work helps feed local homeless and food-insecure veterans. Additionally, she is a member of Grace Girls, a group that focuses on the leadership development of girls 5 to 18 years old and helps build women of integrity through service and community.
In recognition of her academic achievement and extensive service to the community, The Citadel Board of Visitors is proud to award Cadet Captain Elissa Reckdenwald the 2023 Palmetto Medal.