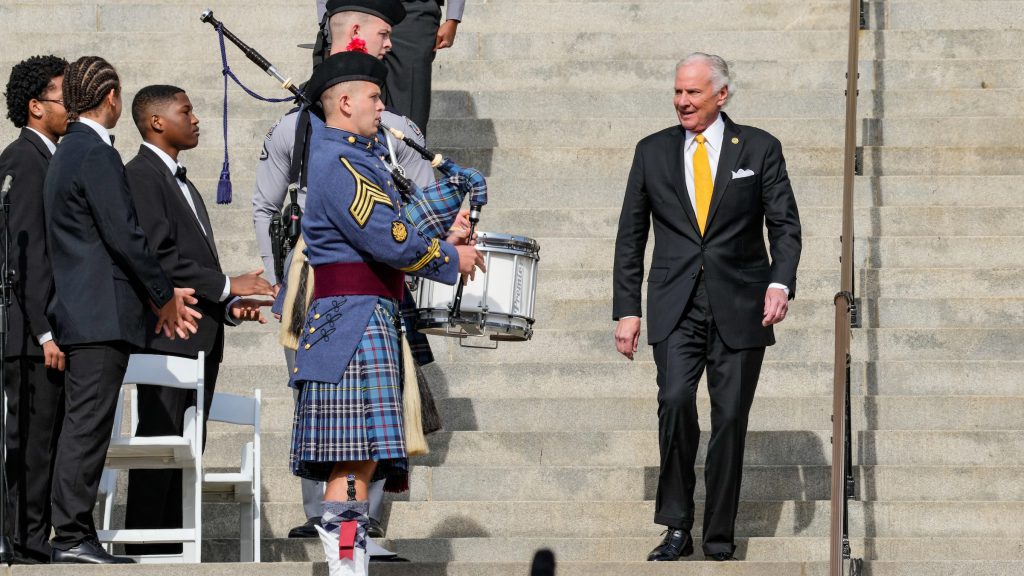 Members of the South Carolina Corps of Cadets visited Columbia to participate in a historic milestone, when South Carolina Governor Henry McMaster was inaugurated on January 11 for his second full term. At the end of this term, McMaster will be the longest-serving elected governor in the state's history.
Going back for years, cadets from The Citadel have participated in many of the state's gubernatorial inaugurations. A group of more than 30 cadets were involved in the ceremony in various ways — acting as the color guard, playing bagpipes and drums, and escorting notable guests down the Statehouse steps.
Pipe Major Mason Johnson was grateful for the opportunity to be a part of this momentous occasion, as well as to demonstrate the skills of the Regimental Pipe Band.
"I always enjoy being able to showcase the talents of The Citadel Pipe Band in any capacity. Playing for and meeting Governor McMaster was an honor that each cadet there will take with us even after we graduate from The Citadel," said Johnson.
The Regimental Pipe Band is an important part of cadet life at The Citadel. An active organization in the community, the band provides morale to the Corps through their performances at football games and dress parades. The Regimental Band and Pipes became the first military college band selected to participate in Scotland's Royal Edinburg Military Tattoo, a month-long event of music, pageantry and demonstrations by military organizations from around the world. The band expects to again participate in Tattoo in August of 2023.
The Citadel's Regimental Color Guard consists of cadets from Palmetto Battery who present the national and state flags. The color guard is an important tradition, as it represents and honors those serving in the Armed Forces. Unlike other cadet companies at The Citadel, Band Company and Palmetto Battery require a specialized application.
Cadets are chosen to participate in the gubernatorial inauguration based on their positions as officers within the Corps, the Regimental Pipe Band or color guard, as well as their overall standing as cadets. The cadets are selected to participate in the ceremony by The Citadel's Office of the Commandant.