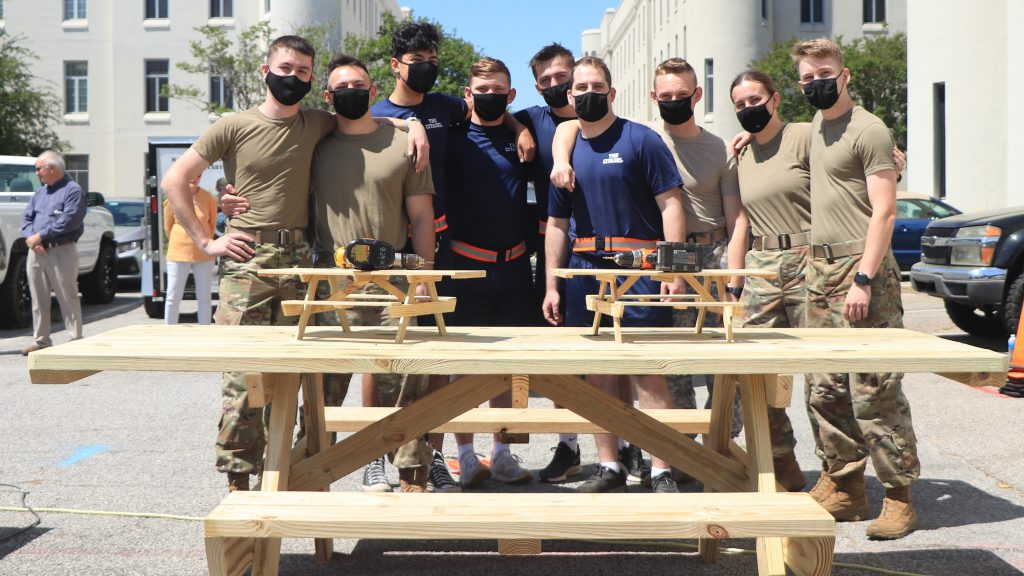 Everyone deserves a seat at the table.
Making sure wounded veterans in our community can have exactly that is why nine cadets from The Citadel's Alpha Company and Palmetto Battery donated part of their Saturday, even on a weekend when they'd been granted general leave and a reprieve from the President's Inspection.
It took the cadets around three hours to build four wheelchair-accessible picnic tables for two locations in the state. They assembled the tables on April 17, even getting a special visit from South Carolina State Rep. Joe Bustos and Maj. Gen. Michael Regner, USMC (Ret.), Class of 1976.
Those tables will be put to use in two locations: the Veterans of Foreign Wars Post 8760 — in Beaufort — and Operation Patriots FOB — a recreation park for veterans in Ridgeville.
"This project was important because it taught that service to others can still be carried out at a time when many activities have been cancelled or postponed due to COVID," said Lt. Col. Glenn Remsen, SCSG, Teaching Activities and Counseling (TAC) Officer for Palmetto Battery and a member of the Class of 1994. "All of the cadets who participated were volunteering during their general leave period and truly demonstrated that service to others comes before self. Both Rep. Bustos and Gen. Regner were extremely impressed when they learned that all of the participants were cadets who freely gave up their leave time to participate."
Cadets who volunteered include: Connor Deans, Matthew Earp, Eric Liebal, Tyler Martin, Alexander McCabe, Jacob Proctor, Claire Thomas, Dylan Tuzenew and Henry Winkler.
The Krause Center for Leadership and Ethics supported the effort by covering the building supply costs.
Operation Enduring Honor is an all-volunteer group that comes together to build wheelchair-accessible picnic tables and place them in recreational areas to ensure anyone with any physical challenges can enjoy the outdoors.
"In addition to being a project of service, this was a project of honor," concluded Remsen. "The efforts of the cadets were an outward demonstration of honoring veterans who have served our country."
All photos are courtesy of Cadet Eric Wilson.