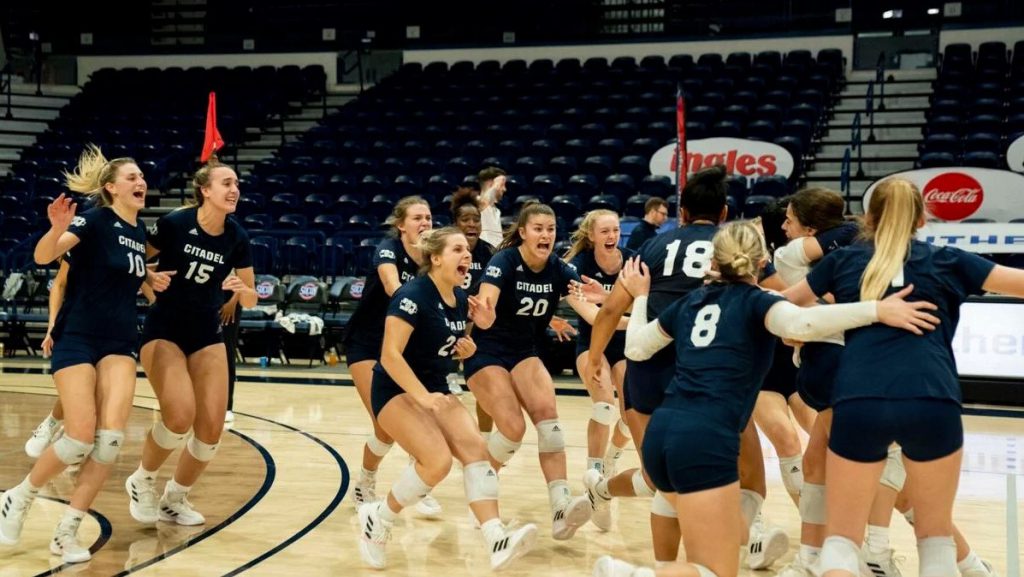 Photo: The Citadel volleyball players celebrate after winning championship point at the SoCon tournament (Courtesy: Chase Cochran, Samford Athletics)
For years, Citadel volleyball had a reputation.
"When I was at other schools, The Citadel was a place you scheduled to get your wins in," said fourth-year coach Dave Zelenock. "It was a known thing — this is who you schedule to get your wins in."
That reputation is changing.
The Citadel volleyball team won the military school's first Southern Conference championship in a women's team sport on Nov. 21.
The No. 7-seed Bulldogs defeated No. 4 Wofford 3-0 at the Pete Hanna Center in Birmingham, Ala., taking their first league title by scores of 25-23, 25-18, 25-22 to earn a berth in the NCAA Tournament.
All-SoCon first-teamer Sharlissa de Jesus, who spent her summer working out with The Citadel football team, led the way with 18 kills. SoCon freshman of the year Ali Ruffin added 11 kills, while all-freshman player Belle Hogan had a team-high 42 assists as the Bulldogs improved on the first winning record in program history to 14-11.
Makaya Middleton and Maddy Cardenas added six kills each, and Gina Delancey had five. Kenzie Kellerman, a 4-11 junior, had 11 digs, second only to 12 for de Jesus.
The Bulldogs, who missed their first five games this season due to COVID-19 protocols, beat the Nos. 2, 3 and 4 seeds on the way to the title, including three-time defending champion Samford.
"It's huge," Zelenock said. "We've only have volleyball for 20 years, and for all the women who started it for us, it's a big deal."
Citadel volleyball began in 1998, and the team went 0-24 in its first season and 1-53 during the first two, never managing a winning record until this year.
"It's definitely a huge milestone," said de Jesus, a fifth-year senior from Puerto Rico. "But I think it will teach us that we're capable of anything if we put our minds to it."
That goes not only for volleyball, but for soccer, golf, cross country, rifle and track and field, the other women's sports at The Citadel.
"I think for women's athletics and The Citadel, it's a huge deal," said Zelenock, who was hired from Tennessee Tech in 2018. "I think for all the women's programs, showing them that it's possible is huge. For our team and our program, it's a huge step forward. It's going to help us with recruiting and show people that it's not the way the program was years ago when it was first starting out."
The Citadel will learn its NCAA Tournament assignment on Nov. 28, when the selection show is held at 8:30 p.m. on ESPNU. First-round play in the 64-team field begins Dec. 2.
"I have no words," de Jesus said of earning a postseason bid. "Never in my life did I think that this would be happening, since I started as a freshman. But it's a huge milestone and we're definitely going to work even harder in our next few practices to keep making history for The Citadel."
This year marked a high-water mark for women's sports at The Citadel.
The Bulldogs' soccer team, 10-7-2 this year under coach Ciaran Traquair, posted just the second winning record in program history, which dates back to 2001. The Citadel set a school record with 43 goals scored, and forward Suzuka Yosue became just the third Bulldog to earn first-team All-SoCon honors.
But this volleyball run is the biggest team achievement in the history of women's sports at The Citadel, which first admitted women to the Corps of Cadets in 1996. Within five years, the military school went from no women's sports to seven teams. Today, more than 50 percent of the women in the Corps participate in varsity sports, the highest percentage in Division I of female students playing varsity sports, according to The Citadel.
Cross-country runner Mandy Garcia became The Citadel's first female scholarship athlete in 1997, and Lt. Col. Bonnie Jo Houchen was named the Bulldogs' first volleyball coach in 1998.
Track and field's Peaches Hudson was the first Citadel woman to earn All-SoCon honors in 1999, and there are two females in the school's athletics Hall of Fame — track and field's Stephanie McNeil (Class of 2007), a nine-time SoCon champ in throwing events, and soccer's Mariana Garcia (2014), the only Bulldog to earn SoCon freshman of the year and player of the honors in that sport.