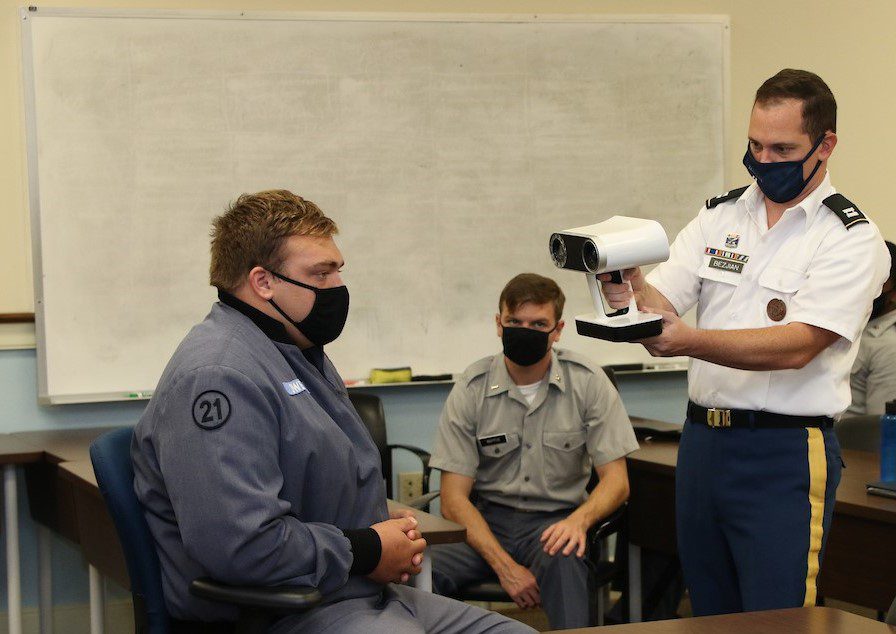 Photo: James Bezjian, Ph.D. teaches students how to use a 3-D scanner in The Citadel's Innovation Lab
By Maria Aselage, Director of Communications and Marketing for the Baker School of Business
Poverty, inequality and climate change are some of the many challenges we face in our world today. In an effort to help find solutions to these important issues, two Citadel professors, one from the Tommy and Victoria Baker School of Business and another from the School of Engineering, are collaborating on new courses.
The classes will address United Nations Sustainable Development Goals (UNSDG), guidelines for all countries to create a more sustainable future for all.
BUILDS Program
The new cooperative initiative is called Bridging Undergraduate Innovation Laboratories to Design for Sustainability (BUILDS).
The program is possible after VentureWell awarded a $30,000 grant to James Bezjian, Ph.D., professor of entrepreneurship and Jeffery Plumblee, Ph.D., professor of engineer leadership and program management.
VentureWell's grant program helps institutions across the country develop or sustain courses and programs that encourage STEM innovation.
Team Teaching
Bezjian and Plumblee will use the money to collaborate on a series of project-based classes.
The students will explore global challenges within the framework of UNSDG.
"They will work in groups to identify a challenge that they would like to address, develop viable solutions to their chosen challenge and prepare to take next steps at the culmination of the courses," said Plumblee.
These courses will utilize The Citadel's Innovation Lab and its Humanitarian Development Lab.
"In addition to addressing these important goals, our collaboration will teach business students more about technology development and engineering students more about innovation and business," said Bezjian. "It's a holistic approach to learning that will benefit Citadel students as well as assist the greater community."
The first BUILDS classes will be offered next fall.