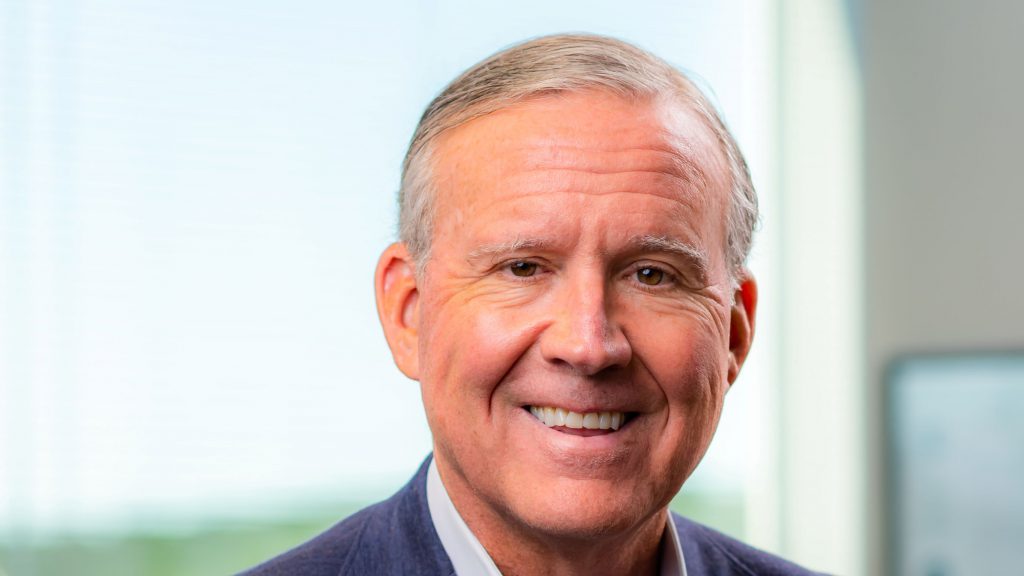 An alumnus, lauded for his dedication to The Citadel mission of developing principled leaders and for his integrity as an executive in the global textile industry, is again being honored by his alma mater.
Anderson D. Warlick, a member of The Citadel Class of 1979, has served The Citadel Foundation and the college's cadets, students and alumni with distinction in a variety of leadership positions for decades. He has been recognized by The Citadel on numerous occasions, including commencement 2009, when he received an honorary Doctor of Business Administration degree, and added to the Tommy and Victoria Baker School of Business Hall of Fame in 2004.
Now, Warlick is the 2022 recipient of the prestigious Krause Center Award for Distinguished Service, Leadership and Ethics.
"We are very proud to announce and recognize Anderson (Andy) Warlick, Class of 1979, as the 2022 recipient of the Krause Center for Leadership & Ethics award," said Bill Krause, '63, founder of the Krause Center for Leadership and Ethics. "Andy's leadership as chairman and CEO of Parkdale Mills, a manufacturer of spun yarns with $2 billion in annual sales, is nationally recognized. His service to his community of Gastonia, North Carolina, is legendary. And finally, Andy's contributions to The Citadel over the past 20-plus years are too long to list here, but it clearly puts him in the pantheon of our distinguished Citadel alumni."
Warlick grew up in Gastonia, North Carolina, and graduated from The Citadel in 1979 with a Bachelor of Science degree in Business Administration. Upon graduation, he worked for Milliken & Company before joining Parkdale Mills in 1984, where he currently serves as chairman and CEO.
Under his leadership, Parkdale Mills has become the world's leading independent manufacturer of cotton and cotton-blend yarns, with 28 factories in North and South America. As a leader in the industry, Parkdale has earned a reputation for challenging conventional methods in order to provide best-in-class operational efficiency, machinery capabilities and technological advances.

Over the years, Andy has consistently invested his time, energy, and expertise in The Citadel through key volunteer leadership roles. He served The Citadel Development Foundation and, subsequently, The Citadel Foundation as director from 1994 to 2002, 2004 to 2012, and 2013 to the 2021; as Chair of the Development Committee from 2000 to 2002 and again from 2006 to 2010; and as secretary-treasurer from 1996 to 1997, vice president from 1997 to 1998, president of the Foundation from 1998 to 2000, and vice chairman from 2006 to 2010. During his terms as director, he has served on the Executive, Development, Investment, and Grants committees. He now holds Director Emeritus status at The Citadel Foundation.

Andy's exemplary service to the Foundation likewise includes his membership on the Campaign for The Citadel Steering Committee and, more recently, his leadership as co-chairman of the Foundation for Leadership campaign, the most ambitious fundraising effort in the history of the college, which concluded in May 2018 having raised over $250 million toward its $175 million goal in celebration of The Citadel's 175th anniversary.

Excerpt of nomination letter from The Citadel Foundation Chief Executive Officer, John P. Dowd III, Ph.D.
Warlick to provide Greater Issues address to the Corps of Cadets April 12
The Corps of Cadets will gather in McAlister Field House on Tuesday, April 12, to attend The Citadel's spring Greater Issues Series address provided by Warlick.
He is expected to share reflections on life events that helped shape his leadership philosophies.
The Greater Issues Series was founded in 1954 to engage cadets' interest and knowledge in important topics of the day. Since it was established, the series has brought presidents, heads of state, scholars, diplomats, journalists and distinguished business and military leaders to Charleston and The Citadel.
Read more about Warlick in The Citadel magazine article, Made in America, here.