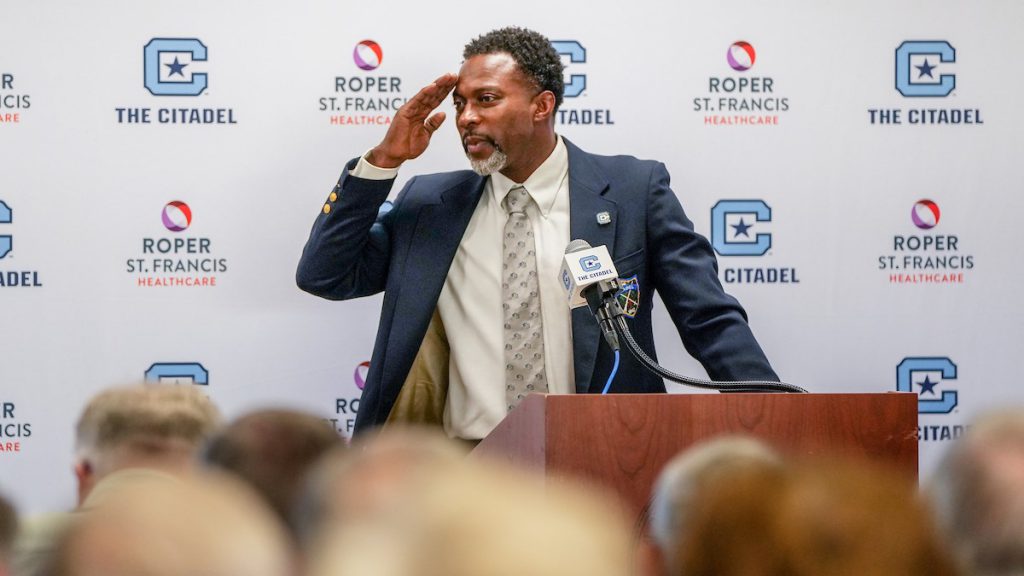 Tony Skole took bus rides to Boone and Cullowhee as a Citadel baseball and football player, and took a flight to Omaha.
Ed Conroy found out as a teenager what it's like to feel the wrath of Furman fans. And to enjoy McAlister Field House spite directed at the Paladins.
Maurice Drayton, straight out of Berkeley High School in Moncks Corner, learned what it means to beat VMI and possess the coveted Silver Shako.
They all know what it means to get a Citadel class ring.
With Drayton hired away from the NFL's Las Vegas Raiders on Dec. 14 to become head football coach, Conroy in his first season of a second stint as head basketball coach and Skole preparing for a sixth season in the dugout, this is Bulldog pride in triplicate.
The Citadel doesn't have an NCAA hockey team, but this is a rare hat trick.
Citadel research indicates it is the only Division I school with football, men's basketball and baseball head coaches who played at and graduated from the school.
"I think it's wonderful. It's been great having Ed back and now having Maurice back," said Skole, Citadel Class of 1991. "It's been great just to spend time with those guys and bounce ideas off each other and pick each other's brains."
The University of Maine comes close to the Bulldog triumvirate: Basketball coach Chris Markwood and football coach Jordan Stevens played for the Black Bears and have Maine undergraduate degrees. But while baseball coach Nick Derba has an MBA from Maine, he played at Manhattan College, where he received his undergrad degree.
Not quite like the Citadel's trio.
"It's neat. It's exciting," said Conroy, whose Bulldogs improved to 4-5 in Southern Conference play (9-12 overall) with a Jan. 25 win at Western Carolina. "I think it's an exciting time for The Citadel, I really do. It really adds to the whole experience of coaching here."
Dyed-in-school colors pride means even more at The Military College of the South, where personal experience with marching and mess halls comes in handy when dealing with a wide-eyed freshman "knob."
"Of all the places," Conroy said, "this is one of the most important that you have somebody on the staff with Citadel experience and it helps a great deal if it's the head coach. Parents know decisions are made from a perspective that you've been there. The players know you're not asking them to do something you haven't already done."