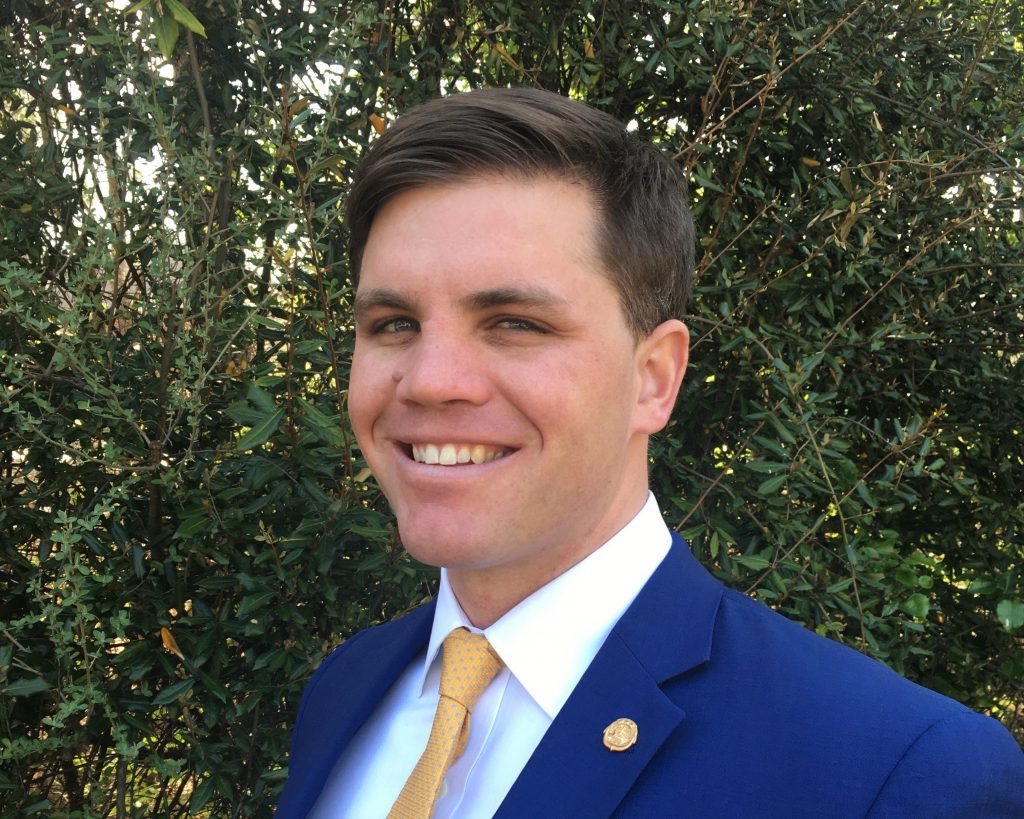 Baker School of Business '10 grad among new class of scholars
Note: Michael Burris graduated as a member of the South Carolina Corps of Cadets in 2010 with a Bachelor of Science in Business Administration. He was Delta Company Commander and a member of the Honor Court while at The Citadel and attended on a Navy ROTC scholarship. After his commissioning, Burris served as a naval officer for seven years working in both conventional and special operations. Upon leaving the Navy, Burris earned an MBA from the University of North Carolina's Kenan-Flagler School of Business. He grew up in Charleston but now lives in Raleigh, North Carolina, with his wife Brooke (also a Charleston native), and their sons Holsten who is two, and Creighton who is three months old. Burris works as Director of Operations for an investment firm.
I applied to become a Presidential Leadership Scholar with the hope of working on a project to close the unemployment gap for military spouses and veterans by bringing them into apartment property management," explained Burris in an email to The Citadel. "I look forward to developing this concept which will provide a stable career with upward mobility, remote work opportunities and the development of critical skills that can be transferred into other fields.

As I understand it, I am the first alumnus from The Citadel to become a Presidential Leadership Scholar. My intention is to compel others from The Citadel to apply and to hopefully also be selected in the future.

Michael Burris, The Citadel Class of 2010, Presidential Leadership Scholars Class of 2022
The Presidential Leadership Scholars (PLS) program today (Jan. 18, 2022) named the 60 Scholars who will form the program's seventh annual class. PLS serves as a catalyst for a diverse network of leaders brought together to collaborate and create meaningful change in the United States and around the world as they learn about leadership through the lens of the presidential experiences of George W. Bush, William J. Clinton, George H.W. Bush, and Lyndon B. Johnson.
The seventh class was selected after a rigorous application and review process. Scholars were chosen based on their leadership growth potential and the strength of their personal leadership projects aimed at improving the civic or social good by addressing a critical challenge or need in a community, profession, or organization.
Over the course of several months, Scholars will learn from former presidents, key former administration officials, and leading academics. They will study and put into practice varying approaches to leadership and develop a network of peers who can help them make an impact in their communities. The program kicks off virtually Jan. 18.
The latest class joins an active network of more than 350 Scholars who are applying lessons learned from the program to make a difference in the communities they serve. Examples of these Scholar-led efforts include addressing the opportunity gaps that exist around early childhood education, healthy communities, and entrepreneurship within the Hispanic community; providing employment opportunities and mentorship to veterans; and deploying much needed resources globally in the wake of COVID-19.
Since the program began in 2015, Scholars have consistently reported remarkable growth in skills, responsibilities, and opportunities for impact. For example, 96% of Scholars reported significant growth in their sense of purpose and role since beginning PLS.
2022 Scholars:
Tara Abrahams, Head of Impact, The Meteor, New York, NY
Sara Allan, Director, Early Learning & Education Pathways, Bill & Melinda Gates Foundation, Seattle, WA
Mozhgan Wafiq Alokozai, CEO and Founder, Eagle Online Academy, Chantilly, VA
Riana Elyse Anderson, Assistant Professor, University of Michigan School of Public Health, Detroit, MI
Liany Arroyo, Director, Department of Health & Human Services, City of Hartford, Hartford, CT
Jacqueline Assar, VR/AR Developer Relations Lead, Meta, Sausalito, CA
Chethan Bachireddy, Chief Medical Officer, Virginia Medicaid, Henrico, VA
Sara Fenske Bahat, Chair, California College of the Arts and Yerba Buena Center for the Arts, San Francisco, CA
David Bargueño, Foreign Service Officer, U.S. Department of State, Washington, D.C.
David Bernstein, Orthopedic Surgery Resident Physician, Harvard Combined Orthopedic Residency Program/ Massachusetts General Hospital, Boston, MA
Michael Burris, Director of Operations, Cortland, Raleigh, NC
Heath Clayton, Head of Diversity, Equity & Inclusion, JPMorgan Chase & Co., New York, NY
Frances Colón, Director, Oboe Mobile Foundation Inc., San Juan, PR
Rabia de Latour, Gastroenterologist/Therapeutic Endoscopist; Director of Endoscopy, Bellevue Hospital Center; Assistant Professor of Medicine, New York University Grossman School of Medicine, New York, NY
Ian Eishen, Senior Enlisted Leader, CSAF Strategic Studies Group, U.S. Air Force, Fairfax, VA
Ntiedo Etuk, Founder and CEO, FitGrid, New York, NY
Venu Gupta, President, VGA Consultancy, Chicago, IL
Ed Han, Managing Director, Global Investment Bank, BofA Securities Inc., Montauk, NY
Donnie Hasseltine, Chief Security Officer, Xenon Partners, Redwood City, CA
James Hendon, Commissioner, NYC Department of Veterans' Services, Bronx, NY
Hana Hinkle, Interim Director and Department Head, University of Illinois College of Medicine, Loves Park, IL
Rosie Hunter, Psychologist, Xefatura Consulting, McKinney, TX
Dan Imbat, Senior Director Business Development, Shield AI, San Diego, CA
Corrine Irish, Pro Bono Counsel/Of Counsel, Squire Patton Boggs LLP, New York, NY
Jennifer Jacobs, CEO, Connect Our Kids, Falls Church, VA
Timothy James, Chairman, The Lenny Zakim Fund & Vice President of North American Consultant Relations, State Street Bank, Ashland, MA
Victor Jones, Attorney, NAACP Legal Defense & Education Fund Inc., New Orleans, LA
Aamina Awan-Khan, Senior Advisor, U.S. Department of State, New York, NY
Amrit Kirpalani, Founder and CEO, NectarOM, Dallas, TX
Wade Lairsen, President, Gen Next Foundation, San Francisco, CA
Tim Latimer, CEO, Fervo Energy, Austin, TX
Jin Lee, Director of Digital Health, Astellas Pharma Inc., San Francisco, CA
Lirui Li, Advisor & Head of Community, Peppercorn.ai, Philadelphia, PA
Elisabeth Avila Luevanos, Superintendent, Milano Independent School District, Waco, TX
Aila Malik, Founder & Co-Principal, Venture Leadership Consulting, Mountain View, CA
Melissa Martinez, Clinical Social Worker, Human Trafficking Response Unit, Manhattan District Attorney's Office, New York, NY
Anna Mason, Managing Partner, Revolution's Rise of the Rest Seed Fund, Washington, D.C.
M. Yasmina McCarty, CEO and President, New Growth Innovation Network, Miami, FL
Marsha Michel, Advisor, Rohingya Refugee Response, U.S. Agency for International Development, Washington, D.C.
Crystal Moore, Vice President, Strategic Partnerships, Strategic Education, Jackson, MS
Kelly Northridge, Managing Partner, Audacity Institute, Reno, NV
Brian O'Connor, Principal, Veteran Enhanced Technology Solutions, Granite Bay, CA
Justin Owen, CEO, Beacon Center of Tennessee, Nashville, TN
Sabs Quereshi, Director, Global Health Strategy, Rockefeller Foundation, Washington, D.C.
Anita Ravi, CEO and Co-Founder, PurpLE Health Foundation, New York, NY
Benjamin Reynolds, Chief Advanced Practice Officer, UPMC, Edgewood, PA
Michelle Richart, Director, Corporate Counsel, Cardinal Group Companies, Colorado Springs, CO
Andy Riise, Texas A&M University Program Director, National Security Network, Montgomery, TX
Daniel Roby, CEO, Austin Street Center, Dallas, TX
Aasim Saeed, CEO and Founder, Amenity Health, Dallas, TX
Takudzwa Shumba, Clinical Assistant Professor, Stanford Health Care, Menlo Park, CA
Maya Smith, Executive Director, Born This Way Foundation, Lafayette, CA
Steven Smith, Client Director, McKinsey & Company, Austin, TX
McKenzie Snow, Division Director, New Hampshire Department of Education, Concord, NH
Ben Teague, Vice President of Strategic Development, Biltmore Farms LLC, Fletcher, NC
Iris Tian, Executive Director of Assessment, Texas Education Agency, Austin, TX
Esther Hsu Wang, Co-Founder, IDinsight, Potomac, MD
Sacha Williams, Pediatric Surgery Research Fellow, Johns Hopkins Hospital, Ossining, NY
Diana Zhang, CEO and Co-Founder, NeighborShare, Westport, CT
Lourdes Zuniga, Executive Director, Financial Health Pathways, Pflugerville, TX
About Presidential Leadership Scholars
The Presidential Leadership Scholars program is a partnership among the presidential centers of George W. Bush, William J. Clinton, George H.W. Bush, and Lyndon B. Johnson. To learn more, visit www.presidentialleadershipscholars.org. For updates about the Presidential Leadership Scholars, use #PLScholars and follow @PLSprogram on Twitter and Instagram.