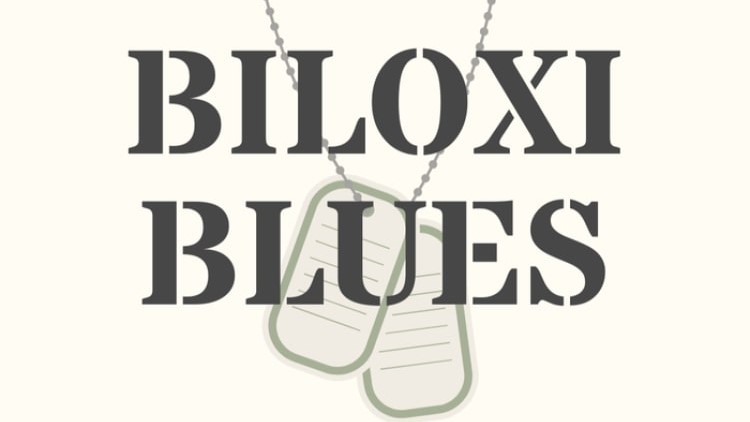 Play held on Citadel campus by professional theater company being directed by noted NYC acting coach/alumnus
Combining 1940s nostalgia, an appreciation for military service, and coming-of-age comedy, Neil Simon's classic play Biloxi Blues will be performed on The Citadel campus as a collaborative full-scale production with South of Broadway Theatre Company (SOBTC) on March 20 and 21, 2020.
Biloxi Blues tells the story of young Army recruit Eugene Morris Jerome as he travels from Brooklyn to Biloxi, Mississippi for boot camp during World War II. On his quest to find love, achieve fame, and attain his manhood,
Last performed at the military college in 1988, the new production is directed by Citadel alumnus Bob Luke '76. Luke runs a successful acting studio in New York City and has enjoyed an illustrious career as an on-set acting coach for Hollywood movies including Ransom, Racing Stripes, and Enchanted.
Who's who in the production?
The lead role of Eugene will be played by local actor Evan Fondren whose recent work includes The Righteous Gemstones, Titus Andronicus, and Macbeth.
The role of Eugene's drill instructor, Sgt. Merwin J. Toomey, will be played by former Army drill instructor and Citadel Director of Cadet Activities Arthur Rich, SFC/USA (Retired).
Citadel cadet Erich McPhail, a History major/Fine Arts minor, will play recruit Roy Selridge; other members of the platoon will be played by local actors Brandon Lee Bullock (Joseph Wykowski), Chase Graham (Don Carney), and Trey Thompson (Arnold Epstein.)
SOBTC actress and model Caroline Scruggs will play the role of Daisy and the role of Rowena will be played by Madelyn Smallwood.
Additional cast members include Citadel cadet Jesse Quimby, a Physics/Math major with a Fine Arts minor, Leslie Lemus, and Kendra Wilcher.
Cadet Erich McPhail

Cadet Jesse Quimby
This production of Biloxi Blues is the result of a new partnership between SOBTC and The Citadel's Fine Arts Department to provide community performances that support each organization's mission and core values. A special opening night ticketed reception will be held at Quarters One, the campus home of Citadel President General and Mrs. Walters, with Director Bob Luke and alumni cast members from the 1988 campus production among the honored guests.
"For nearly two decades, we have worked to uplift our community through the performing arts," said SOBTC Founding Artistic Director Mary Gould. "We are grateful to The Citadel for the opportunity to take that mission beyond the four walls of our beloved theatre in Park Circle to the wider Charleston audience."
"There are many parallels between the arts and the military; staging on both of these fronts requires dedication to detail, a diverse team, and a clear directive. The Citadel recognizes that partnerships like ours with SOBTC foster innovative ways to develop the communication skills of our cadets as well as connect with the greater Charleston community, said Tiffany Silverman, Director of Fine Arts at The Citadel.
There will be two shows at Mark Clark Hall on The Citadel campus: Friday, March 20 at 7:30 p.m., and Saturday, March 21 at 7:30 p.m. Tickets are $30 for general admission and $20 for student general admission, with $35 tickets available at the door. A special opening night ticket with reserved seating and a reception from 5-7 pm at the home of The Citadel's President is $50. Tickets are available at www.southofbroadway.com.