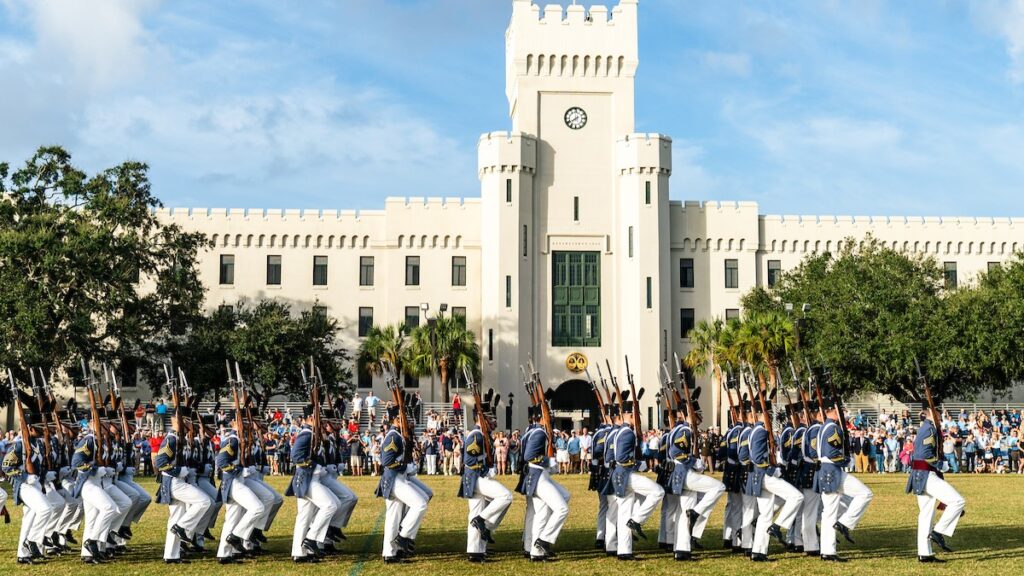 The first weekend in November will hold one of The Citadel's biggest events on campus — Homecoming 2023 — hosted by The Citadel Alumni Association.
Alumni of all ages will return to their alma mater with a special celebration for the Class of 1973, who will be celebrating their 50th reunion. Other classes marking milestone reunions include those ending in '3 and '8.
Homecoming festivities will begin on Thursday, Nov. 2, including a football game versus Mercer, an Air Force ROTC sponsored flyby during the football game, parades and more.
Parking on campus is extremely limited. Carpooling or travelling to campus via taxi, Uber, Lyft or other service is highly recommended.
A full schedule of events for this year's Homecoming is below:
Thursday, Nov. 2
| | | |
| --- | --- | --- |
| 2:30 – 5 p.m. | Stray Dog Society Big Red Flag Cruise | Maritime Center |
| 5:30 – 9 p.m. | Junior Sword Drill, JSA Reunion | Holliday Alumni Center |
Friday, Nov. 3
| | | |
| --- | --- | --- |
| 9 a.m. | Citadel Alumni Association annual meeting and awards | Holliday Alumni Center |
| 12 – 5 p.m. | Alumni services: ring resizing and reordering, address updates | Holliday Alumni Center |
| 3- 5 p.m. | The Citadel Fine Arts Alumni Exhibition and Reception | Capers Hall Art Gallery |
| 5:10 p.m. | Memorial Parade | Summerall Field |
| 5:45 – 7 p.m. | CAA Young Alumni Reception | Holliday Alumni Center |
| 7 – 11 p.m. | Stray Dog Society Homecoming Jamboree | Charleston Visitor Center and Bus Shed |
Saturday, Nov. 4
| | | |
| --- | --- | --- |
| 8:30 – 10 a.m. | Open Barracks & Pipe Band performance | All barracks |
| 9 a.m. | Summerall Guards performance | Summerall Field |
| 9 a.m. – 1 p.m. | Alumni services: ring resizing and reordering, address updates | Holliday Alumni Center |
| All day | Citadel Rifle vs. Nebraska | Inouye Marksmanship Center |
| 10:30 a.m. | Homecoming Review Parade | Summerall Field |
| 11 a.m. | Canteen and Chick-fil-A open for lunch | Mark Clark Hall |
| 11:30 a.m. | School of Humanities and Social Sciences Alumni Tailgate | Capers Hall Courtyard |
| 11:30 a.m. | School of Engineering Alumni Tailgate | Grimsley Hall Courtyard |
| 12 – 2 p.m. | CAA Tailgate lunch | Holliday Alumni Association |
| 2 p.m. | Citadel Football vs. Mercer | Johnson Hagood Stadium |
| 7 p.m. | Citadel Volleyball vs. UNCG | McAlister Field House |
Sunday, Nov. 5
| | | |
| --- | --- | --- |
| 9 a.m. | Protestant service and alumni memorial service | Buyer Auditorium |
| 5 p.m. | Catholic Mass | Buyer Auditorium |