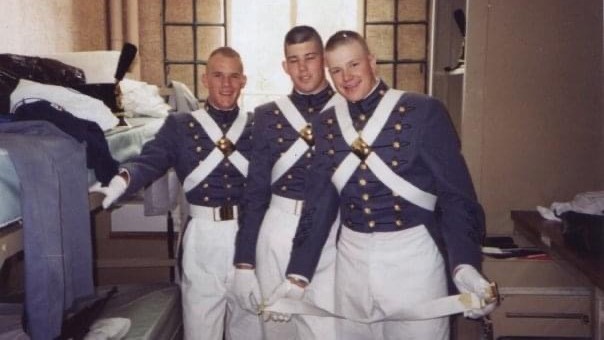 Photo: Cadet Kenneth Harwood (left), poses with fellow classmates in their dorm during Parents Day Weekend at The Citadel in September 1996. Harwood is currently superintendent for the 50th Expeditionary Air Refueling Squadron at Al Udeid Air Base, Qatar.
As seen on the Air University website, by Senior Master Sgt. Kenneth Harwood, 50th Expeditionary Air Refueling Squadron superintendent
Life has a funny way of teaching us lessons. What can seem tragic and life altering can shape our future for good or bad depending on how we overcome or become overwhelmed by events. The following is a short story of how perseverance can turn dreams into reality.
My journey to graduating from The Citadel began in August of 1996 when I joined the Corps of Cadets as well as the cross country and track team. That first day, my parents dropped me off outside of the barracks, said goodbye, headed back home, and I began my freshman or "knob" year.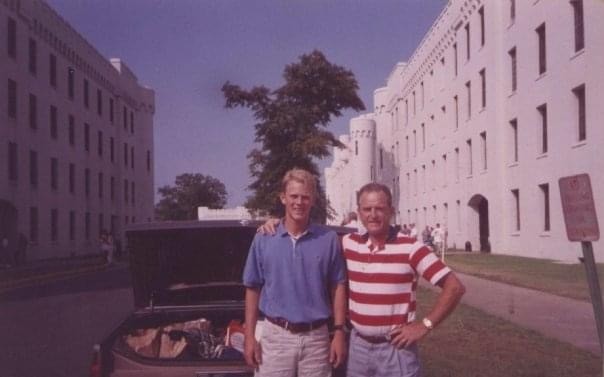 I loved everything about The Citadel, but I struggled academically throughout the entire year. On top of a rigid daily schedule, daily distance running, attending, and studying for classes, I quickly became overwhelmed. After a disastrous attempt at college level academics, I decided that I wanted to take some time off from school. 
After working construction jobs, bartending, and cooking in restaurants, I decided that I wanted to join the military so that I could earn money to go back to The Citadel. My father was a retired Air Force pilot and so I decided I would follow in his footsteps. Shortly after joining the Air Force the tragedy of September 11 happened, and so I decided to stay in and serve my country.  
It bothered me for years that I never returned to The Citadel to finish school, and there was always this doubt as to whether or not I would have been capable of finishing. I enrolled in an online college and slowly worked on finishing up a college degree, but my heart wasn't really in it.
In 2013 I found out that The Citadel had begun an online program, and I applied and was accepted. Faced with this new opportunity, I decided that I also wanted to pursue a new degree program, so I changed from Business Administration to Intelligence and Securities Studies. This degree change also came with a major setback, as it took me from a second semester senior to a second semester sophomore. 
I began taking classes one at a time as new courses became available since the online program was still new. I am currently taking three classes and only have two more until I graduate in the spring.
Earlier this year I became eligible for my class ring and ordered it only to find out that I would be deployed during the ring ceremony at school. My wife and family have been my greatest support system, and she began coordinating with our squadron first sergeant to help make my ring presentation special. 
Unbeknownst to me, they had my ring shipped here and surprised me by organizing a ceremony lead by two Citadel graduates, Capt. Brett Meece and Capt. Steven Weippert. They read about the symbolism of the ring and allowed me to receive my ring in keeping with the time-honored tradition. It is hard to put into words what this fully means to me. There have been years of self-doubt, disappointment, regret, but then onto small victories as I knocked out classes one by one. I thought that college was difficult when I was an 18-20 year old, but it becomes significantly harder when you are married with children, while working a full time job as a Squadron Superintendent.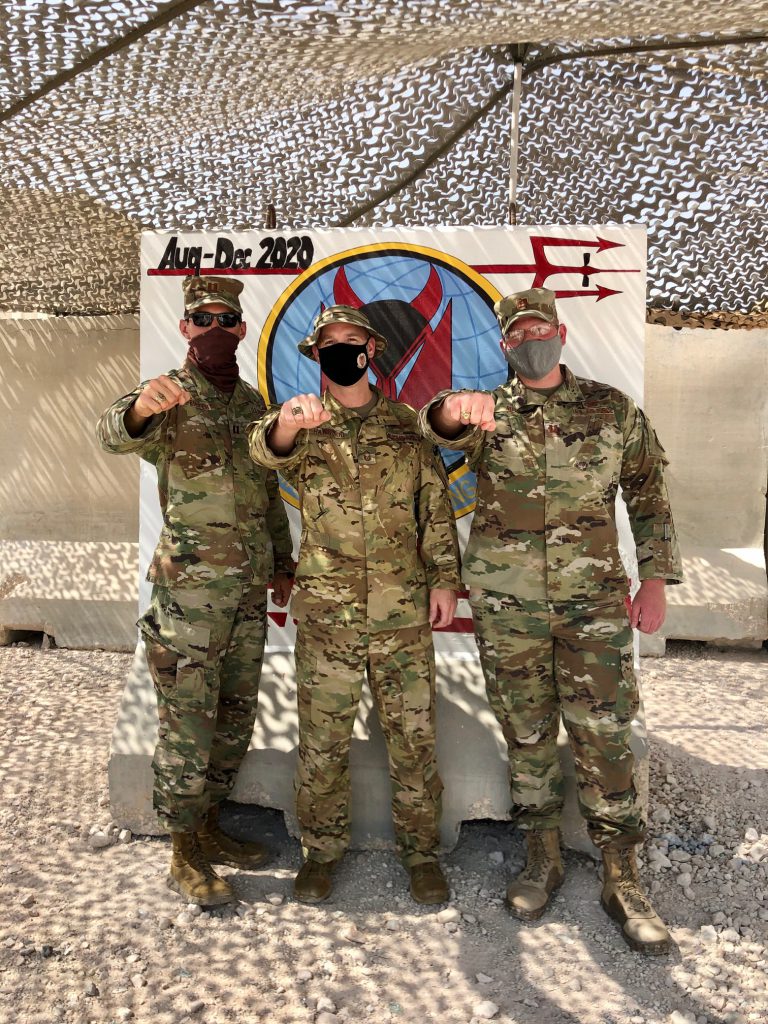 I certainly chose the road less travelled, and it has been a long and sometimes rough road, but it has been worth it. Life doesn't always work out the way we planned, but it is the challenges along the way that help us build strength if we recognize it and learn from it. I set a goal when I was 18 to earn my college degree from The Citadel, but that goal became a distant dream over time. There is a distinct difference between goals and dreams however. A dream is something that you imagine, something that is off in the distance and will likely never happen; a goal is something that you set a plan for, work toward, and achieve.
I took many years, but I was finally able to turn my dream into a goal, and in a few short months I will achieve it.