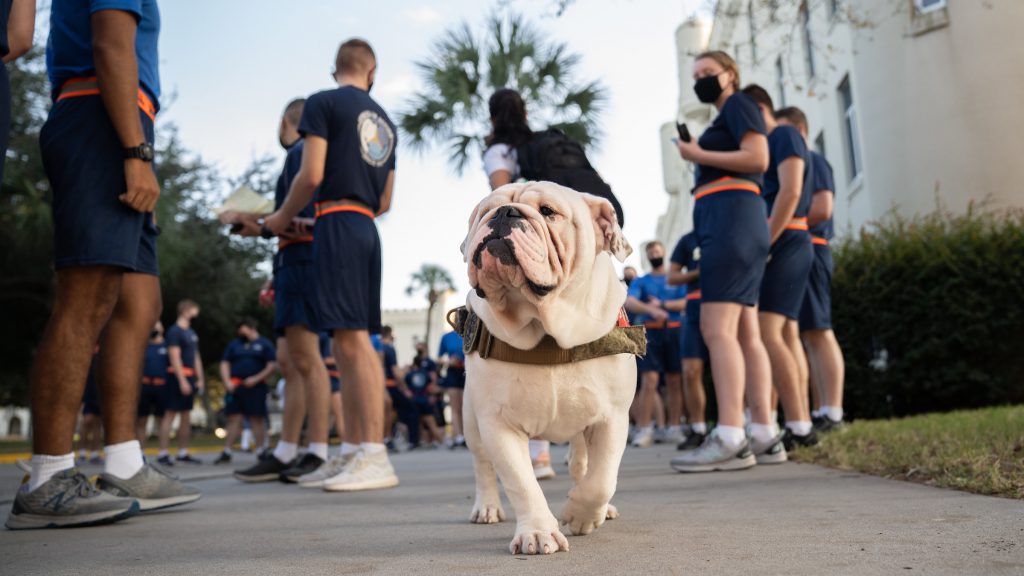 Photo: Citadel mascot Gen. Mike D. Groshon, also known as G3, reviewing the food trucks on campus
With just over a week of on-campus classes left, cadets at The Citadel are doing what leaders do: making sure they stay safe so they can keep others safe.
Since they will soon be returning to their hometowns, and due to increasing cases of COVID-19 nationwide, cadets can't leave campus during their last two weekends before the long Thanksgiving/winter furlough.
But with the goal of keeping the cadets engaged (while squeezing in some early holiday celebrations), The Commandant's Office and the Office of Cadet Activities arranged some fun diversions for the two on-campus weekends.
The cadets (occasionally joined by G3) were kept busy with activities like intramurals, swim meets, corn hole games, DJ entertainment and food trucks. But if it sound like the cadets are having too much fun — don't worry — the weekend kicked off with a Spirit PT across campus.
The closed weekend also opened new doors.
"For the first time in my cheerleading experience, I had the opportunity to cheer on the Bulldogs at a wrestling match," said Cadet Lauren Sordo, a junior Biology major from Orchard Park, New York. "It was a great way to start the day. After the match, my team and I went to the food trunks and played games. The activities on the parade deck were a fun way to engage with other cadets and increased moral for a few hours."
Next weekend will also include battalion cookouts and Thanksgiving festivities.
The last day of classes this fall for cadets and students at The Citadel is November 24. They will take finals from home following Thanksgiving and will not return until January.
The Citadel President, Provost and Commandant will update parents on how the fall has gone and on what to expect for the spring semester return during the final Virtual Town Hall for the semester. It is scheduled for 7 p.m., November 19 and will be livestreamed on The Citadel Facebook page.