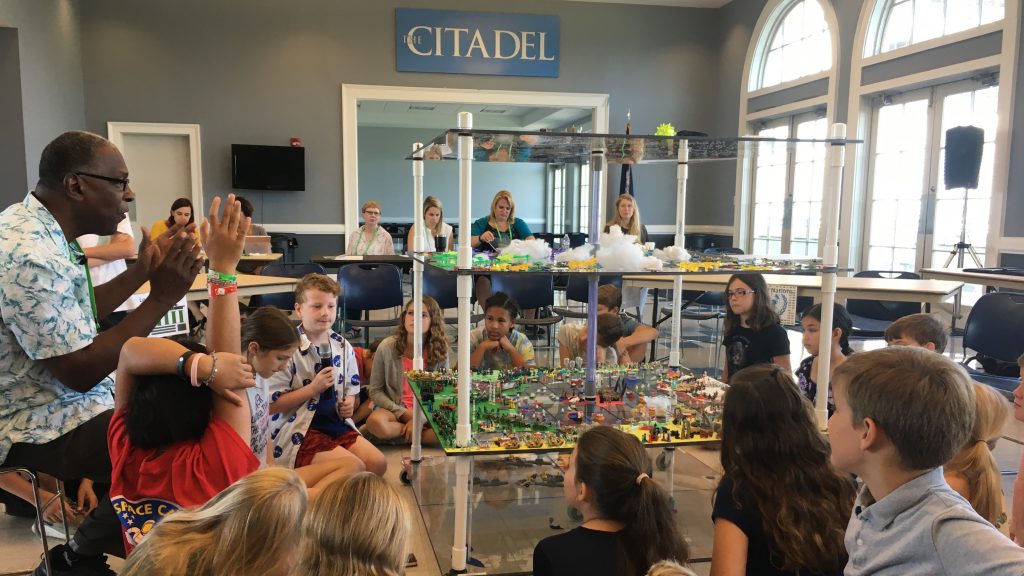 Photo: John Hunter, inventor of the World Peace Game, at The Citadel, June 24, 2019
World Peace Games Master Class comes to South Carolina for first time
Hurricanes, refugee asylum, food shortages and the threat of war — it's the kind of things you hear about on national news. But during the last week in June, Lowcountry students are learning how to achieve world peace while responding to those challenges.
The World Peace Game teaches children the work of peace, and shows that it is an attainable goal to strive for.
This week, Lowcountry students and teachers are participating in the World Peace Game Master Class, where 4th – 7th grade students pretend to be prime ministers, cabinet members, United Nations officials, arms dealers and more. The primary goal is to teach South Carolina educators how to lead the game during their own classes. The week-long event is sponsored by BP and is being held on The Citadel's campus.
The nearly 40-year-old game is being led by its creator, John Hunter – a teacher, author and TED talk presenter. It's been utilized in classrooms across the globe, and even in the U.S. State Department.
Teachers observe Hunter facilitating the Game live with students each morning. Afternoon sessions focus on introducing educators to things like:
The guiding philosophy and pedagogical principles that underlie the Game
Identifying the essential attributes necessary to facilitate the Game through a series of reflective questions and activities
Designing learning that is inspired by the principles and spirit of the game
This session of the program is completely free to participants, thanks to the grant from BP.
Media are invited to attend the camp from 10:30 a.m. – 12 p.m. on Thursday, June 27 at the Altman Center. To attend email kkeelor@citadel.edu. For more information from BP about their sponsorship of the camp contact Hope Lanier Freeman, Director of External Affairs, BP by email at hope.lanier@bp.com or call (803) 673-8049.