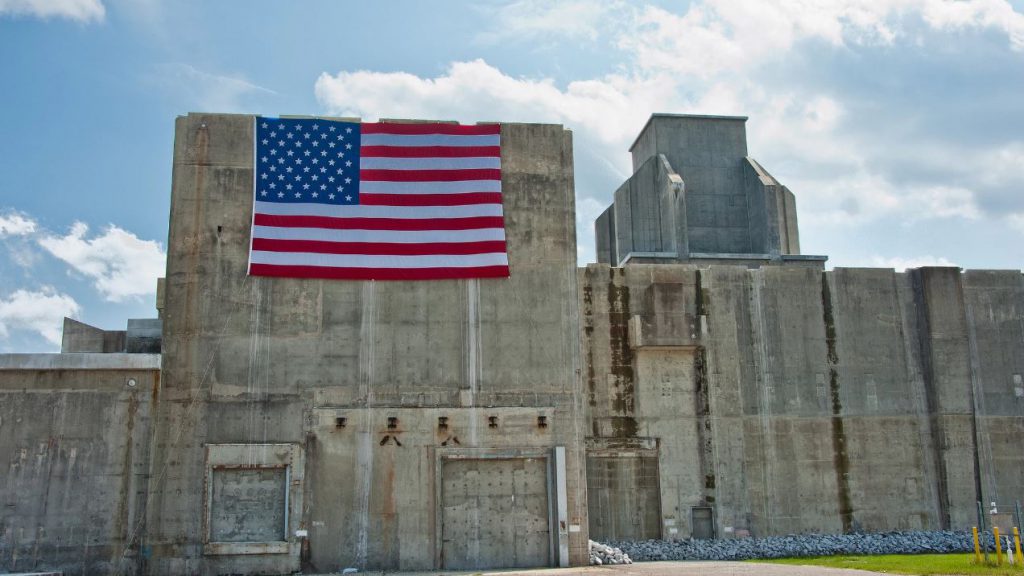 As seen in VICE, by Eric Ginsburg
The Savannah River Site, in South Carolina, is home to the radioactive fuel that powers hydrogen bombs. It's one of the most important nuclear facilities in the United States, and right now the workers who keep it safe are on strike.
"Most people don't know about this place, but they would be affected if anything were to occur," Mathias Miller, president of the United Professional Pro-Force of Savannah River, Local 125, told me. "It's the nastiest stuff man's ever made, and we sit on top of it every single day."
The sprawling complex used to produce ingredients for hydrogen bombs, and today is a holding area for "excess plutonium"; the complex also recycles tritium for nuclear warheads in order to keep the weapons from degrading over time. It's run by the US Department of Energy, which contracts the private security company Centerra.
It's with Centerra that the union at SRS is fighting. Collective bargaining negotiations had been going on since March, but last month, 92 percent of union workers rejected management's proposal, and 87 percent voted to strike. The primary grievances the workers cite are what they call an abrupt hike in healthcare costs and new contract language that they said would limit the union's power. The company in a statement disputed these characterizations, and said, "The proposed Collective Bargaining Agreement was in fact the most lucrative Protective Force contract we know of that has been offered at any DOE site in the country."
The differences between the two sides have resulted in a strike that's now several weeks old, which is notable for several reasons, not the least of which is that South Carolina is one of the most anti-union states in the country. "South Carolina's about as unfriendly to organized labor as you can get," said Kerry Taylor, a labor historian and professor at the Citadel. "This has been official policy to keep wages low and keep unions out. It's built into the structure of the economy."
But these particular union workers have an extremely delicate job. With all that radioactive material and key elements of the nation's nuclear arsenal on hand, the SRS requires a massive security force. Centerra's paramilitary team is responsible for the full suite of security services at the SRS, from air and river patrol to drug and explosives detection down to the more granular checkpoint operation, alarm system monitoring, and controlling the flow of traffic. The union represents the rank and file of the force—picture a mix of police officers, TSA personnel, and camo-clad soldiers deployed to deter and prevent any internal or external security breaches.
US Army veteran Martin Hewitt has worked at the SRS since the early 80s. The central alarms station specialist remembers when workers formally organized in 1990, and when they become an independent union in 2007. He's a former union president and its current chief negotiator. In the 27 years since the union's founding, this is the first time its membership voted to strike, he said.
Local 125 is racially and politically diverse, with Hewitt estimating its membership is pretty evenly split between black and white workers, and contains Republicans, Democrats, and independents. This being South Carolina, some of the union members aren't instinctively pro-labor.
"I have never believed in unions," said Mathias Miller, a white Navy veteran who described himself as a "poor ol' country boy" and lives on a dirt road not far from the complex. When he started working at the Savannah River Site—he's currently employed as a canine handler—he didn't see the need for a union. But not only is the Republican involved in Local 125, he's the acting president.
The membership puts aside personal differences, and even political disagreements with the concept of unions, because of their common grievances, Hewitt said. "It's the job that's bringing them together," he said. "It's the unfair treatment. When you're looking at these guys here regardless of what they are… they're working together. The difference lies between management and people in the field."
Shawn Williams, a combat veteran and sniper on Centerra's special response team, said that signing the proposed agreement would've meant signing away the union.
"We're not trying to become wealthy; we're just trying to keep a good roof over our head and keep up our kids' good medical," Williams said. "Rich guys don't wake up at 4 AM, put on a pair of combat boots, go to work a 13-hour rotating swing shift, and use the bathroom in a porter potty all day."
"We're very grateful to have a job," he continued. "We want to continue to have it. We're just at a disagreement to where we've been offered something unacceptable."
With replacement personnel filling in, union members expressed concern that the new workers wouldn't be as well trained or familiar with the nuclear defense facility, and that this could potentially create a heightened security threat.
"Our job is not just about holding a weapon or being able to shoot or being able to run," Miller said, explaining that they go through extensive, regular background checks and complete considerable training to maintain their high-level security clearances. They're tested on everything from weapons proficiency to human reliability.
Centerra brought in replacement workers from other DOE facilities, but Miller argues that sites are all built differently. Plus, he told me, workers transferring from one part of the expansive Savannah River Site to another section of the complex must complete a 30-day training period. Given that the strike hasn't hit 30 days yet, he asked, does that mean that the new personnel are operating under altered protocol?
Through a spokesperson, Centerra did not respond to a specific question about the 30-day training period, but said the stand-in force is sufficiently trained.
"The plan involved training a contingency force well in advance of any possible strike to ensure the availability of fully trained and highly qualified personnel to assume security responsibilities if needed," the spokesperson said. "That approved plan was implemented and the men and women now protecting SRS security interests are fully trained and meet DOE requirements, including weapons proficiency and physical fitness requirements."
Miller isn't convinced. "Unless you work there, there's no way you could possibly know [your way around]," he said. "It really does bother a lot of our guys. It comes down to, again, the corporation versus real security."
"They do have some secretaries that they've armed up and have on security posts," Miller went on. "They are bodies that they can stick in a place where they can say, look, we have somebody protecting that. We're allowing national security to go by the wayside, for what?"
Centerra said that "there has been no degradation of security at SRS" and that all the workers in the "contingency force" had relevant experience and training.
That may not be good enough. Lovely Umayam, a research analyst on the nuclear security team at the nonpartisan Stimson think tank, said that Centerra might be overlooking a fundamental aspect of security culture.
"While they've asserted that there is a contingency plan to protect [the Savannah River Site], security forces going on strike is not good for workforce morale," Umayam said. "If they don't feel valued, why should they value their tasks?"
People often imagine a security threat as being external, but low morale and deteriorated trust can spur internal threats, whether malicious or unconscious, Umayam said.
"Just because you have a checklist of 'guns, guards, and gates' doesn't mean that you're necessarily well protected," Umayam said. "That's why this strike is particularly interesting, because it kind of gets into that, how the workforce feels it's being treated."
The longer the strike lasts, the more employees will feel like the company doesn't care about them, Hewitt said. But morale issues predate the strike.
"It's us against them, even when we were at work and we were not in contract negotiations," Hewitt said. "Somehow Centerra needs to fix that. That attitude—us against them—needs to change."