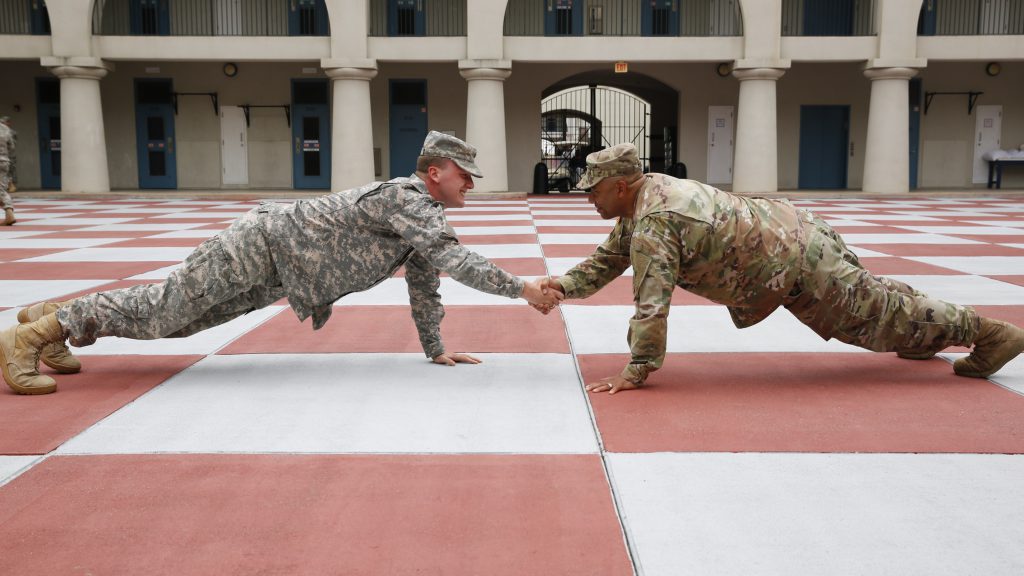 By Cadet Sae-Eun Lee, '20
"Full battalion, attention," boomed 3rd Battalion's new TAC NCO, U.S. Army retired Sgt. Maj. Isaac Ragusa. "Half right face."
Without pause, the 466 cadets in 3rd Battalion and their four TAC officers shifted to a 45 degree angle.
"Front leaning rest position, move!" Ragusa bellowed. Four hundred sixty-six covers flew to the ground; the cadets dropped down on their hands and feet along with Ragusa and the TAC officers, ready to do their pushups.
"ONE, TWO, THREE," Ragusa shouted as he performed pushups alongside the cadets.
"ONE," the entire battalion responded, mirroring his movements.
"ONE, TWO, THREE," Ragusa shouted.
"TWO," the battalion responded.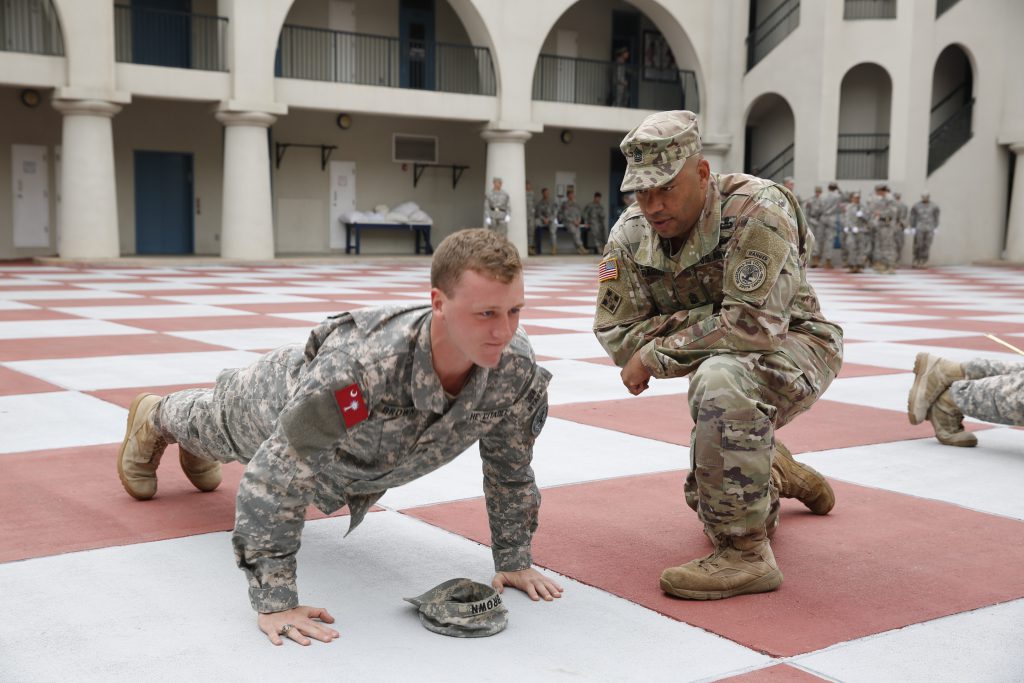 After two rounds of 24 pushups, Ragusa was satisfied. "Recover," he ordered. Immediately the cadets were back on their feet and shifting into proper formation.
It was only Ragusa's third day on the job, and he had just dropped the entire battalion for not being up to standard on their morning personal inspection.
Every morning, as part of the cadet 24-hour schedule, each battalion holds a formation. All cadets are accounted for followed by a personal appearance inspection. When the inspection is complete, reveille signals the beginning of the duty day for the Corps. When Ragusa noticed cadets inspectors goofing off, or, in military parlance, "smoking and joking," he dropped the battalion for pushups.
The unplanned pushups caused a stir in the Corps. "Sgt. Maj. Ragusa motivated me for the rest of the week," said 3rd Battalion Commander Henry Brown. "He made me want to enlist."
When Ragusa retired from the Army in April, he was serving at the sergeant major for The Citadel's Army ROTC unit. After retirement, he stayed on as an Army ROTC instructor before accepting the NCO position in 3rd Battalion.
A week later the whole battalion was dropped—this time for 54 flutter kicks. "At first I did not believe it," said Brown. "After the 35th flutter kick, I think it started to register that this was real."
---
Definition
*Smoking and joking: Army rhyming slang for idle, unproductive behavior. There's a president's inspection Saturday, so make sure the cadets aren't smoking and joking when Gen. Walters walks in the battalion.
---
Sae-Eun Lee is a senior English major interning in the Office of Communications and Marketing. This is the first in a short series she's writing entitled What's Going on in the Corps.